A hot mess!
This is beyond gorgeous. I only wish it looked as beautiful on me as it does by itself. The painful straps rubbed skin off my arms and the bones hurt. However, with some a sewing machine and a world of patience, I think it's fixable. The cups ride way past my breasts and I'll deal with that, but it looked like I was busting out in the waist before I cut the bones out! The vibrant colors are flattering, but beware of the bulk!
Published:
Pros:
Gorgeous.
Vibant, royal blue.
Detail.
Cons:
Uncomfortable.
Painful straps.
Boning.
First I want to warn you. This review contains photos. If you're opposed to that, consider skipping it! However, with all the flaws and incredible detail, I felt these photos were necessary for most. This may be a bumpy ride as I have a lot to say about this!
This beautifully detailed bustier is one of the most gorgeous I own. There are real flaws, but for now I'll discuss sizing.
If you're one of the lovely ladies that's been disappointed in Coquette's small sizes, you might be happy that both the blue bustier and the babydoll, made with similar detail and color, are slightly larger than Coquette's usual smalls. This may not be the case for everybody, but for me they're a bit baggy. This bustier fits somewhat like a corset with the boning, but I have some room for moving. I normally fit the small perfectly, usually without discomfort. I've never had their small be too tight. The chest often is snug, but usually just right everywhere else. This is no exception. The bust fits my small chest where I normally have room left.
Measurements lying flat:
-Under bust: 25 1/2" from left to right.
-Bustier: 17" long from the very top of cups to the bottom of last layer of lace.
- Lace trim measures about 3" long.
-From under the bust down to lace trim measures 12" long.
The cup size says "one size fits most," but if you're larger than a full B, you'll explode out of it. The cups have push-up and uncomfortble underwire.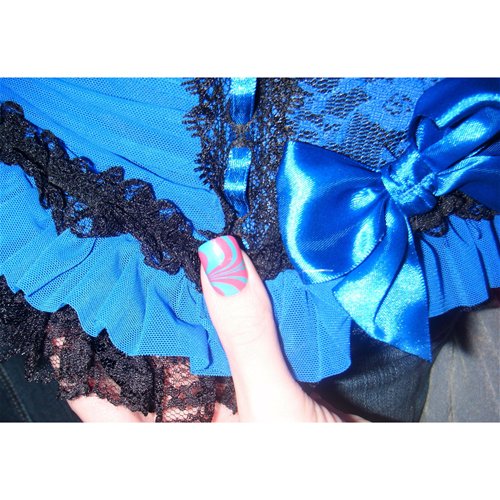 The 3 lace trim layers that line the bottom hit right above my hips and since they are fluffy, they create extra bulk. I'm a size small in all lingerie, a 0 in jeans and my bust is 32B (My right breast is an A)
DETAIL
The very feminine, lacy detail with satin bows are perfectly my style so I love them. If you're a bow-hater, the bows have a safety pin attached to the back for removal and washing. However, the bows on each strap are not removable.
There is some ruching down the front panel which adds thickness to your mid-section. On either side of the beautiful, royal blue ruching is a strip of lace with the same blue, satin ribbon running through it. See my photos.
The entire bustier has the gorgeous royal blue lace overlay with black underneath, the only exception being the middle ruched panel. The lace is different from any lace garment I own and I have many! It's extremely soft and snags easily! No hang nails while wearing! The lace has a floral look to it.
The back closes with 2 rows of hook and eye closures, 17 on each row. Use the closest row for a looser fit and the farthest for a tighter. I had to use the tightest and still had a bit of room except in the chest. There's less than an inch of space in between each row of closures so there isn't a tremendous amount of adjusting here, but as long as you choose the correct size, you should fit.
It has 10 plastic bones. These were a pain and created extra love handle so I finally cut them out.
MATERIAL
80% Nylon and 20% Spandex, exclusive of trim. HANDWASH ONLY!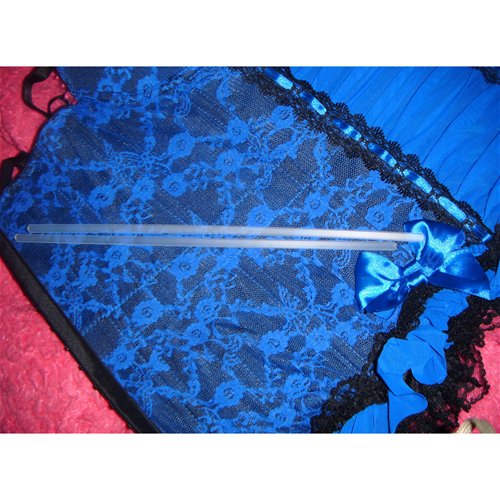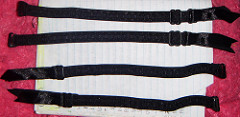 The bustier comes with removable garters which is nice, because this can possibly be worn as a top for some women. The garters measure 7 1/2" long when adjusted to the longest and 5 1/2 at the shortest. They fit perfectly for me and like I said previously, I'm 5 2".
*SORRY Y'ALL! I PASTED SIZE CHART HERE, BUT I DON'T HAVE ENOUGH ROOM SO YOU'LL HAVE TO VIEW IT YOURSELF*
...When I saw the three beautiful blue Coquette pieces, I wanted them all, the bustier, corset and babydoll. I got the bustier first and later bought the babydoll. I changed my mind about purchasing the corset. It will add major bulk! The bustier weighs 0.5 pounds, but feels heavier than my corsets! It's seriously high quality, but my first words when I put it on were "Oh my! This hurts! Get it off!" I've never worn lingerie so uncomfortable and I wear things daily that most would consider uncomfortable. Heels are a regular as are stockings, skirts, dresses and corsets. I've had to make some alterations to this bustier and for the price, they should've been fixed. The bones and flawed chest are truly painful. The bones hit under my breasts, poking up almost like more push-up, only painful! I don't mind much discomfort, but this is ridiculous. I wanted to peel it off asap! I was doing a jig as my partner un-hooked the back.
Experience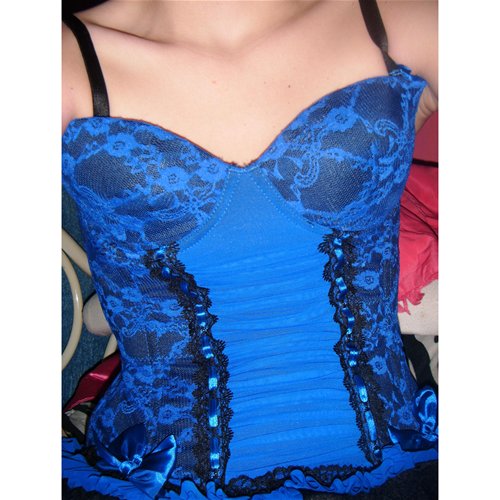 The cups ride up past my breasts and look stupid. They fold under my arms and the straps left me raw in less than an hour! In some photos you can see where the redness started when I first put it on.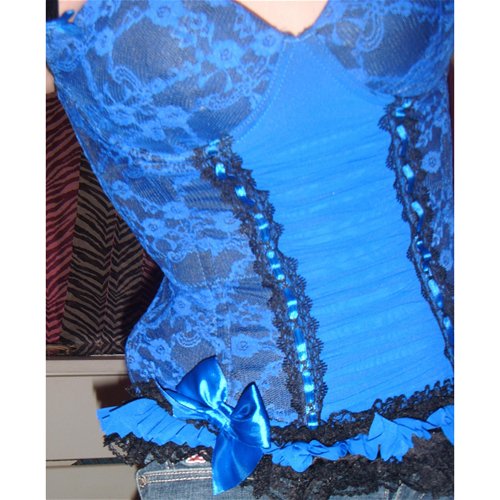 Bones bulging out!
The photos show where the bones bent at my sides creating more love handle! I cut 2 strips of boning from each side, but there's some gathering where it's a bit baggy. In my eyes, it added extra pounds! It's thick and the gorgeous ruffling, added bulk to my middle.
I wanted to pair it with jeans as well as wear it as lingerie. It's sexy and feminine and striked me as a piece that could be worn out. I wish the straps were removable because my armpits still sting! I wore it again yesterday evening and the straps will have to be altered.
You may remember me complaining in previous Coquette reviews about the removable straps causing my arms to be raw! The straps are too far over into the bend of my arms instead of closer to the middle of my shoulder and it's painful! I wore it last weekend for a dinner outing and had no skin left on my arms. I'll break out the seam ripper and sew them closer. They're unbearable!
I didn't feel sexy, but bulky and I'm already self conscious about my love handles on certain days and this made me angry with them! I have a smaller middle and my hip bones are set a bit higher up than what most women's look. Those bones being there along with my shape being a little love-handly, bothered me wearing this. It looks better where I removed bones, but I don't feel like I'm as beautiful as the bustier. It's so stunning though that I'll continue altering until I feel prettier.
I love the royal blue and black. It has a sexy, feminine and mysterious look. I want desperately to wear one of these pieces and look pretty.
I want lingerie to boost my confidence, not to please my partner. How awful did that sound? Don't get me wrong, I want him to think I'm smokin', but lingerie is mainly for me. He's never said I looked down right bad and always says I look great, but he prefers me in my birthday suit! That makes me feel better than lingerie, but I do it for me. He has opinions that I want to hear and I was shocked when he said I looked sexy and beautiful. I didn't feel it. He said "I still think you're sexier when you wear the I like Things That Go Vroom shirt!" That earned him some points!
Judging by his words, I think any girl's partner will think she looks stunning in it. That's not to say that she'll feel stunning. Mine said he thought the color was so bold that it's hard not to love it.
Not to drag this out, but I wanted to explain my feelings on this. It's difficult for two reasons. One, the beauty of it makes me speechless. Two, it's uncomfortable and made me feel like it was prettier than me! Now I'm competing with the beauty of a darn bustier!
This product was provided free of charge to the reviewer. This review is in compliance with the FTC guidelines.

Thank you for viewing
Lace bustier
review page!