Gorgeous blue bustier (size small)
Overall, if you have the right body for this bustier it can make an exquisite bustier for in and out of the bedroom. However, for me it has some flaws. The bra cups were above my breasts when tightened to the desired tightness that I needed it.
Published:
Pros:
beautiful color
Cons:
loose strings, one bow fell off
What it is
This striking lingerie piece by Coquette is a padded blue bustier with removable garters. It is a blue floral lace pattern over black. In the center it has black lace trim with blue ribbon going through it and a mesh cut out. It has two smaller blue bows at the top around the bra strap and two larger blue bows near the bottom before the ruffle.
Sizes Eden Carries
Eden currently carries this in sizes S,M, and L. I wish they offered them in a variety of sizes because not everyone is those sizes. It's such a beautiful bustier, that the lack of larger sizes is really a shame.
Coquette Sizes for Small
Size 4-6
B Cup
34"-36" bust
26"-28" waist
36"-38" hips
My current Sizes
Size 4-6
AA Cup
32" bust
27" waist
32" hips
121 pounds
Given the following information, I should be able to wear this bustier with no problem, but it should be 2" big in the bust area and 4"-6" in the hips if it went down that far. This is very accurate on how it fit me, and I believe it is sized correctly. With the adjustable bra straps adjusted to the smallest setting, I still had several inches of gap in the padded bra. Also, by adjusting the bra straps this way the cups were above my breasts. I believe if you are above a B cup in the size small you will be overflowing, and if you are below a B cup, you will have gapping. I think this size small will fit ladies that are the same measurements as Coquette's size chart.
To slip this on, I first hook all of the hook and eyes around the front and when that is completed, I slide it around to the back where they are supposed to be. If you did not have anyone to help you put this outfit on, I found this to be the easiest way to do it.
Measurements taken laid flat
If you need any more measurements, feel free to contact me.
Outstretched the bra cups with underwire measure 12 1/2" across, 26" under the bust and at the waist, 28 1/4" at the bottom right above the ruffle pattern, and the lace ruffles measure 26 1/2" wide. The cups are padded which I have never cared for and measure 6" across by 5 1/2" long. The pattern of the ruffles are black, blue, and black. Like with any lace pattern, you need to be gentle with it or you could potenially tear a hole in the lace.
It has two lines of 17 hook and eye closures like a bra for desired tightness and they are located 3/4" apart. The bra straps measure 11 3/4" long and either 1"-1 3/4" wide depending on which closure you use. The black bra straps are not removeable, but are sewn into the bustier. The bra straps measure 10 3/4" long at their shortest length and 19" at their longest.
The mesh cutout located in the center is approximately 3 1/2" wide and 12" long. It is made out of the same fabric as the blue ruffles at the bottom and seems to bunch up a little bit. The 10 vertical strips of boning have different measurements depending on where they are located on the bustier. Their length are as follows: 11 1/2", 11 1/2", 12", 8 3/4" 9 1/2", 9 1/2", 8 3/4", 12", 11 1/2", and 11 1/2". There are 10 horizontal elastic bands sewn on the inside of the bustier in between each boning to allow for some stretchiness in the material.
The garters are 11" in length at their longest and 7 1/2" at their shortest. It has plastic closures so you do not have to worry about the metal. There are loops sewn at the bottom of the bustier where you can attach the garters easily.
Front of the piece laid flat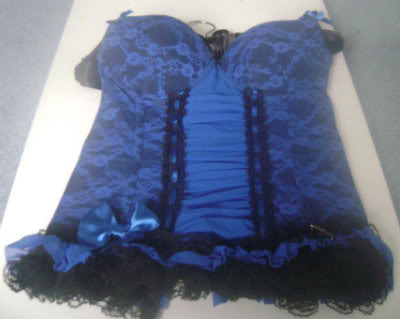 Back of the piece laid flat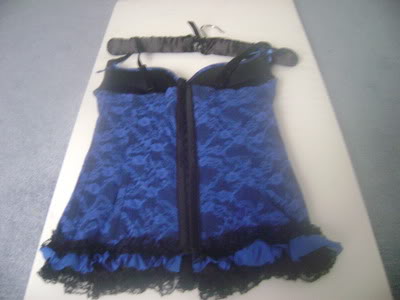 Material and Care
This bustier is Made in China and is made of 80% nylon and 20% spandex exclusive of trim. The tag suggests to hand wash this and to hang dry.
Experience
Packaging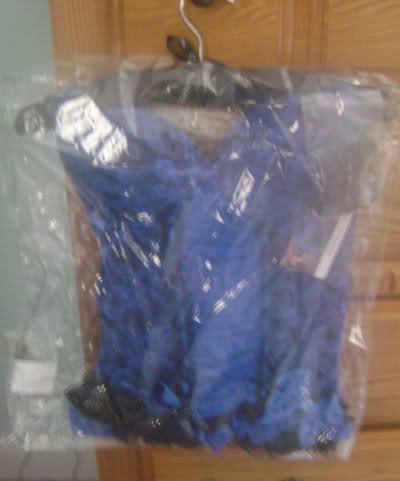 It arrived in a clear plastic bag on a black padded hanger that Coquette is known for including with their lingerie pieces. The garters were also enclosed in a small baggy. You can keep the plastic bag to store your bustier or use it for other purposes to keep other items clean. I don't store my lingerie on hangers in the closet, but I will use the hanger for some of my dresses. Attached to the bustier was cardboard with a picture of a model wearing the outfit and the back had the sizing and company information.
Craftsmanship
I will consider the overall quality of this piece to be decent. I had a few issues with it including two loose strings on this bustier. One loose string was located at the lace bottom and one up top between the two bra cups. One of the removeable bows fell off its silver pin immeditately before I even had it on. The sewing on the bottom black lace ruffle is weak. If you pull on it, it will easily come off.
Front of the piece while worn.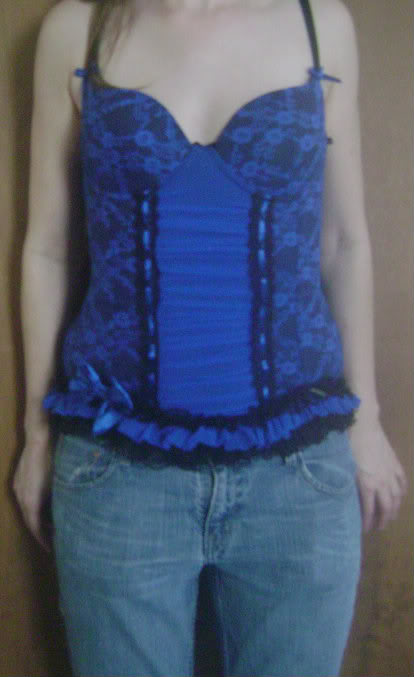 Back of the piece while worn.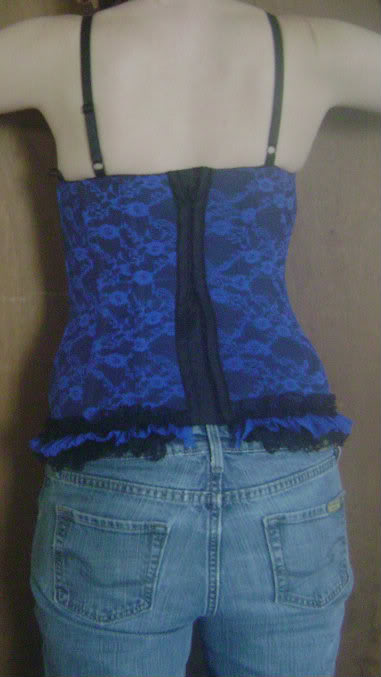 Overall, I really love the coloring of this bustier. It is a very vibrant blue and accented with black which is my partners favorite color combination. The large bows are removeable so those that do not like bows like myself will be able to remove them with ease. It is a sexy piece with feminine lace detailing. I like that it could potentially be worn out if paired with a pair of jeans. However, I have never been a fan of padded bras, or underwire. I also do not like the fact that it had some loose stitching and that one bow came unglued. I also do not like that the bra cups do not sit on my breasts, but directly above it. It is also not that comfortable for me to wear. I'm going to give this piece a 3 star rating due to these issues.
Follow-up commentary
8 months after original review
There were a lot of issues with this particular bustier that I did not like because I expect more from this company. I love the blue color of this buster, but other than that I was highly disappointed in this product.
This content is the opinion of the submitting contributor and is not endorsed by EdenFantasys.com

Thank you for viewing
Lace bustier
review page!