A Lovely Lace Corset
Overall this is a very classy and sexy corset. The black floral lace contrasts nicely with the tan background. It is well constructed, runs true to its size, and fits comfortable. Definitely a great piece of lingerie to feel sexy and impress your significant other in.
Published:
Pros:
-Sexy
-Comfortable
Cons:
-None
The Lacy Corset with matching G-string by music legs is well as I am sure you guessed a corset that comes with a matching g-string. I bought this piece of lingerie for my girlfriend. We got a size small for her.
PACKAGING
The product comes in a very simple clear plastic bag on a hanger. On the front of the bag there is a photo of the product on a model. If you look through the back of the packaging you will see only the actual corset on the hanger. The hanger is useful to hang up the corset and g-string, but it is pretty cheap and flimsy and you might want to use one of your own. Overall the packaging does its job, but is nothing fancy and not very discreet.
Here is the packaging: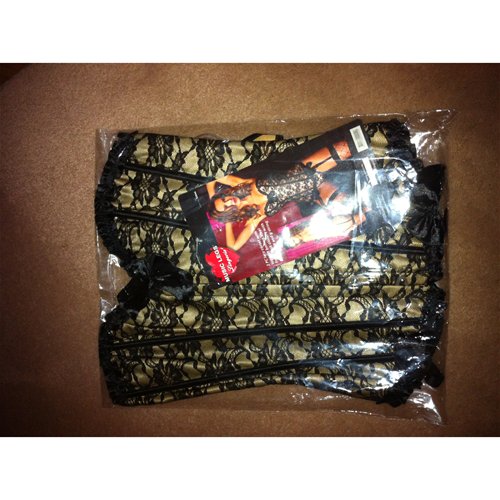 MATERIAL
The corset is made out of 100 percent nylon.
CARE AND STORAGE
This should not be placed in a washing machine. It is best to just hand wash this with a delicate soap and warm water. When you are done washing it just hang it up to dry. And once it is dried you can either roll it up and store it that way, or just hang it up like I do. We wash the g-string the same way. Might as well when you washing the corset. My girlfriend has worn it a couple times though and we have no needed to wash it yet though.
SIZING
Overall we found the sizing to work out well for us. My girlfriend is a C cup, has a waist of 32, is 120 pounds and 5 foot 4. So we just used those measurements and it told us to buy a small and it fit her quite well. I would therefore assume that all other sizes run true to their size too.
Here is the link to the sizing chart:
https://www.edenfantasys.com/ProductControls/LingerieSizeCharts.aspx#Music-legs
PRODUCT APPEARANCE
Overall I found this to be great corset. From my perspective is was very attractive on my girlfriend. She also really liked the look of it on her.
So when you look at the front of the corset there is a black bow on the front. It sits in the small V (showing off your cleavage). It buttons up with nice metal clasps along the front of it. At the bottom of the corset there are two more bows each right on top of the garter strap hooks.
The corset is a nice contrast between the black floral lace print and a neutral/tan backing color. Overall if gives it a very classy and sophisticated look. It reminds of older movies and the Victorian Era and just classy sexy women.
The back of the corset looks very similar, except it also has the area that laces up. The laces are not the absolute nicest material ever buy they still seem nice. They are kind of like a classier shoelace. There is also a slight difference between ours and the photo. The photo has a tan colored piece where it laces up. On mine there is no color difference where the string is. There is also a privacy panel along the back, so if you wish to cover you back you could do so while wearing this corset.
There are 10 pieces of plastic boning that run along the sides of corset. They do actually have some rigidity and give a nice shape when wearing this corset.
This was the first time we have ever had a corset and it took some time to put it on and tie it up. The front metal clasps can be a bit challenging. I had to help my girlfriend with them. We also did not loosen the back initially and thought it did not fit. But upon realizing the laces could be loosed we found it easy to get it. So this might be a bit tricky to surprise your boyfriend with the first time. I do not know if you can actually tie a corset in the back on your own. It seems like it would be very difficult.
In terms of comfort my girlfriend had no issue wearing this for an hour while we fooled around. She had no complaints about any rubbing or itchy spots and found it to be quite comfortable overall.
I think this corset could even be worn out and about. If you were to wear it over a shirt to the the right occasion I think it could look good. It looks classy and sleek enough that I think it could look good as part of an outfit. As well as it obviously functioning in the bedroom as lingerie.
PHOTOS
Front of the corset with the g-string: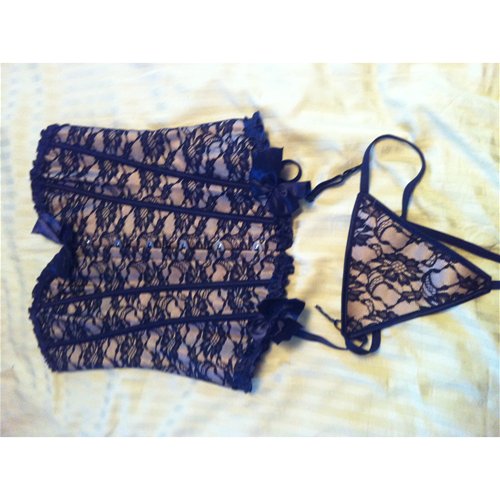 Close up of the front: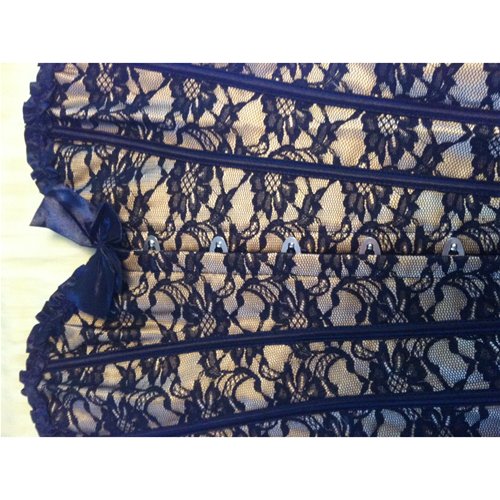 Back of the corset: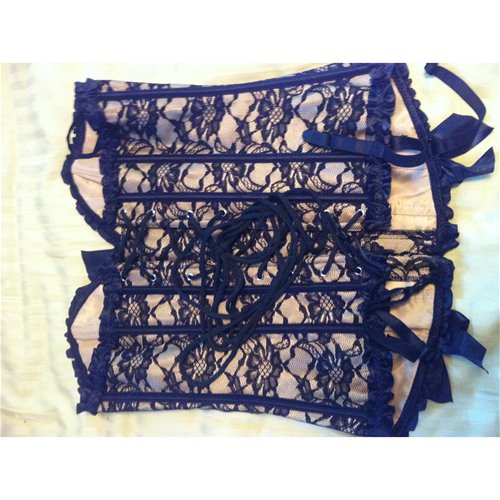 This product was provided at a discounted price in exchange for an unbiased review. This review is in compliance with the FTC guidelines.

Thank you for viewing
Lacy corset with matching g-string
review page!