Feminine Elegance....
With a nude backing and floral black lace over lay, this corset will go with almost anything. The rich sheen of the under cloth makes this stand out and adds some elegance, while the bows add to the flirty and feminine feel of this corset. Appropriate for home and wearing out--the Lacy Corset is well made and comfortable. Add a touch of elegance to your night.......
Published:
Pros:
Feminine, versatile.
Well constructed.
Privacy panel.
Cons:
Plastic boning.
Short lacing.
Shorter in back.
-----------------------------------------------------------
Manufacturer: Music Legs
Size: Medium
Included:
--G-string
--Garter straps
--Shoulder straps
------------------------------------------------------------

Packaging:
The corset arrives inside a clear garment bag, and is on a white, plastic, hanger that will work for temporary storage. There is a garment tag attached to it and there are garters and shoulder straps in individual packages you may attach to the corset if you wish.

Details:
I noticed the colors! The lace is pretty and delicate looking and is jet black while the solid, base material is light tan or nude colored. This was a simple color contrast that is very feminine and pleasing. The neutral tones makes this a more versatile garment for wearing out with a skirt or jeans as well as fun and sexy in the bedroom.

There is a ruffled ribbon sewn on to the top and bottom for finishing and decoration. The black satin bow in the middle of the breasts adds a flirty and feminine touch, while the two bows above the garter straps add a sexy and flirty look.

There are five sets of plastic boning. Two in front, one on the sides and two in back. The front is hooked by a metal busk and the back has lacing. The lacing is made of a rounded shoestring type lacing that is continuous and a bit short. There is a privacy panel for covering your back under the lacing. The panel is about 5" wide.

The metal busk can be a bit challenging to get closed and hooked. When putting this on, I fold in the left side so the hooks are facing my right breast. I then take the right busk, line it up to the hooks and fold the left busk back out. Tug the hooks in to set them and you have defeated the busk!! Too many times, I have had the hooks come out as fast as I have attached them. That was just too frustrating and I devised my little strategy.

The inner material is slippery and feels nice against your skin. I do notice that it holds moisture in, so make sure you powder yourself prior to wearing the corset. This wicks moisture away and helps keep you dry. The side that shows under the lace is shiny and has a rich sheen to it that makes the lace really stand out. This is classy and tastefully designed and adds a bit of elegance to any outfit.

Material:
The corset is made of 100% Nylon.

There are no loose threads, and the construction is sturdy, well finished and well sewn. The seams are straight and the matched areas line up perfectly. This is a very high quality corset with lower quality boning. I do replace the plastic boning with metal ones soon after wearing the outfit for the first time.

Care & Storage:
Hand wash in warm water with a mild detergent. I like to use Dona Lingerie Wash, which is made for delicate material and cleans without damaging the lace and other fabrics. Do not wring the material out! Let this corset air dry. I like to hang this with the corset draped over a hanger at the back lacing area. This also works well for storing, too. Hang in your closet or roll with the boning and place it in a dresser drawer for safe storage.
Experience
Fit & Size Chart:
My Measurements: 43D Breast - 30" Waist - 42" Hips - 28" Inseam - 22" Thighs - 5"2" Tall & 150 Lbs.
Music Legs Sizing chart (Copied from the chart on Eden):
Cup Bust (in) Waist (in) Hip (in)
XSmall 0 - 2 A 30 - 32 22 - 24 32 - 34
Small 2 - 6 A - B 32 - 34 24 - 26 34 - 36
Medium 6 - 10 B - C 34 - 36 26 - 28 36 - 38
Large 10 - 14 C - D 36 - 38 28 - 32 38 - 40
Sm/Med 2 - 8 A - B 32 - 34 24 - 26 34 - 36
Med/Lg 8 - 14 B - C 36 - 38 28 - 32 38 - 40
1X/2X 16 - 18 D - DD 40 - 48 36 - 40 42 - 48
3X/4X 18 - 20 DD 48 - 54 40 - 44 50 - 56
Pictures: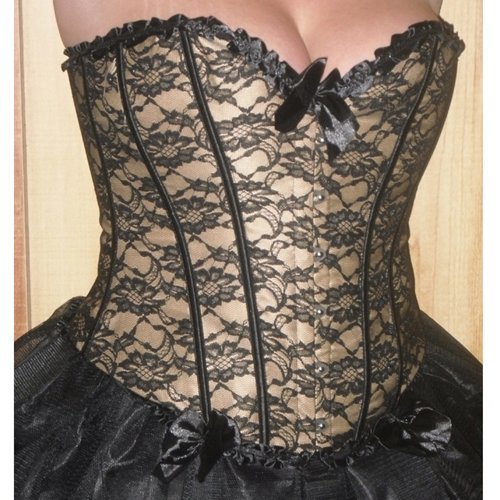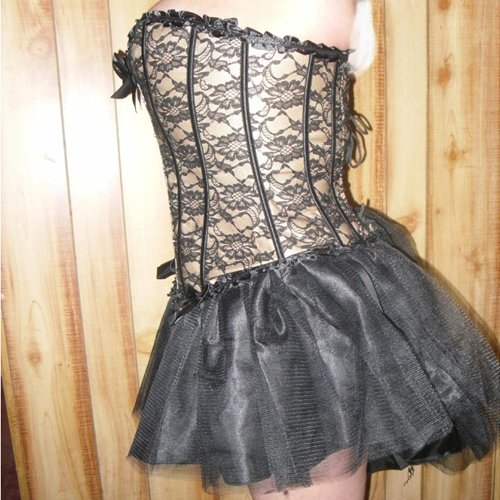 Follow-up commentary
1 month after original review
My new favorite, this corset was made for wearing in public, the privacy of your bedroom and as a sexy surprise under a low necked sweater or shirt. I have had more fun and compliments from wearing this one out than any other corset I own! And...my husband shows me how much he appreciates the view every time I put this on--and boy, does he ever!!

The lace has not frayed, or pulled apart form the seams and there are still no loose ends on the seams. The quality and workmanship as well as the material is definitely of the highest order and I would recommend this corset to anyone. It is very flattering, has a great fit and will not bunch up as bad as some of the others in the back. Definitely an A+!!
This content is the opinion of the submitting contributor and is not endorsed by EdenFantasys.com

Thank you for viewing
Lacy corset with matching g-string
review page!