A Sexy Outfit, but Beware Of The Saggy Neck Band!
The Caged Heart Chemise and Thong by DreamGirl is sexy! I just love the unique design, and overall I am quite happy with it. The only problem I had with this outfit is that the neck band circumference is far too big for my neck. I can make the alterations, but I wish the band was just smaller, or perhaps more adjustable.
Published:
Pros:
Sexy, Comfortable, Stretchy, Many sizes available, Comes with thong.
Cons:
The neck band will be far too big on most necks, making it appear saggy and awkward.
I loved the Caged Heart Chemise and Thong by DreamGirl as soon as I had seen it. The design on the chest reminded me of a spider-web, but a sexy spider-web! The design was unique and intrigued me, so I had ordered the size XL. The outfit is available in size S-3X/4X, and in the colour black only.
The outfit arrived on a clothes hanger, with a clear, plastic bag covering the outfit for protection. There was no text or photos on the bag. The hanger that the chemise comes on would be excellent to use for storing the piece in your closet when you are not wearing it. The dress had a cardboard tag attached to it with a photo of a model wearing the piece, and it stated the colour and size.
The outfit is made of 80% polyester and 20% spandex. Both the chemise and thong are ridiculously stretchy, though the more you stretch the material of the chemise, the more see-through it becomes.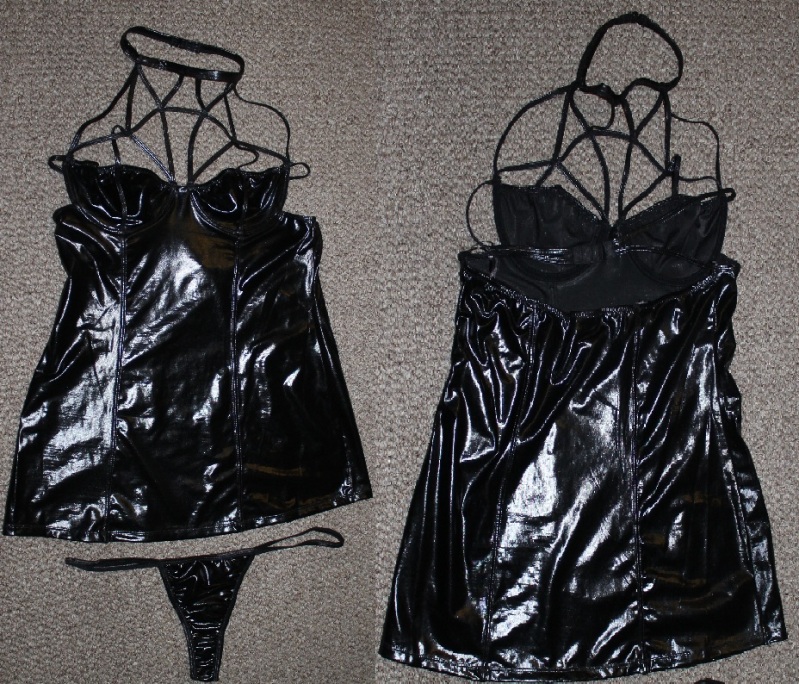 I've taken measurements of the piece laying flat, unstretched. If you need additional measurements, please feel free to send me a message and I can get them for you.
Chemise
Adjustable neck strap circumference: 16- 16 ¾ inches
Cup length: 4 inches
Cup width: 5 ¾ inches
Chest (armpit to armpit): 15 ½ inches
Bottom of chemise: 21 ½ inches
Length of chemise (armpit to bottom): 17 ½ inches
Length of back of chemise (down centre back of chemise): 15 ½ inches
Thong
Waistband: 16 ½ inches
Waistband stretched as much as I possibly could: 26 inches
Width of material that covers your front area (widest area): 5 ¼ inches
Lining length: 3 ½ inches
Detachable, Adjustable Garter Straps
Length: 3 ¾ - 5 ½ inches
Width: 3/8 of an inch
I was hoping to get this chemise and be able to wear it like a dress, with a cardigan to wear in public. The chemise is actually far too short for this, and it is a lot more revealing than I had expected, so this will stay a bedroom piece for me. If you do not have a problem with the amount of skin that is shown in the chest area, you could always pair it with leggings and wear it out.
The neck strap goes around the neck, and does up with a clip and loophole (similar to how a bra strap attaches to a bra). There are three loopholes that the clip can be attached to. Each hole is approximately ¼ inch in width. The neck strap is stretchy, but the sizing may be a problem for those who have a very thick neck, or those with a very thin neck. Actually, I think it will be a problem for quite a few people. I measured my neck circumference, and it is 13 inches. Even on the tightest loophole, the neckpiece looks baggy on me. This is the biggest problem for me about this outfit. The neck looks saggy, and that is not sexy in my opinion. You could alter the neckpiece, which is what I will probably end up doing.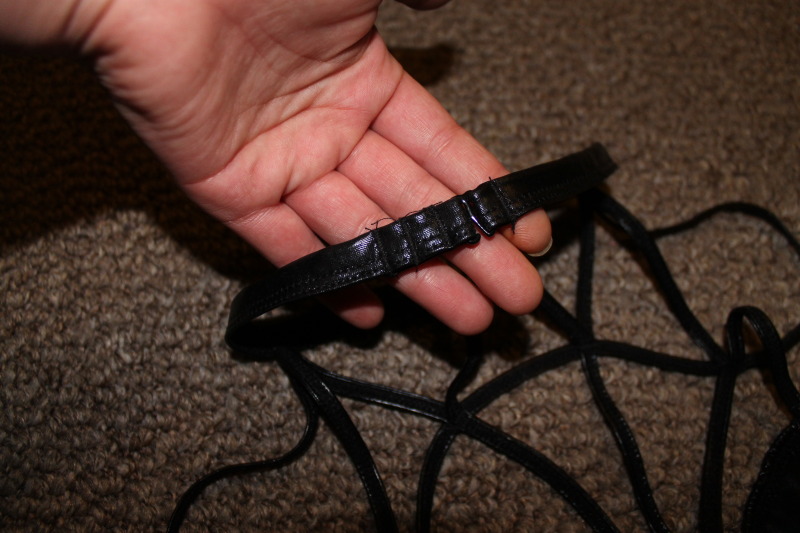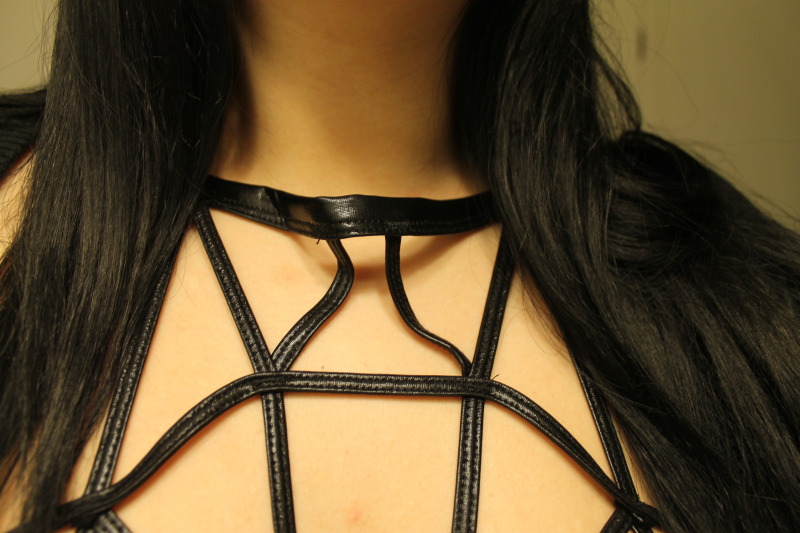 There are four garter straps that are detachable and adjustable. If you prefer to wear the chemise without the garters, they can be detached without the outfit looking odd because the loop holes to attach them are on the inside of the bottom of the chemise.
The top back of the chemise does up with a single hook and eye closure. The hook and eye piece is attached to 4 black, elastic bands; 2 on each side. To better understand this, I've taken a photo that you can see below. There are three eyes that you can attach the one hook to, depending on how tight you want/need it to be. There is a ½ inch gap between the eyes.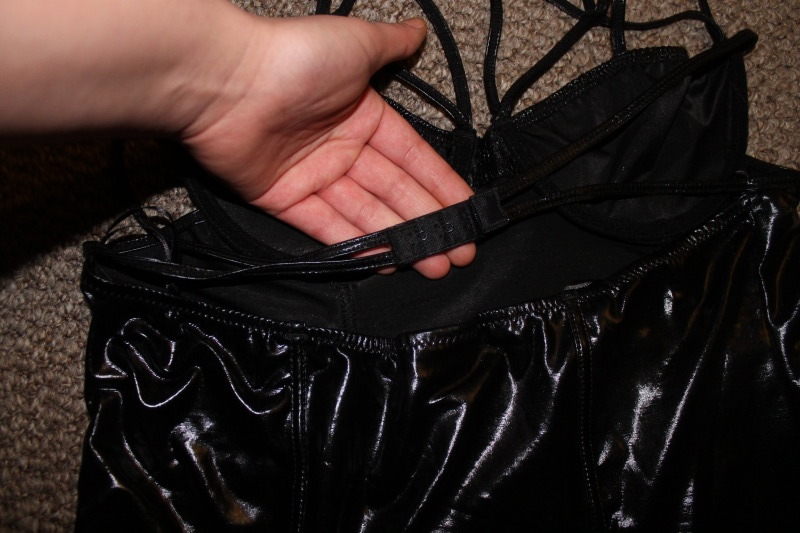 There is underwire in the chest, but there is no padding. The thong also has a very thin lining in it. The thong is comfortable, though it is a tad bit too big for me. The front of the thong is nice though because it actually covers your front area nicely. There have been many times I've received thongs/g-strings that only cover ¼- ¾ of my front area, so I appreciate when they actually cover like they're supposed to.
The material seems durable, though there were quite a few loose threads on the chemise and garters. These can easily be snipped off with a pair of scissors, but I figured it was worth noting.
Experience
...continued
I found that the material did make me feel a bit warm after awhile of wearing it (more so in my stomach area), but not to the point where I had to take it off from overheating. The material is quite thin, and besides getting a bit warm, it's extremely comfortable. I didn't find the material to bother my skin at all while wearing it. The only thing that bothered me was the saggy neck piece that I had mentioned above, and that a few elastic pieces in the caged chest section seemed to not want to stay close to my skin (they seemed to "puff" out, rather than lay flat). This was not uncomfortable; it just bothered me because it looked silly.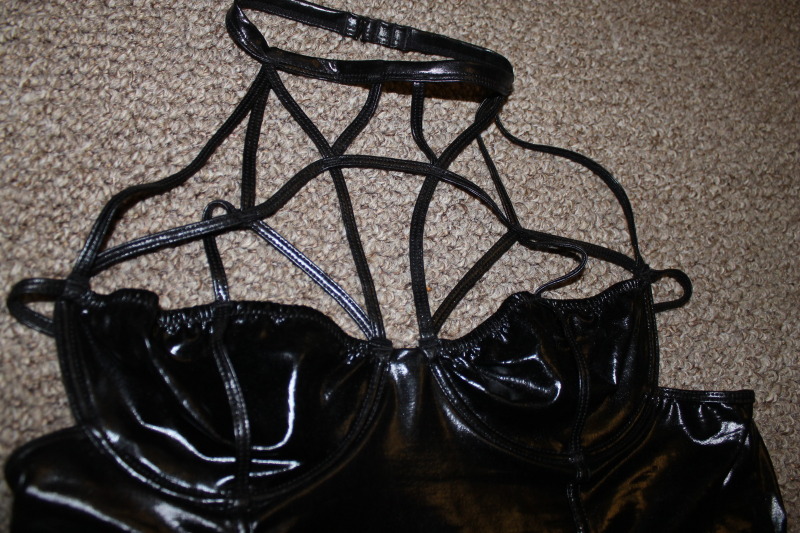 The care tag states that the outfit should be dry cleaned only.
I've decided to give the outfit a 4 out of 5 rating. My partner really likes it on me, it is stretchy, comfortable, and looks hot. The reason that the outfit loses a star is because the neckpiece is too saggy on me, even on the tightest option. I don't have an extremely thin neck or anything, so I can see this being a problem for many people. I will probably end up altering the neckpiece to fit me better, but I really don't think I should have to do this since I consider my neck size to be quite average.
Follow-up commentary
12 months after original review
I still like this outfit, though I haven't done any alterations to the saggy neck piece. I've been lazy I guess. I'm also a bit worried that I might end up ruining it. I checked out the 2 other reviews that were done on this outfit and it seems that both reviewers had the same issue as me. It's too bad that it is saggy rather than how it fits the model in the stock photo. It would be a perfect 5 out of 5 if it did.
This product was provided free of charge to the reviewer. This review is in compliance with the FTC guidelines.

Thank you for viewing
Caged heart chemise and thong
review page!