WARNING: Hearts May Escape This Loose-Fitting Cage
This is a rather daring outfit for those looking for something to wear in the bedroom. Aside from the over-sized, baggy "cage-style" neckline, this is a cute and comfortable outfit. It includes a matching "wet-look" thong and detachable plastic garters.
Published:
Pros:
* Stretchy
* Wet-look material is gorgeous
Cons:
* Saggy neckline
* Quite short
I took a risk with this one. In all fairness, I was looking for something for risqué public-wear. That is, play parties and events related to the BDSM-scene. Sadly, this did not live up to my high expectations.
To start, the packaging was pretty boring. This arrived on a cheap hanger in a plastic bag that were both thrown away upon opening. The thong was attached to the hanger as well, but it had tangled with the "caged" neckband and required some untangling to detach it from the actual chemise.
The construction of this product is a bit questionable to me, with the under-wired cups, but no padding. The cups are also notably short in coverage, meaning it is more like a "shelf-bra." It's not very appropriate for wearing out of the bedroom.
As for material, I'm a huge fan of the "wet look" stretch and feel. The material is black with a slight shine appearance to it, which is pretty sexy in itself. The material stretches and fits yours body perfectly, so long as you have ordered the correct size. If you're unsure of what size to order, consult the size-chart:
SIZES____________________WEIGHT
Small______2 - 6_________90 - 120
Medium____6 - 10________120 - 140
Large____10 - 14________140 - 150
1X/2X____16 - 18________165 - 225
3X/4X____18 - 20________225 - 275
Apparently, if you weigh between 150 and 165, you're screwed. I'm kidding, just use your best judgement. I'd go down, personally.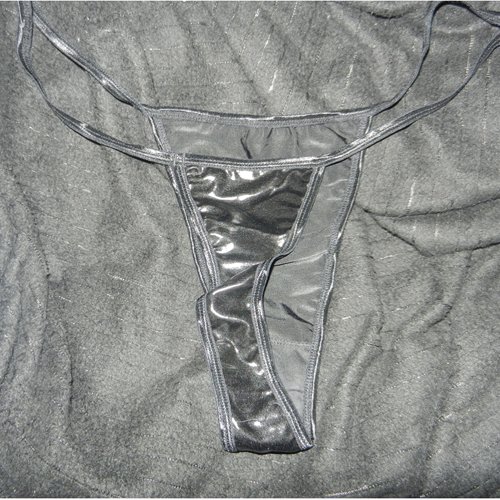 The thong is cute and comfortable; I have no issues with that aspect. My main issue with this product, however, is the neckline. I can't say I wasn't warned, as I have read past reviews saying the neckline is "baggy" or "too-loose" and I can finally confirm, that is correct. I was thinking the actual part that goes around your neck was baggy, and that was potentially an easy fix with some light sewing. The problem, however, is more with the entire area above the chest, as shown below.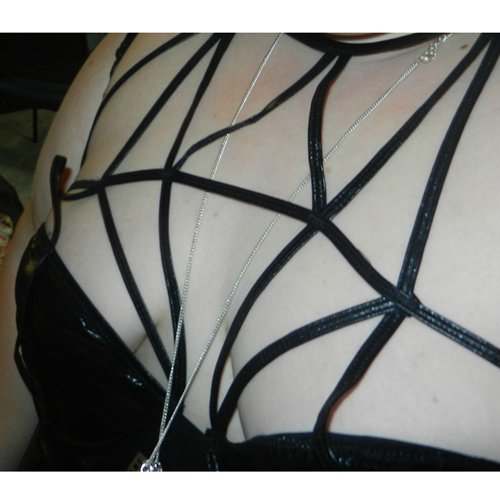 As for care, the tag instructs one to have it dry-cleaned. I, however, take that as a suggestion since I never use dry-cleaning services. Instead, I washed this by hand in water and a mild detergent. It hasn't disintegrated yet, but I'll be sure to do an update if that happens!
Experience
My experience with this product wasn't what I had hoped for, but I do admit to having unrealistically high expectations from looking at the model in this product's photos. Do your self a favor and look up photos of this actually on people that have purchased it before buying. If you think it will work for you, go ahead and try it out. However, if you don't have a very large chest-area or are on the lower end of sizes, this may not be the best fit.
Follow-up commentary
8 days after original review
I have taken the tough decision to alter this chemise. The neckline and length of this did not work for me, personally, though it may work for others, especially of smaller size. I bought this with EdenPoints, so it didn't hurt as much to take scissors to this product. From it, I have made a wet-look skirt that I can wear without any problems. I feel like it was still worth the purchase even though I don't wear it as such. I'd like to hear if this product works for others in its original state.
This product was provided at a discounted price in exchange for an unbiased review. This review is in compliance with the FTC guidelines.

Thank you for viewing
Caged heart chemise and thong
review page!