Are You Kidding Me? (OS)
This design is so me. I could imagine myself wearing it and feeling incredibly sexy, but that dream was shattered by the design of this. It's molded for someone with an unnatural shape or someone who is very small. Otherwise, you will run into a slew of issues, sliding, or pulling straps, weird placement, spacing, etc. It's just a lose lose for me.
Published:
Pros
The lace is soft, A sexy design for mostly small, sans curves frames
Cons
Lace creases easily, Horrible rectangle design, Runs super small for OS, Not true to chart
I am so dissapointed with this one! It's teeny tiny. The design is horrible too - all the straps are the same size. Are you the same size at your waist, hips, and butt? I doubt it... I should have noticed that even on the small model the straps are bunching and pulling! I really thought this design would look fucking hot on me, but the OS which is usually good and never this bad, doesn't work for me. I tried a PS once when a friend of mine was too big for it and that was huge, so I guess I just can't fit in this one either way.
*Contents/overview:
Two piece set
*Chemise
*Matching thong
The Printed Lace Chemise and Thong is just that. The thong has the same pretty pattern as the chemise and isn't just a plain black thong. It comes in one color combination and is available in one size and plus size.
*Material:
Decent, interesting pattern
This set is made of 95% polyester and 5% spandex. I was a bit shocked to see that the pink is very shiny. I think this makes it look a bit tacky, not as attractive as it looks in the product pictures. Below you can see its sheen.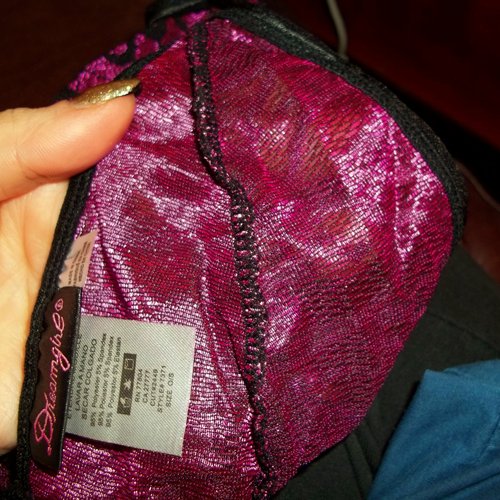 The lace is soft and has a unique floral pattern that I have not seen before. it has a mix of a few different flowers. It's very stretchy and flexible, but folds and creases too easily. I don't know about you, but I don't have time to iron lace. The pink parts have a strange black thread through the pattern that makes it slightly abrasive and itchy. The pink parts are also stretchy. There is also a satin bow.
*Design/craftsmanship:
Horrible
The Printed Lace Chemise and Thong does not have a good design. As you can see from the picture below all the lengths of the straps are basically the same. This means they fit better in some places than others. Most people are not shaped like a perfect rectangle. We have hips and rib cages that create hour glass shapes, more or less, obviously. The straps, when laid flat, have lengths that are anywhere between 11 1/2" and 12" long. The differences are so slight that I think it is actually due to the creases, not purposeful length changes. The straps are all the same thickness of 2 1/8" wide. All but one of the six straps are attached. the very top one has two lace straps that tie in the back. It would fit so much better if they were all like this!
The center panel is only about 15 1/5" long. It starts right under the bust line. The cups are very small and have a seam running up the which makes them have a little bit of a cup shape. The cups are only 5 1/2" across the bottom and 5 1/4" tall. They have no under-wire or padding. At the top of each triangle is a stretchy string that ties behind the neck as a halter.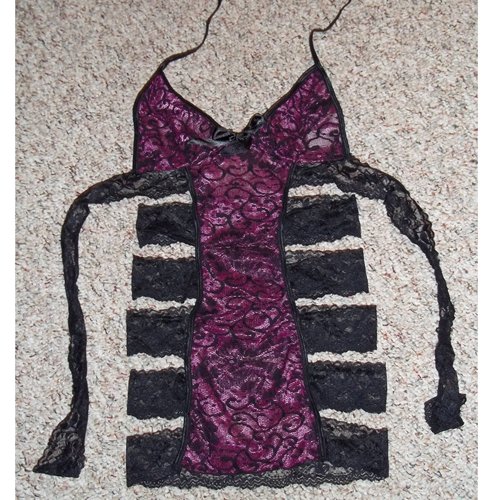 ]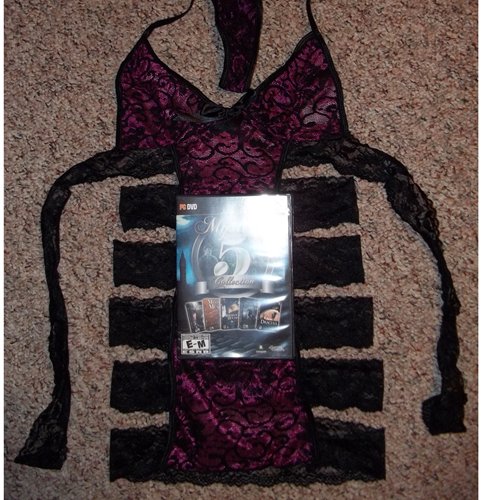 This second picture is to show how small this is. That's a standard DVD size case.
The thong is traditional and very nice, but I don't see the point. Wearing it cuts up the cool space between the straps. Thanks to bad photoshopping on Dream Girls's part, you can see what it looks like with and without the thong.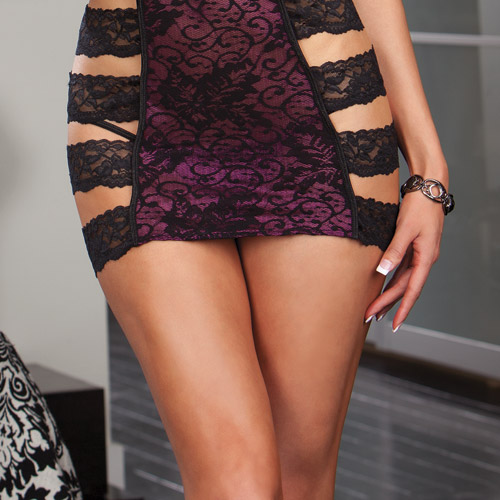 It is 4" across in the front. 2 1/4" across in the back, and it has a small cotton liner in the crotch. The sides are string bikinis.
*Cleaning/care/storage:
Hand wash
This set comes in a plastic bag inside of a reusable cardboard box that opens on the sides. It's the traditional Dream Girl box. It has pictures of the model wearing the item on the front and back. The tags are not placed in the best of spots. One is in the back of the thong, but the other is on the inside of the bra cup which can be irritating. They say to hand wash in cold water and then hang dry.
Made in China.
Experience
*Sizing/fit:
Runs very small, Not true to size
I rarely have issues with Dream Girl's OS sizes. I wasn't worried about it especially since the one time I ever tried on a PS size, it was huge on me (the similar piece I inked below). That design also had straps like this so I figured I was safe. WRONG! The OS says it should fit sizes 2-14, cup B-C, 32-38" band, 24-32" waist, 34-40" hips, and 90-160 pounds.
I weigh ~145 pounds (size ~8); curvy but fit, with size D breasts. My waist is about 30" and hips 38.5". My band is about 34". I wear either a 34 or 36 band for a bra. I should have noticed that even on the "perfect", smaller than me model, she has bunching in the straps.
This actually fits fine in the top half. The chest area is fine also. The straps fit my band, upper, middle, and lower waist wonderfully without cutting in at all. It's the one at the very bottom that is the worst. I'm also not exactly sure where to put it. I want to put it under my butt, where it doesn't cut in on the sides, but that screws some of the upper ones up. If I put it a little higher up it causes bunching when I adjust the rest of the straps. There is no way for me to wear this and feel 100% sexy. This clearly is made for someone who has no hips, preferably hips the same size as their waist...that's not me, and that's not most women either. The thong was not tried on because I knew as soon as I put this on that I'd be returning it, but compared to the dress I reviewed before this one, I can tell the thong would actually fit decently. Figures.
By the way, even with the straps in spots that fit best, there space between them is no where near uniform because they won't stay that way. The ones higher up slide because they have slack and the ones lower show strain and look like they will bunch and roll eventually with enough movement. Gah! No winning...
My Re-done chart: For the large
Runs small, Horrible OS
Dress: 0-6 (If your hips are smaller than mine)
Cup: B-C (best, but will fit D)
Band: 32-38" (underneath your breasts)
Waist: 25-30"
Hips: 32-36"
*Possible accessories:
If you want to wear stockings with this, I'd try to find some with a black lace band like the ones
below
. And since this is lace, I wouldn't mix it with fishnet.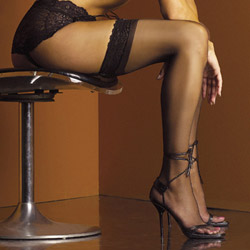 For heels, a sexy fairly classic heel shape would do well because the chemise has so much going on. You could snaz it up a bit with vinyl or keep it more simple with a flat black. I found a pair of Pleaser heels (Lolita-10) that has both options!
*Conclusion: 2 stars - ★★
I can't give this a rating. The sizing is very small and the design is horrible. We are not shaped like rectangles! This will work for some women but it won't be a large portion of the sizes it is supposed to fit. Sadly, this one will be returned.
Follow-up commentary
2 months after original review
My opinion on this piece has not changed. I tried it on once more before I returned it to make sure I was right, and I was. this piece is just horrid. I've seen reviews of the PS size and I wad right about that too. It's either way too small or way too big for most in the size chart.
This content is the opinion of the submitting contributor and is not endorsed by EdenFantasys.com
Thank you for viewing
Printed lace chemise and thong
review page!