Party in the Back
Despite a few flaws (that may or may not simply be with the plus-size version), it's a very comfortable and nice piece of lingerie. It is especially nice to those that are insecure with their chest and/or stomach, yet confident with their back and ass where the most skin is revealed.
Published:
Pros:
Pretty, mostly comfortable, no muffin tops for plus size.
Cons:
Straps slip easily, troublesome to put on in chest area, ill-fitting thong.
When getting this item as a plus-size woman, I had a lot of worries. Would it even fit? Would the lace straps be too tight and give me muffin top times 10? Would I need an instruction manual to put it on? And so on. Thankfully, I was able to put most of these worries to rest.
Let's start with the thon-th-th-th-thong. The bulk of the material is the same as the front of the chemise: a purple satin-like fabric with lace overlay. There is also a small patch of black cotton on the inside of the thong to act as lining. The sides are super stretchy and of the same material as the halter straps on the chemise. While the thong straps certainly stretch enough to fit a plus-size body, the fit on the thong straps is much smaller than the chemise to where you have to stretch it to wear it. It's not to the point of completely uncomfortable, but it definitely shows that it's a wee too tight when wearing it. Finally, the back was a little wider than I expected for a thong. Felt more like this space between panty and thong.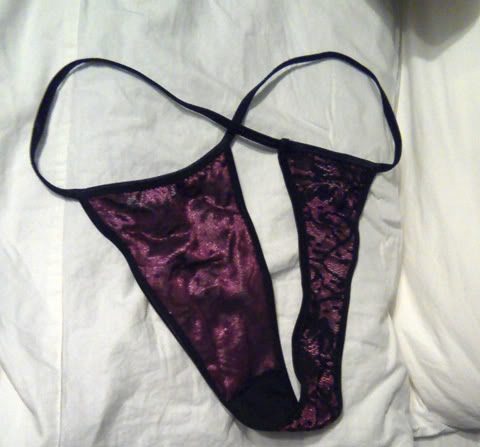 Now on to the chemise itself. Thankfully, it did NOT require an instruction manual. All except the top lace strap are connected, making it easy to just step into. The material seems opaque but is actually somewhat sheer when the material has only light going through it.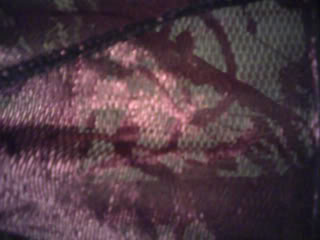 However, I found the chest area particularly annoying to get all tied up. Both the halter portion and the sides of the chest required tying two straps together, one set behind your back and the other behind your neck. The lace straps had to be tied fairly tight to act as the bra band. Else you would have no real chest support. As I said before, the halter strap material is also super stretchy. While this relieved my worry of the somewhat thin straps snapping on me, it made it difficult to tie where I wished to have it, as well as making it slightly uncomfortable once it was tied. I wish they had made the top lace strap connected like the others or some other, less troublesome option. It offers customized fit, but I had to try about 5 times to get it to fit properly in just that one area. Besides this one area, the chemise was easy to put on and adjust.
The lace straps surprised me. They were soft, a bit stretchy and most of all, comfortable. They weren't so loose that you could see them hanging off me, but the straps were still loose enough to prevent multiples of muffin top above and below the straps. No bits of fat poked out. It does conform to your body. So if you have chunky hips, it's obviously not going to hide them. Sadly, the straps are loose enough that they shift extremely easily. After about 5 minutes, the straps had strayed all over the place, away from the horizontal bands I had originally set them up in. Moving around any only made it worse. Takes 2 seconds to adjust it back, but still.
However, this doesn't detract from the item itself. The back is essentially all lace straps and this turns into quite a turn-on, especially for those into a little kink. As one put it, "that's the man's cue to go for it." The purple part of the chemise covers a fair bit of the stomach and whatnot. I'd prefer a bit more, but that's just me. The chemise does offer a nice contrast between front and back. Up front, it has a pretty design and cut with interesting sides. In the back, it's go time. If, like me, you're more insecure about your front bits than your back parts, this is a nice piece of lingerie. Lets me show off where I feel best, while covering just enough of the places I don't.
This product was provided free of charge to the reviewer. This review is in compliance with the FTC guidelines.

Thank you for viewing
Printed lace chemise and thong
review page!