Awesome...if it fit her chest!
The Victorian dreams chemise is a very visually stimulating chemise to add some heat to the bedroom as well as get a rise in your mans pants. The wonderful blue cups covered with lace and bows along with the form fitting spandex body will highlight all the curves of your body with out being to tight. As long as you have a smaller chest than my wife, this one is a sure bet.
Published:
Pros:
Lace and bow detail, Comfy materials, Great looks.
Cons:
Cup sizing off.
This Chemise from Coquette is pretty much a welcome addition to my wife's collection. The stretchy body of spandex feels incredible to me and is very comfortable for her. Of course my favorite part is the Nylon cups with the lace and bow details, but this is where her problem is as they do not fit like they should. Kind of sucks as this is one area she has a hard time with, 99% of the time the cups are too small for her 36D chest. Seems like every time we try a new piece of lingerie that has formed cups, they are too small. Even when we order a larger size. This time we ordered the XL hoping they would fit, alas no such luck this time.
Still, after removing the under-wire the chemise at least is comfortable to wear and is downright sexy in look and touch. One of the big brownie points for the wife is the color, she loves blue and this shade happens to be a favorite of hers. As for me, as long as it is not pink or red I'm good.
Coquette sends this chemise in a plain plastic bag but is nice enough to include a padded hanger.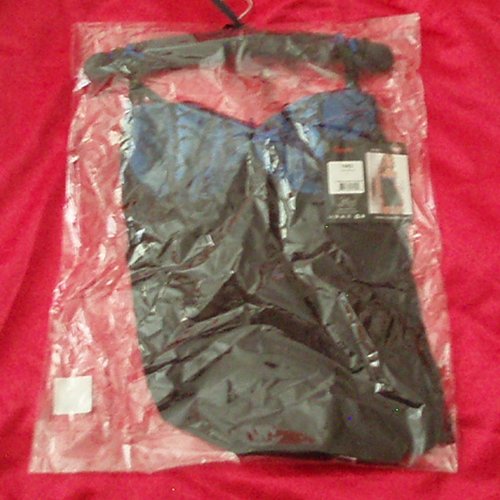 Just under the cup on the right side you can see the tag that has a few pictures. Pretty cool that this tag has a safety pin holding it on versus one of those plastic deals that you have to cut off. Inside on the right hand side just below the cup there is three tags sewn into the seam. One has the Coquette name, one with the size and one with care instructions.
As I said before, the cups have a nice lace detail with a corset like ribbon that runs across the nipples. They can be tightened if needed but we just left them as they are, this way the cup is as big as it can be. There are three blue bows, one in the center of the cups and one on each of the adjustable straps.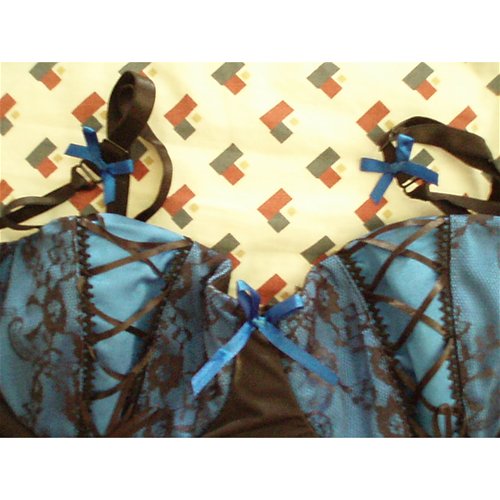 According to the size chart, the XL should fit bodies with the following measurements:
D cup 42 - 44 Bust 34 - 36 Waist 44 - 46 Hip.
Aside from the cups, everything else seems right on. My wife wears a 36D bra, stands at 5'2", has a 37" waist and 42" hip. As you can see we thought for sure the cups would be a bit big, not small. For a visual aid: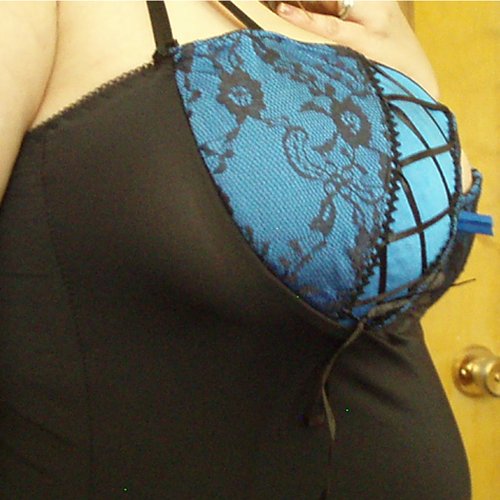 Clearly the line where the cups attach to the body of the chemise is nowhere close to sitting right. Even with much adjustment she could not get the under-wire to sit right and still cover her nipples. I guess if she wanted to wear it like a shelf type top it could work.
Also, as her chest is too big for the cups it makes the center of the cups bunch up funny. While this is not really a bad thing it just affirms that the cup sizing is off with this one.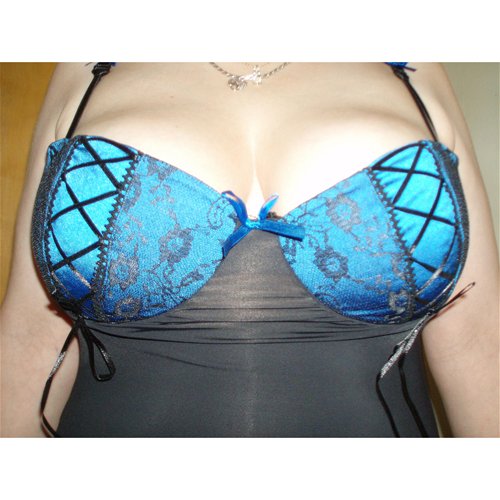 Bad points aside, the rest of the chemise fit pretty nice. The length was a tad long for my liking but that just because I like to see a bit of ass showing. I do like the opening on the back which when she wears it pulled down I can see the start of her butt crack. At least I get to see some tail. While we both love the feel of Spandex, the wife would have liked for it to be as form fitting as it is, her love handles show a bit too much for her liking. Yes we know how Spandex fits and all, but that was another reason we ordered the XL. As for me, I don't notice it, nor do I care. My eyes are on her chest and ass.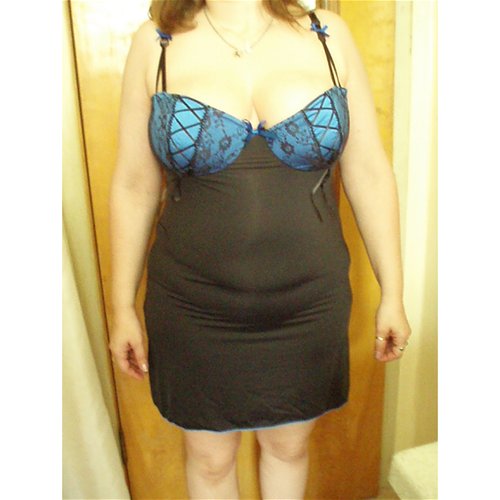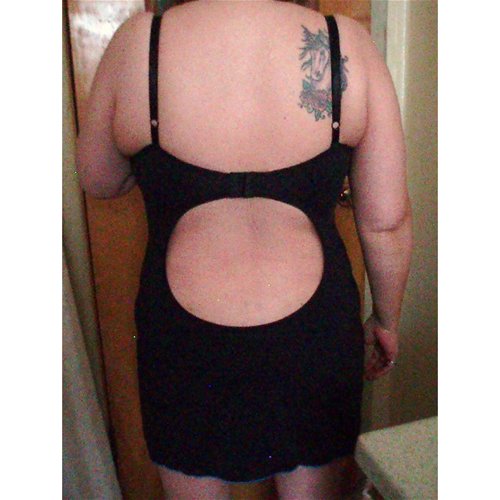 Cleaning should be done by hand using a mild soap and cold water. Hanging it up to dry is best as heat may deform or melt the nylon and Spandex.
Experience
The cup issue seems to be something we just have to live with, being that she is vertically challenged with big tits we have a hard time finding something that fits in both areas. Like another chemise like this, taking out the under-wire helps at least to make it comfortable to wear.

She looks damn hot in this and she feels sexy as well, so it still works for us.

I have to take two stars on this one for the cup issue but other than that it is a five star chemise. The quality of workmanship is perfect and the materials used are very nice.

So if you have a smaller chest but fit the rest of the measurements, I highly recommend this one.
This product was provided free of charge to the reviewer. This review is in compliance with the FTC guidelines.

Thank you for viewing
Victorian dreams chemise
review page!