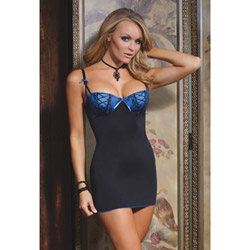 Victorian dreams chemise
Chemise by Coquette
Chemise of your dreams: Results may vary
This chemise by Coquette is a beautiful addition to anyone's closet, and it is sure to make you feel like a sexy princess. That is, if you don't have any curves you want to hide. This piece is well made and attractive, but it is very form hugging so it will show everything off. If you are comfortable with every aspect of your body, go on and strut your stuff! If you are a little shy and feel more plump than you wish you were, this chemise may not seem very flattering to you.
Published:
Pros:
Beautiful, solid color, cute ribbons, stylish, well made, stretchy fit
Cons:
Cloth hugs good AND bad curves, open back (con for some), cup size is hard to match(for some)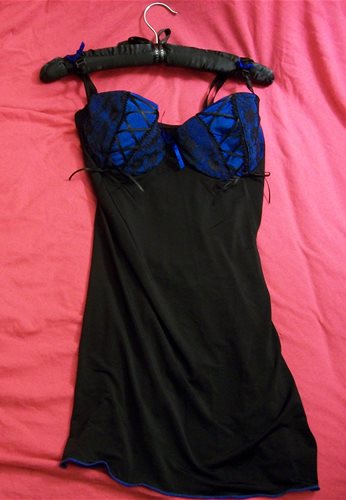 -Front of chemise-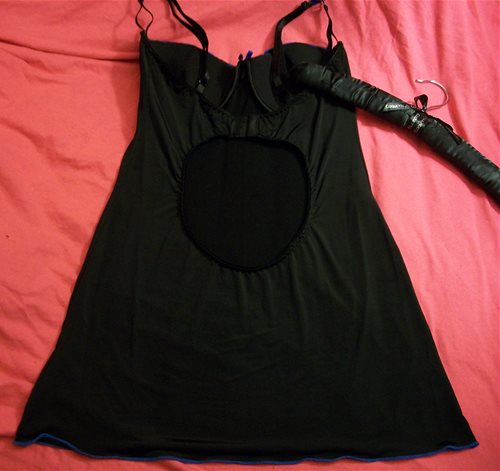 -Back of chemise and padded hanger-
Use/Design:
The Victorian dreams chemise is a beautiful, simplistic piece of lingerie. This chemise is made with a soft, stretchy black fabric with an open circular back, blue trim along the bottom edge of the dress, and a lovely floral pattern mixed with corset-like styling to the bra cups. There are also three little blue bows on this piece, one on each of the adjustable straps and one in between the two cups. You can wear this chemise to entice your spouse, or you can just wear it for yourself and enjoy how hot you look in it! Not only is this lingerie pretty, but it's also comfortable so you can lounge in it if you wish. However, this outfit is not discreet, and it rides up close to the edge of your crotch often.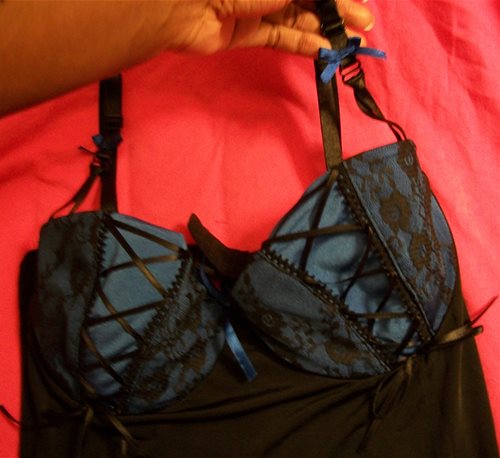 -Chemise in lower light-
The shade of blue of this outfit varies depending the lighting, you have to have really bright lights to achieve the vibrant blue displayed on the product page. In lower lighting, what you get is more of a royal blue. In the rest of my pictures I will have the camera on a higher light setting because my lighting is a bit low.
It is simple to get into this outfit; it's essentially a bra with a bit of cloth on the end of it. To put it on, you just put it on the same way you would put on your bra. I personally turn it backwards, hook the back, then when it's hooked, I turn it around and put on the arm straps.
There are some small tags inside the outfit on the right side that I had trouble with. One of the tags says "Coquette", this tag specifically was very scratchy and hard to ignore. To solve this problem, I promptly cut off the Coquette tag, because whatever thread they used to stitch the edges of the tag made it very itchy.
Material/Care:
This chemise is made of 90% nylon and 10% spandex, so it's very stretchy, soft, and breathable. You can clean this chemise by hand with soap and water, and hang it to dry. The tag on the outfit does say that you shouldn't machine wash, bleach, or dry clean this outfit. You could perhaps machine wash it, but only carefully on a very gentle and delicate cycle with cold water. The spandex/nylon blend might deform in the heat if you machine dry it, so you should still hang it to dry only. If you don't have a clothes line, hanging it on a towel rack or over the shower should suffice.
Size:
To find your size, there is a sizing chart for Coquette linked on the product page. Even if your hips and waist don't quite match the size requirements, the stretchy cloth should still fit. Also, the shoulder straps are adjustable so those are not a concern. The main concern in sizing this outfit is picking out the correct cup size. If you are in between two sizes, I feel it's better to get a size that's a little too big rather than a little too small. If it's a little too big, you have less of a chance of ripping it and you may just about fit it.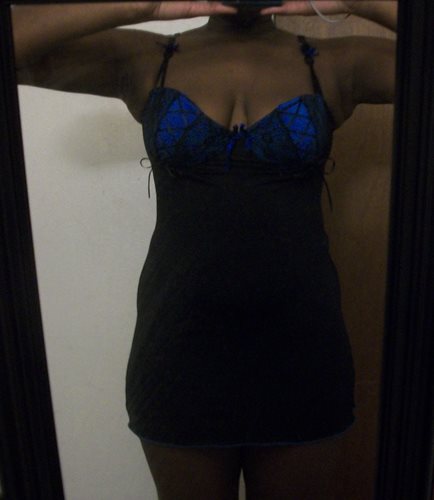 -Myself in the outfit(front)-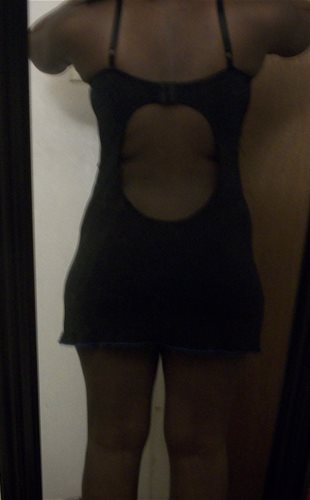 -Myself in the outfit(back)-
The sizing chart that coquette uses for the size I ordered is as follows:
Large (14 - 12): C Cup, 38 - 40(in) Bust, 30 - 32(in) Waist, 40 - 42(in) Hip
I have included my measurements so that you may compare them if you wish.
My measurements: 35-36C Cup, 38(in) Bust, 33.5(in) Waist, 41.5(in) Hip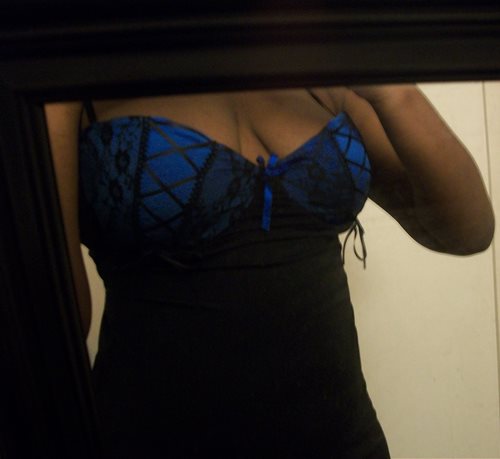 -Demonstration of cup size-
I fit the cups of this outfit well enough, but my breasts actually feel and look like they're slightly too small for the cups. The rest of the outfit fit me fine. It's soft and stretchy, but it isn't tight! I'm not entirely sure if that's mostly due to my measurements, but I still think that the material would be comfortable for most sizes and shapes.
Packaging:
This chemise came on a padded hanger in a plastic bag. I didn't keep the bag because I think it isn't very good for storage, but the hanger is great. The padded hanger is soft and it looks nice, and it has little studs on top of of it that you can wrap the straps of the chemise around.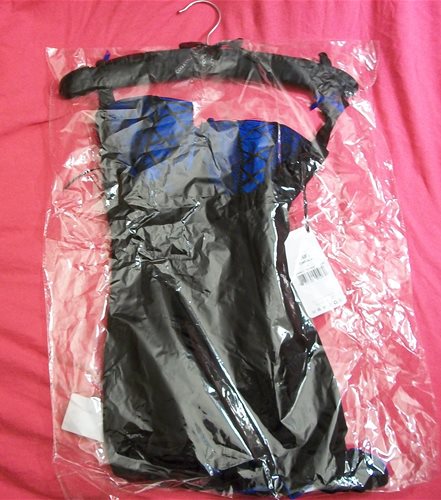 -Chemise unopened-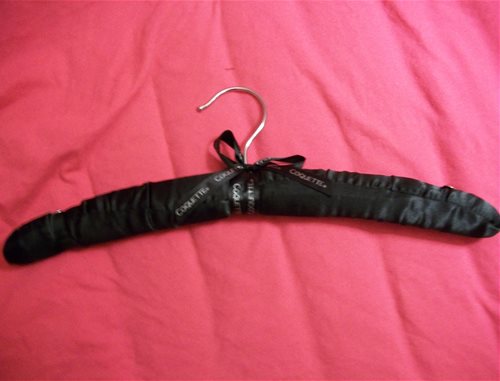 -Padded hanger-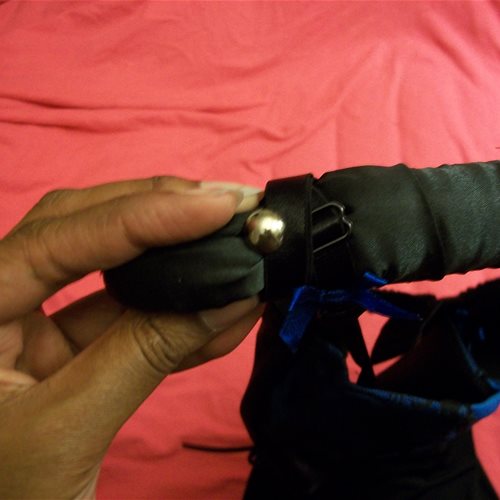 -Studs on the hanger for wrapping the straps-
Experience
I personally love this outfit. It's beautiful and it doesn't have that see-through quality I dislike in most lingerie. While I think many could put this outfit on and rock it, I took off a star in my rating because of the clingy fabric and how much it rides up. It is very form hugging and clingy, so the chemise can grab onto all the curves you may not want attention on. I feel pretty sexy in this myself and I'm sure my boyfriend will love it, but from certain angles my tummy pooches out just a little and that bothered me. Additionally, this outfit rides up a lot, making me need to pull it down and smooth it out often. The chemise looks better when it's not bunching up in random areas, but maybe you might like it riding up. You could tempt your partner a little bit with it even. I just personally prefer to have everything covered just enough until I decide otherwise. This is a good chemise, but one should probably be a bit cautious when purchasing it. It is well made, but it may not look as flattering as some may want.
This product was provided at a discounted price in exchange for an unbiased review. This review is in compliance with the FTC guidelines.

Thank you for viewing
Victorian dreams chemise
review page!