Baggy tights?!
I have had these tights for a while, but I've only worn them two or three times. Today, I pulled them out of my closet and tried to wear them with a dress I have and it did not go well. Being that they were just added to Eden, I figured I would share my experience with them!
Published:
Pros:
Cute, vertical stripes are flattering, control top
Cons:
Price, no plus size, tears/snags easily, become loose and awkward
A few months ago, I had been looking for a pair of vertical striped tights and found these on eBay for about $9 (including shipping). They looked like exactly what I wanted - black solid stripes with sheer black stripes.
I generally wear a large in tops and bottoms and these fit me pretty well. I am about 5'9" and these are not too low or short on me. If you are an XL, you may not like the fit of these. They do not come in a plus size, which is sad because that really limits who can wear them.
I've only wore these tights maybe two or three times. Today, I pulled them out of my closet and decided to wear them with a certain dress I have, and after today I remembered why I haven't been wearing them really at all. Since they were just added to Eden, I figured I would share my experience.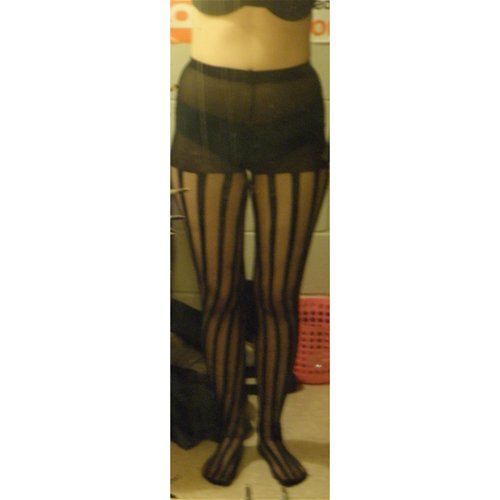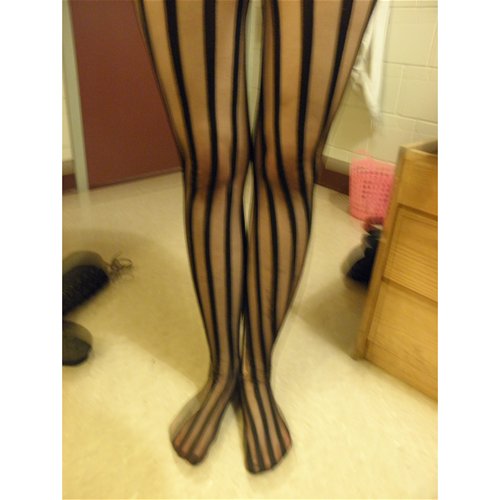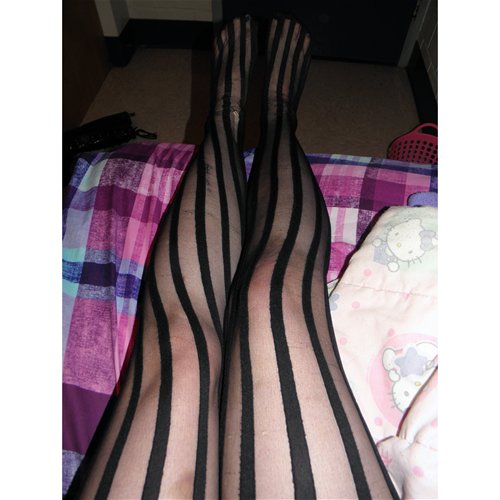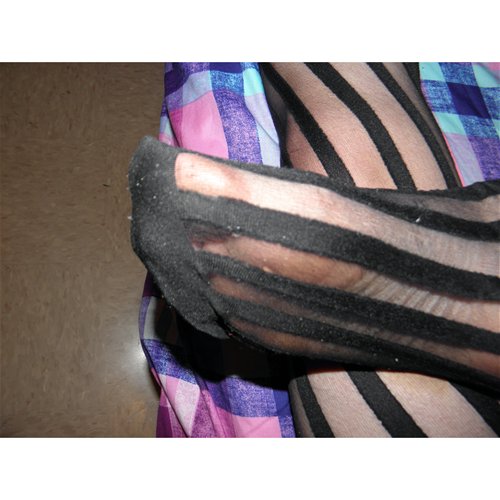 I like the control top, it is not too tight like some control top tights can be. They DO have a reinforced toe, but barely, and it does not keep the tights from snagging at the toe area either. The reinforced toe could definitely be better. I would like it if it was stronger fabric and if it had a bit more coverage. I like the vertical stripes because they are flattering, they make you look taller/thinner. They ad length to your shape, which is nice. I am fairly tall, but these still look great and have that effect.
One thing that I don't like about them is that they get loose after wearing them for a while, they don't continue to cling to your skin like tights generally do. On me, after maybe an hour of wearing them, they start to look unflattering and they get baggy at the knees. This is why I took them off today, because they looked cute with my dress at first, but then I had to keep adjusting them and trying to pull them up and it was just that they were looser. When I looked in the mirror, they were all loose on my knees and it somehow made my thighs look weird because of how loose they were and it just wasn't a good look at all. I had to change my whole outfit because of how awkward they looked. Mind you, I do NOT have super skinny legs! I have thick thighs, they are each about 23 inches around. If you do have thin legs, you will probably have this problem even more than I do. If you have thicker legs than I do, than the sheer stripes will probably snag and tear even more easily. They can also get loose at above the feet, so it doesn't matter if you wear them with heels or boots, the bagginess will still show! Also, when I take off tights they often visibly shrink in size after being removed from my body. With these, they retain the size and shape and stay really stretched out, which I do not like.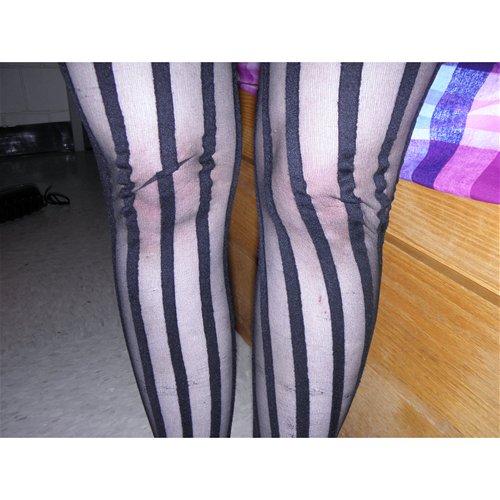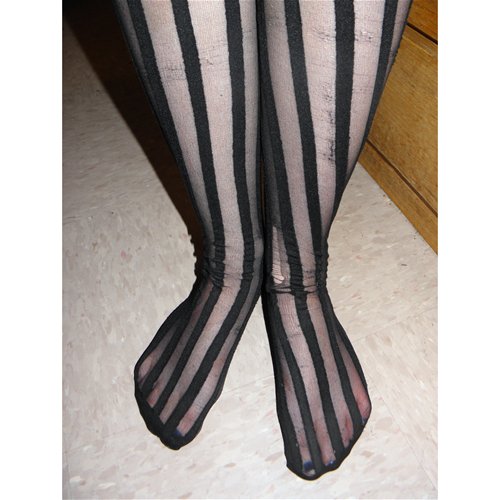 They snag VERY easily! Remember, I had only worn these once or twice before! I am always careful about my hosiery, and try keep from situations in which they would get snagged. These definitely did not come into contact with anything sharp! Also, I noticed after putting them on today that they started to tear at the thigh, specifically at the sheer stripes. The fabric is so thin that were tearing just from walking and moving around. Just from being worn and stretching to fit my body, they were snagging. I was not putting these through anything rough, in fact, I was mostly just sitting around all day!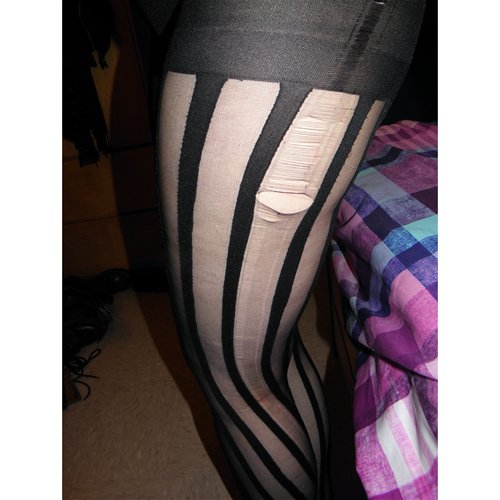 The bagginess and tiny snags somehow make it look like my legs have a lot of cellulite, which I don't like. I mean, I have some cellulite on my thighs, but generally wearing tights make my thighs and legs look toned and lovely. These are counter-effective! They just end up looking awkward, cheap, and not cute.
For $11.99, I do not think they are worth it at all, and they will NOT last you! I don't even think they were worth the price I paid. If they were maybe $2, and you were only planning on wearing them once with a costume or something, then that would probably be fine.
Follow-up commentary
1 month after original review
I still don't like these. At first, they are cute, but once they start to tear and get loose as you're wearing them they loose their appeal. I love vertical stripe tights, but these are the only pair I have for right now and they are not even wearable at this point. I'm going to have to find another pair. Here's hoping EF gets some!
This content is the opinion of the submitting contributor and is not endorsed by EdenFantasys.com

Thank you for viewing
Vertical stripe panythose
– pantyhose review page!