Sexy, Long Legs
If you're looking for a fun pair of tights to add to your collection, these are definitely a great pair! They stay in place, and are sturdy and warm!
Published:
Pros:
Adorable design
Stretchy
Cons:
None!
I was so excited to find these on EdenFantasys. I had been looking all over the place for a pair of tights like this, and all I could find were thigh highs, or if I did find tights, the stripes were small. These were perfect! I'm all about skirts and dresses, even if there's snow on the ground, so tights are always being added to my collection. I have a problem with ripping tights and thigh highs when I put them on as my legs are very long and most tights just aren't long enough for me. I didn't have that problem with these. I was surprised at how durable these are. Sometimes you find that when you sew two different materials together on something so thin they rip or tear easily. These really will take a beating. Another concern I had about these is that it would be hard to keep the line straight down my leg, but once you get them on and all adjusted they stay in place very well!
The dark stripes stay dark and don't turn sheer when you put them on, which I take as a huge plus. The opaque fabric is really soft and silky and the sheer material feels like regular panty hose. They are also VERY warm. I hadn't expected them to be, but I had to run to the gas station one night while it was icing/snowing outside and I didn't take the time to change out of them, and I didn't even notice the cold!
These are probably my favorite tights that I own now, and I plan on ordering my best friend a pair.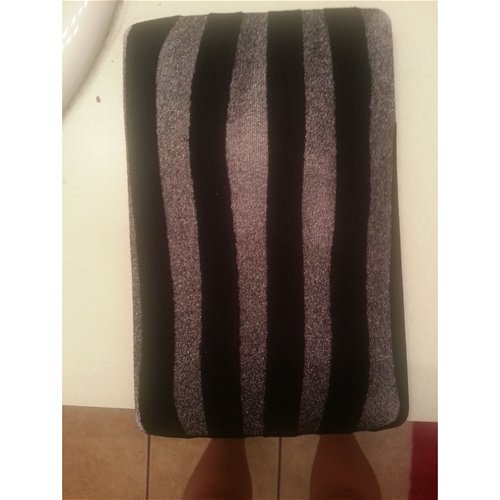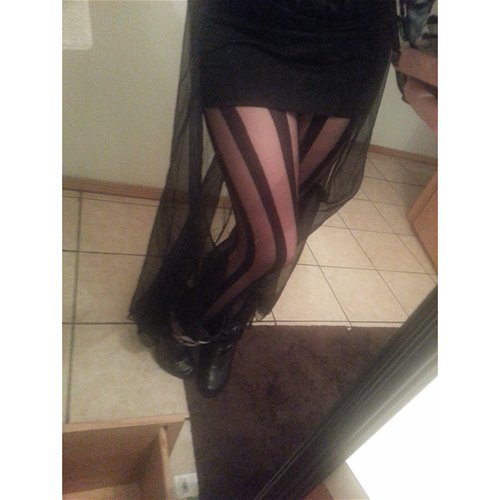 The tights state that they are one size fit all with the weight range being 90 to 160 lbs. I'm 143, and I'm constantly being told I have thin legs, yet I found that the stripes looked much larger on me than the model, and it looked as if there were far less stripes on the actual product than shown.
Measurements.
The waistband width is 7.25 in. unstretched.
I attempted to stretch the width as much as I could and I got about 23.5 in.
The length of the tights when unstretched is 38 in.
Again, I attempted to stretch them as far as possible and I got about 52 in., but I'm sure they could go much further.
There is about 9.5 in. of pure black fabric at the waist of the tights. There is also no crotch liner in these. After the black waist, you get the striped fabric. The stripes are about half an inch unstretched.
These tights should be hand washed and hung to dry. They are not to be ironed. They do attract lint and animal hair, so I could store them somewhere free of such things, or just keep a lint roller handy!
Feel free to contact me if you have any other questions!
This content is the opinion of the submitting contributor and is not endorsed by EdenFantasys.com

Thank you for viewing
Vertical stripe panythose
– pantyhose review page!