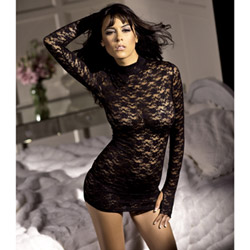 Stretch lace long sleeve mini-dress
Mini dress by Fantasy Lingerie
Beautiful black lace mini-dress that has endless ways of being worn!(OSFM)
Being the black worshipper I am, I HAD to get this and am so glad I did! The raw cut sleeves that go past your wrists, and the durable but delicate looking lace mixed with being black gives it an understated sexiness and edgy look that can be worn in and out of the bedroom. The material is warm and holds in alot of heat so it is a great staple to add to this falls wardrobe or lingerie drawer. The Stretch Lace Long Sleeve Mini Dress gets 5 stars without a doubt from me!
Published:
Pros:
soft & durable lace, versatile, cheap in price but not in craftmanship, gorgeous
Cons:
No cons for me!
This is one of those items that you want so much that you look at it every single day but when you go to put your order in it's out of stock! I guess that's understandable since it is so cheap in price and my guess is that everyone else see's the sexiness in this piece as much as I do, so with that being said this time around when it came in stock I grabbed it up without any hesitation! I have really wanted this for such along time that I even shouted out a "YAYY!!" when I was able to add it to my cart, funny because that boost of excitement got me looks like I had two heads from youngest son!

My whole infatuation for this mini dress was not for bedroom wear but for out of the bedroom. The versatility in it is great and even though now that I have it I might actually wear it sometimes for my man in a naughty way, but I don't want to ruin it for my main purpose of this piece and that being as a top. Since I wanted it for this reason I ordered the smaller size out of the two that's available, that being the OSFM. I had seen all the reviews on it in the PLUS size and I felt that yes as a lingerie piece that would be a better fit for me but as a top it would be to long and baggy. So this review and measurements are based on the OSFM.

It is delivered to you in a small pillow type box with the product page model on the cover donning the mini-dress. While this box is great to protect the product from damage in shipping, it wouldn't be ideal for storage after each wear. On the box it does state the care instructions and the size, but no where does it state the material used to make it.

The Lace Long Sleeve Mini-Dress & G-string is a two piece set by Fantasy Lingerie. When I first took this out of the package I thought for sure it wouldn't even fit me as a top because it looked so small. I should of realized though that there would be alot stretch to it since on the product page it states that it is made from nylon and spandex. Both materials having alot of give to them allowing it to fit perfectly once I put it on. I actually think I fell inlove with it even more at that moment once I saw how it clung to my body as I had hoped!

Simple but sexy is the best way to describe this piece! The mock neck has a 2" inch width band of lace. That band is folded over so it is alittle thicker than the rest of the dress as it is two layers of material instead of one. A small, floral print lace that has six petaled flowers and vines make up this entire dress. The long sleeves on it go past your wrists and have a cut out for your thumb to go through. With this feature you don't have to worry about the sleeves riding up on you, and I also think it is what makes this piece so edgy. You will not find any buttons, zippers, or solid areas of material so it is easy to put on and take off. Even though it has a single layer (besides for the neck) of semi-thin lace, the small floral pattern makes it so it is less transparent than what you would think of it to be.The material is also warm and holds in your body heat well so considering it does have long sleeves anyways it would be more ideal for the cooler months.




.

The g-string that comes with it is basic and not very realistic for some to actually wear. A single layer of the black floral lace material formed into a small triangle shape with no inner cotton liner makes up the body of it. It has thin, black elastic bands that form into a "T" shape in the back of the g-string. I personally won't ever wear this since there is no cotton liner inside and both materials used to make it hold in heat AND BACTERIA!. Measuring at 12 1/2" inches in the waist band(unstretched) and at the farthest stretched being at 20" inches it could fit a wide range of sizes. However, my other issue with this is the length of the triangle that covers the front crotch area as it only measures to 6" inches unstretched and only 9" inches when stretch to the uncomfortable max.
Experience
The size chart for Fantasy Lingerie is as follows:
Size Bust (in) Waist (in) Hip (in)
One size 6 - 12 36 - 40½ 27½ - 31½ 38½ - 43½
X Large 16 - 18 41 - 44 32½ - 34½ 44½ - 46½ (on the box it says the XL is what EF calls the plus)
Queen 18 - 22 45 - 48 35½ - 38½ 48 - 51
-THESE MEASUREMENTS ARE BASED ON THE GARMENT UNSTRETCHED AND LAID OUT FLAT ON AN EVEN SURFACE-
From the top middle to the bottom of the dress is 29"
From shoulder seam down to the bottom of each sleeve is 24"
From one under arm to another is 15&3/4"
Middle of torso from one side to next is 13"
At the bottom of the dress the width is 16"
I fall in the middle and at the end of the OSFM so as I mentioned if I had wanted it to not hug my body as much and to use as night wear then I should of gotten the PLUS size.
My sizes:
10-12 clothes
38 D-DD(depending on brand)
150-155
5'5"
29 1/2"in waist
This dress goes right past my booty when I have it stretched down to it's longest length. Planning on wearing this as a top it is perfect and since it does reach at that length if I wanted to wear it long and with leggings it would look just as good! As I had mentioned I might wear it in the bedroom once or twice but I would have to wear a bra because there is no breast support without one. If you have smaller breasts than I, or feel comfortable without needing the support of underwire then your good with nothing under it. Since this dress does cling to your body it will hold your breasts in place against your body.Just don't expect any lifting without having to wear something underneath!
There is no annoying tag inside so the only way to know the front from the back is the thumb holes. I find this to be a good thing because alot of tags are scratchy and can irritate my skin. The dress and g-string are soft and silky feeling unlike some lace used in lingerie, making it very comfortable to wear for hours. I can't boast enough about this, it really truly is a wonderful staple to anyones wardrobe. I plan on throwing camisoles underneath to change the look with leggings and jeans. It would also look cute with a shrug over top.. actually the possibities are endless with it!
I'm sure you could throw this in the wash on delicate cycle and it would be okay. Besides from getting some unwanted fuzzy's attached to it I think it could with stand the washing machine (that's how convinced I am on the durability of the fabric), but I want to maintain the life span for as long as I can and keep it looking good so I will wash as recommended. That being to hand wash in cold water, and to lay flat somewheres to dry.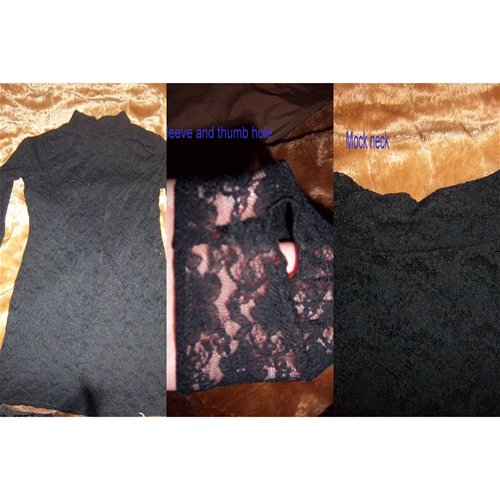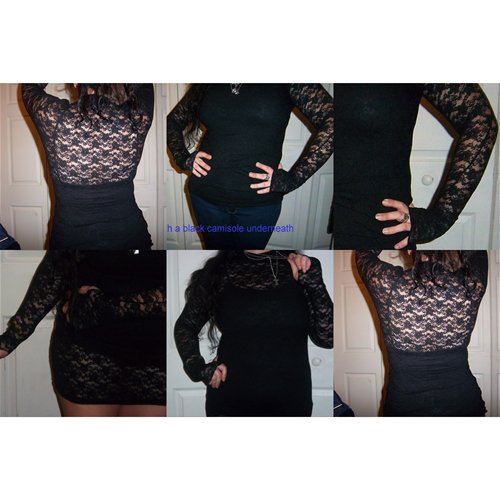 Follow-up commentary
11 days after original review
I don't think I will ever fall out of love with this..well maybe when it rips on me, but until then it's perfect!
I was excited that the temperature was cooler the other night because it aloud me to wear this out on date night with my boyfriend. I know I find the beauty in this gorgeous piece of lingerie but I was shocked by all the compliments I recieved on it by different men and women we saw out! Now I'm completely convinced that if it was available in more colors I would be forced to buy everyone of them!
This product was provided at a discounted price in exchange for an unbiased review. This review is in compliance with the FTC guidelines.

Thank you for viewing
Stretch lace long sleeve mini-dress
– gown review page!