Elegant & classy when paired with a camisole, sexy when paired with birthday suit!
This is a simple top that can be worked into many different styles to fit your very own personality. If worn a certain way, it gives a pretty, classy appearance and if worn with nothing at all underneath, it is strikingly sexy, considering it's such a simple garment. The baggy fit means it'll accommodate several sizes.
Published:
Pros:
Can be worn as lingerie or out and paired with various under garments.

Classy looking.
Cons:
Baggy.
Scratchy.
Overpriced for the quality of lace.
Trashy package.
First, let's be clear: this is no dress, but you probably gathered that from the product pictures. Thankfully, I bought this with the intentions of wearing it as a top. It fits like a long top. This can be worn with nothing underneath as lingerie, and it is one sexy look, I must admit, or as my main intention: lacy top to pair with various camisoles, for out-of-the-bedroom activity.
Basically this is a simple top that's made entirely of this lacey material with long sleeves that have a hole in them -- which I think took away from the classy appearance a tad -- for your thumbs I guess and a mini turtle neck. By mini turtle neck, I mean this isn't a full turtle neck where it rides far up your neck, but the 1 1/2" long stip of lace Nylon rests against the neck. This will irritate some, but on the cold days I've worn this, it was comfortable enough, just itchy. When I was a kid, I would flip over having to wear turtle necks! I refused to because I despised the fabric on my neck, but this isn't as bad as your thick turtle necked sweater. The edging on the sleeves is hemmed in a sort of ruffle ordeal.
The thumb-holes measure 1 3/8" long and don't have to be used.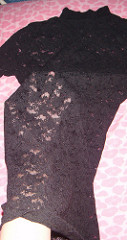 Material & Care
The entire top is made of this lacey material with the floral pattern. It's 100% Nylon & should be washed by machine, tumble dried on low. I'm not fond of this cheap, itchy lace, but I can handle it. If you're used to Coquette quality lace, you'll be disappointed in the feel of this. I also find it to be somewhat unbreathable considering it's lace, but that was okay with me since it's so cold right now. Despite being itchy, it is more durable than your hosiery or body stocking garments. It doesn't snag too easily, but I've had a tiny catch on a hang nail. Also, it's stretchy, but not as stretchy as a body stocking. It's more firm, I'd say, but will fit stretch to accommodate a few sizes bigger than a zero, which is my size. Not a cat-hair magnet! The only black item I own that I don't end up wearing half of my cat on!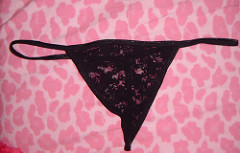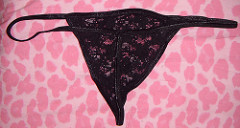 The G-string is the exact same material and floral pattern. It's uncomfortable, saggy and your typical crap-quality G-string that comes with lingerie. It has no panty liner.
Top's Measurements
Stretched to widest: 22 1/2" wide.
Length - top of neck to hem: 28 1/4"
Bust: 11"
Waist: 12 1/4"
Hem: 16 3/8" wide
Sleeve length: 26 1/2"
Seams are hardly visible, but run up either side of garment.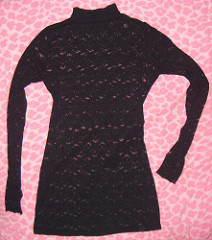 My Measurements
Bust: Right: between a B and C cup. Left: 34B
Jean/shorts/size: Zero
Weight: 93lbs
Height: 5 2"
Waist: 26" Lower waist. Where I'm a bit wider, the love handle area: 29"
Note: I'm 5 2" and when worn with jeans (as a top) the hem naturally rides around my crotch, like a long top. It will not be a dress on anybody unless you go up a size. When worn with nothing underneath, I can pull it down almost to cover the middle of my butt, but it still rides up. Not to say it's not sexy that way, it's just not a dress like the company seems to think.
Packaging
This comes in your typical paper box, similar to what body stockings or hosiery comes in. This is not discreet, it's trashy. It has a photo of the person wearing it and the back has the back of the person wearing it, showing rear-end and all. I quickly dicarded it, and would not ever recommend something cheap and as trashily packaged as this is for gifting. It's wrapped in cellophane inside, so if you must gift it, you could take it out and re-package into something classy. Would I gift this based on top alone? Yes! It's very cute and for the girl who likes this type of style, it'd make a nice wardrobe addition.
There is a small black tag on the inner side of the top. It has care & maintenance instructions and says "Fantasy Lingerie." It's not very visible through the see-through lace, but could still be cut out if it's a bother.
Made in Taiwan. Experience
According to Fantasy Lingerie, the one-size-fits-most should fit a (6-12) with 36"-40 1/2" bust, 27 1/2" - 31 1/2" waist and 38 1/2" - 43 1/2" hip. I can't say for sure it'd comfortably fit a 12 -- it would certainly be a tight fit, but a medium sized person will be the best fit for this OSFM. Smaller and you may find it baggy as I did.

I got this in hopes of wearing it over my various colored camisoles. I have a two other lace tops similar to this, but they're colored and were bought for $5 buy one get one free at my favorite retail store. Those tops are much better quality and not itchy, but I do love the nice, sleek and classy look of this turtle-necked top, so I ain't displeased or anything, but there is better quality out there.

I've worn this mostly with dark jeans, black heels that have lace and bow detail and with a black camisole underneath. However, I have also paired it with a neon pink camisole and a neon green camisole for a cute look too!

I'm slightly agitated that this was so baggy on me that you couldn't even see the design or tell that it's lace anywhere besides the chest & arms. The middle portion is really scrunchy and baggy on me, but I can pull it down and make it work. I would've preferred something similar to the fit of a body stocking, like this is supposed to be because it wouldn't have been baggy in the middle and would've showed off the design. However, this is good news for those who are larger than me because the design will show when it's stretched. I think this is a nice piece to have though, since it easily can be worked into a few different outfits. If it is stretched on you, it will cling to your bust & mid section, but this is so sexy it'd look great on all body types.

My partner's feelings? "Ooooh! It's sexy!" That's about as far as you get with him.

If you'll notice I've added a similar product -- the Lace Mini Dress & Thigh Highs, which I originally planned on purchasing, but when seeing it was still out of stock, I went with this. However, I feel that one has a prettier design.
Follow-up commentary
29 days after original review
I'm writing a follow-up review after wearing this top again all day long. Today, is the fourth time I've worn this top -- with cami underneath. At one point today, I was so frustrated with the itchiness and the collar that I jerked it right off and didn't put it back on until leaving the house. I didn't realize how aggravating that collar was until the last couple of times I've worn it. It almost feels like I'm suffocating in itchy, scratchy lace. I think it's pretty nice looking, but it is truly uncomfortable!
This content is the opinion of the submitting contributor and is not endorsed by EdenFantasys.com

Thank you for viewing
Stretch lace long sleeve mini-dress
– mini dress review page!