Beautiful corset, just not for me. (size 32)
The beautiful corset from Escante is very alluring and should be able to please most, but it is just not for me. I am virtually flat chested and I could pull this down below my breasts without loosening the straps in the back. If this was made in smaller sizes, I would be all over it.
Published:
Pros:
hidden zipper
Cons:
not made in smaller sizes
I've always found corsets to be very sexy pieces of lingerie that can double as attractive tops. I've been envious of several reviewers here that keep posting reviews of corsets and although I had suspicions that I would be too small chested to properly wear a corset, I wanted to find out for myself if I was correct in that assumption. I recently ordered two corsets from different companies to see how they would look on me. This exquisite corset from Escante is one of those corsets.
What it is
This is a corset from the manufacture Escante from the Tesa Classics Collection that is turquoise in color, and has pinkish-purple and gold embroidered flower designs around it, has a hidden front-zipper, straight edge bust, and the bottom comes together in a v pattern. It also has black laces in the back. This can be worn in and out of the bedroom. You can wear this alone for something sexy for you or your partner and when worn with jeans, can be transformed into a classy outfit for normal activities. This does not have any underwire or designated area for the breasts. It is just a solid, flat area where your breasts fit. The material is very thick and for those that have the breasts to wear this properly, shouldn't have to wear a bra underneath.
Sizes Eden Carries
Eden carries this in sizes 32, 34, 36, and 38. I ordered the size 32, because other reviewers informed me that I needed to go with my bust measurements when ordering a corset.
Escante Sizes
I could not find accurate sizing information for Escante on corsets. The only information that Eden has is for their S,M,L,XL, etc. sizes and not specific to corsets like this. The information I am including is for the size small because that is the size I normally wear in tops. Escante's small is for those that have the following sizes:
Size 2-6
A-B cup
32"-34" bust
24"-26" waist
30'-32" hip
Weight 90-120 pounds
My current Sizes
Bra Size 32AA
27" waist
32" hips
121 pounds
Given the following information, I should be able to wear this corset with no problem, but it should be a little bit big in the bust area. This is a very accurate and I believe it is sized correctly. I did not have any issues with the fit of this at all except the bust area where it was too baggy because I just do not have any breasts at all.
Measurements taken laid flat
If you need any more measurements, feel free to contact me.
It has 12 vertical strips of plastic boning outlined by black thread. They are located 4 on each side of the zipper and two on each side of the center in the back.
The first vertical strip is 13 1/4" long.
The second vertical strip is 14 1/4" long.
The third vertical strip is 15" long.
The fourth vertical strip is 15 1/4" long.
Now we are in the center and it is 16" long. This is where the flap that covers the black TEK zipper. The zipper is 15 3/4" long.
The fifth vertical strip is 15 1/4" long.
The sixth vertical strip is 15" long.
The seventh vertical strip is 14 1/4" long.
The eighth vertical strip is 13 1/4" long.
At the back of the piece there are 13 eyelets on each side where the string is located that laces like a shoe string. The laces are very similar in design to a shoe string as well and are not very sexy at all. If I was going to wear it often, I would replace the lacing with some form of ribbon that would match the corset and offer a more attractive feel to the piece. Laying flat there are 23 extra inches of string. The section of strings are 3 1/4" wide and 11 3/4" long.
The front of the top measures 15 3/4" across, 13 1/2" under the bust and in the middle, and 15" at the bottom. The zipper is located 8" across which is almost perfect center. The back of the top measures 15 1/4" across, 13 1/2" under the bust and in the middle, and 14 3/4" at the bottom.
Front of the piece laid flat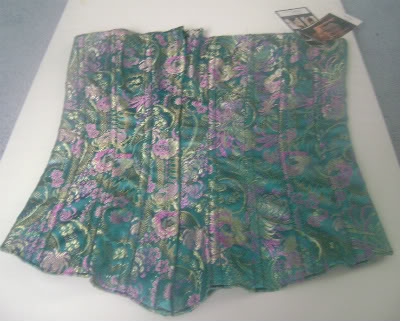 Back of the piece laid flat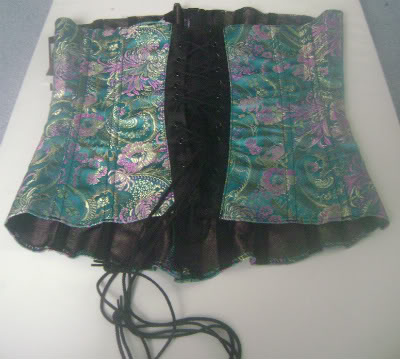 Material and Care
This is made of 100% polyester exclusive of decoration and made in Mexico. The tag suggests hand washing this piece in cold water with mild soap. The tag also suggests to wash this piece seperately and to not use chlorine. Do not wring or twist this piece and drip dry in the shade. Also, make sure not to take this to the dry cleaner and not iron it either.
Experience
Packaging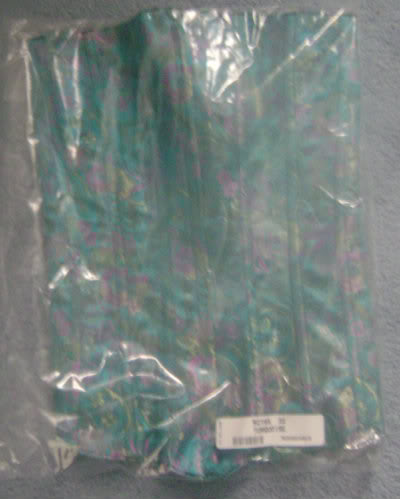 It arrived in a clear plastic bag and has two tags attached to the corset featuring a model wearing a different corset from the Tesa collection and instructions on how to wear the corset. This little instruction sheet is helpful for those that have never worn a corset before like myself and wouldn't necessarily know how to start putting it on. The instructions are as follows:
1) loosen the lacing
2) unzip the corset
3) put on corset
4) pull lacing until filled. If possible get help for an even tighter fit.
If you follow these instructions, you should not have any difficulty slipping this corset on at all.
Craftsmanship
Overall, this is a highly crafted lingerie piece. It did not have any loose strings anywhere and the sewing was perfect.
Front of the piece while worn.
Sorry for the bra straps; I had to wear one or it would fall off my chest.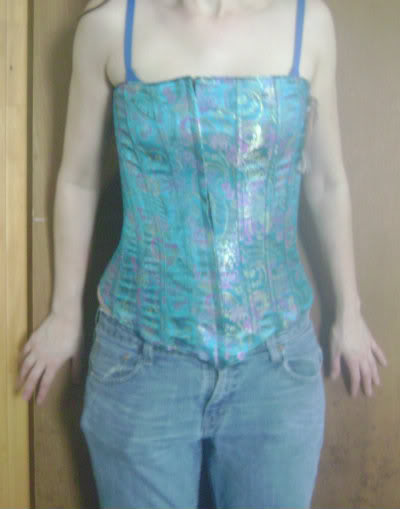 Back of the piece while worn.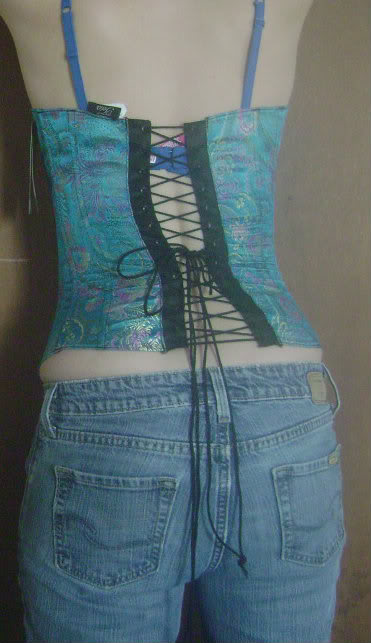 I don't really like the way it feels under my arms. The boning feels like it is cutting into my underarms and I just don't like it. If I lower it, then my breasts are exposed. I just do not have the breasts that can pull this outfit off. Overall, this is a great piece for those that have larger breasts than I do. I figured this would be my result when I ordered the corset, but the color was too pretty to not give it a try. I'm giving it a 4 star rating because it just didn't fit me, otherwise it would be a good piece.
Follow-up commentary
4 months after original review
I wish that we had a different option besides I don't like it anymore, because that's just not the case. I love this corset on others, but just not on me. If this came in a smaller size, I would be all over it because then it would fit my body properly, but as of right now that is just not the case unfortunately. If you believe that it will fit your body, I highly recommend this beautiful corset.
This content is the opinion of the submitting contributor and is not endorsed by EdenFantasys.com

Thank you for viewing
Turquoise front-zip corset
review page!