Oriental, Bright and Beautiful.
Turquoise front-zip corset is not supposed to create a significantly slimmer look. First and foremost, it is a fashion accessory, which goes well with lots of different tops and bottoms to help you make a desired statement. It is bight, fresh and unique, easy to put on and even easier to tale off. With a decent length and a straight bustline, this corset will look good on lots of body types, but is partucularly great for those with smaller breast cups.
Published:
Pros:
easy to put on;
comes with instructions;
true to size;
beautiful
Cons:
bulging zipper;
coarse edges
-----
Materials and care
: smooth outside, a bit coarse inside.
Turquoise front-zip corset is made of
polyester
, which in this case feels as smooth as satin. Inner side is covered with a rather coarse net-like sheer fabric. It can be slightly uncomfortable on nipples if you wear this corset next to bare skin.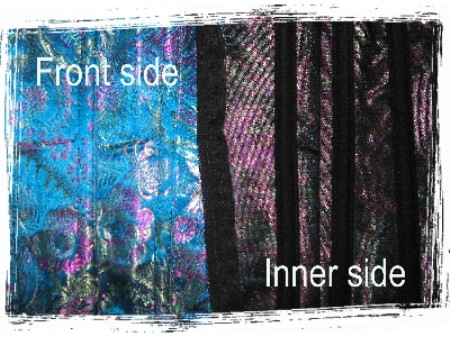 Corsets are usually recommended to be dry-cleaned only, but as far as this one has
plastic boning
, water isn't really harmful for it (unlike for those with steel boning). Anyway, rinsing it with slightly warm water or spot cleaning is preferred. After cleaning, gently towel dry it and hang over a chair to complete the drying process. Remember that it is absolutely unacceptable to wash a corset in a washing machine or expose it to sunlight to dry, as it may fade.
-----
Color and pattern
: turquoise, floral, oriental.
Turquoise is a blueish tone of light green. The color is based on the gemstone turquoise and the word itself comes from the French for "Turkish". Interestingly, the pattern actually resembles some traditional oriental designs. Silky turquoise background is embroidered with elegant pink and golden floral figures. There are exotic flowers, sprigs and leaves. Some of them resemble peony and some look like fern.
-----
Construction
: front-zipper, straight edge bust and soft boning.
Speaking of corset shapes and silhouettes, Turquoise front-zip corset is a
straight bustline corset
with a rather
pointed front lower edge
and
straight edges at the back
. I would say it looks like a modernized version of the
Edwardian corset
. Due to the bustline construction, it provides more bust compression than the other styles. This type of corset suits most figure types, but is especially good for those with smaller cup sizes as there's no much breast support and no much room for bigger breasts. It is also said to be perfect for long torso individuals. If you like, you can find more corset shapes
here
and
here
.
Turquoise front-zip corset is a 14 panel corset. Usually, corsets have 1 bone in each seam, so there are 12 of them here. The flat bones are plastic and bendable, so don't expect this corset to serve the main functional purpose of an authentic corset which is to significantly reshape the figure, support the back, etc. However, it provides some slimming, flattens the tummy and serves as a wonderful clothing accessory.
As its name goes, Turquoise front-zip corset has a hidden zipper in front, which doesn't really stay hidden. The picture below shows how it bulges closer to the bustline. It is plastic and might feel a bit cheap, but still works well and has a decent quality.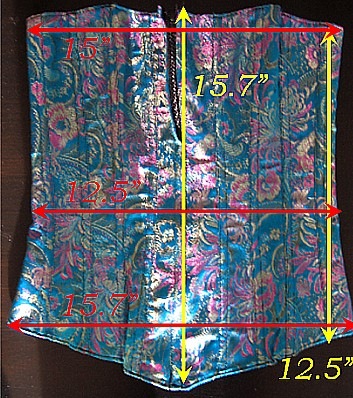 At the back, there are 13 pairs of eyelets. The laces are black and look almost like simple shoe laces, which is not very appealing. This is not really a problem as long as you can always change them for something else. When the lacing is fastened, there are still two loop-like edges left - both approximately 26" long. Thus there's certainly a room for adjustment.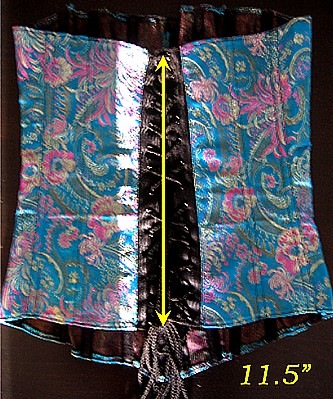 -----
Sizing and fit
: true to size, adjustable.
First, you might want to know
my current measurements
to figure out the sizing:
- 32" bust;
- A cups;
- 27.5" underbust;
- 26" waist;
- 36" hips;
- 120 lbs;
- 5'6" high.
Turquoise front-zip corset comes in 4 different sizes according to bust measurements: 32", 34", 36" and 38" (81.2, 86.4, 91.5 and 96.5 cm correspondingly). Unfortunately, Escante doesn't provide any other measurements for its corsets, but as long as there's a back lacing, you'll have plenty of room for adjustment. My bust measures slightly less than 32" without a bra and a bit more with a padded bra on. Thus I went with
size 32
and it fits me surprisingly well. You know, how often corsets turn out to be too big for small breasts? Well, this one hugs mine almost perfectly even without a bra underneath. However, as far as there's no underwire and support, don't expect any wonders. This corset rather flattens small breasts than lifts them. Also, the cut will hardly allow enough room for big breasts. So if you have more than C cups, you probably should look for some other corset shapes.
The length is enough to cover my belly button due to the pointy lower edge, but leaves the small of my back open. The corset also fits my waist quite well. You shouldn't worry about the hips as it doesn't cover them.
Experience
-----
Performance and recommendations
: not very restricting, minor faults, versatile.
I spent this New Year night in that corset and as a person not used to wearing corsets I felt a bit uncomfortable after a while. Apart from the expected mild restriction, there was another thing that bothered me: the top edges seem to be a bit rough. They've been poking the area close to my underarms from time to time and it was quite disturbing. But overall, Turquoise front-zip corset met my expectations and I'm really satisfied with the way it fits me. In the pictures you can see me modeling the corset with a padded strapless bra on.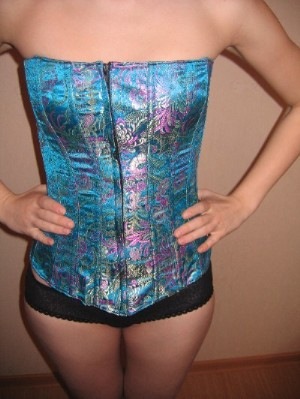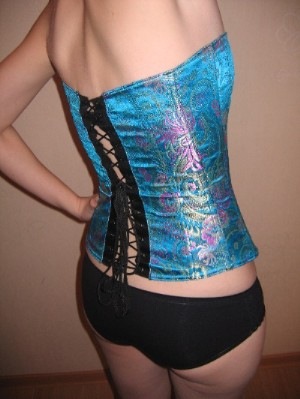 I was also a but disappointed by the way the lacing looks and how the front-zipper exposes itself all the time.
Again, as you can see, there's no much waist reduction and slimming. However, nowadays, corsets are not just for making women look slim anymore. They are in a stream of fashion now and are used to emphasize sexiness and make a statement of confidence. Therefore, it is acceptable to wear this corset with lots of different bottoms.
For a formal or semi-formal event
you should probably wear it with a rather long skirt. A bustle skirt will look amazing here as well as mermaid-style and pencil skirts.
For some informal occasion
you can pair this corset with a pair of tight pants, shorts or jeans.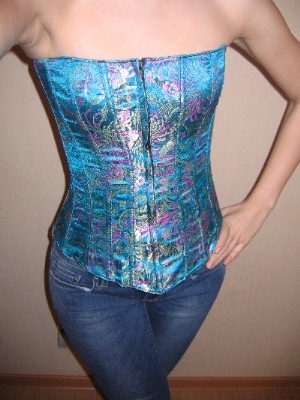 Also you can definitely wear it as a
bedroom
sexy outfit with a pair of panties or a seductive mini skirt. Stockings will also go well, but you'll have to look for a matching belt of wear some stay-ups as there are no garters.
Apart from that, you can also pair it with a long sleeved undershirt that is open at the neck line and wear the corset on top of that.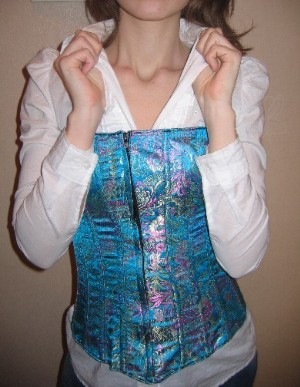 Also during colder seasons it might be a good idea to wear a blazer style jacket or a leather jacket with this corset. A shrug or a cardigan will go well, too.
-----
Conclusion
/edited/
Honestly, I think this corset is an amazing deal for the price of less than 40 dollars. The way it fits my breasts (unlike many others, which are suitable for B-cups and bigger) makes it totally worth it. I'm a bit worried about its durability, though, because plastic boning doesn't seem like something sturdy to me, but only time will tell. Surely, not being restricting and slimming enough might be a serious disadvantage for some people, but I think this corset is not designed for that, and it's quite decent as clothing.
At first, I gave it 5 stars, but after some thinking and another day of wearing it I decided to go with 4 stars. Sorry, if that small change caused any inconvenience.
This content is the opinion of the submitting contributor and is not endorsed by EdenFantasys.com

Thank you for viewing
Turquoise front-zip corset
review page!