Public Needs and Nefarious Deeds!
Sorry to gush, but I'm in love! This corset fits well and can be worn both in public and the bedroom! It looks great and is turquoise to boot! I want more corsets like this!
Published:
Pros:
Beautiful!
Fits and shapes well
Cons:
Plastic Boning
Strapless
Ooo! What's this, Mwar?
Say hello to the Turquoise front-zip corset! This little number by Escante is designed with a lovely floral pattern and bold turquoise color! It has a iridescent finish that is bound to get you noticed! It has a zipper in the front and ties up in the back.
This corset can be used in many settings. You can wear this out in public. Throw on a cardigan or jacket if you want to cover your shoulders and dress down. The corset is also a great outfit to sport at the club. I feel it almost gives a "I'm too sexy for a dress" kind of feel, and I love it. Pair it with some ass kicking jeans and your shape will be to die for! Flats, heels, or boots will all work with the front-zip corset. Overall, the turquoise corset has the quality and comfort to be worn out for long periods of time. It doesn't dig in anywhere and lets you move in it.
If you don't want to wear it outside, that's fine too! Put This baby on to spice up sexy time! Have it on before or during sex! It bound to add excitement in the bedroom.
Mwar... you're gushing. Stop that. But tell me more.
The turquoise corset has plastic boning (12 of them, to be exact). I know a lot of ladies out there prefer metal boning, but I think the plastic does well keeping the corset in shape as well as providing a flattering fit. The corset is strapless and the neckline is flat across. Simple and clean. The turquoise corset isn't made to accommodate straps. This made be a bit sad because I like to wear straps to feel more secure in a corset. However, I feel secure in this corset. Perhaps if a corset is well made, you don't necessarily need straps.
The corset tapers to a point in the front. It rides a bit high on the sides. If you're wearing jeans, you'll have some skin peaking out.
The turquoise corset comes in basic, clear plastic packaging. You can easily cut or pull it apart to get to your gorgeous corset inside. Here's how it looks from the back untouched.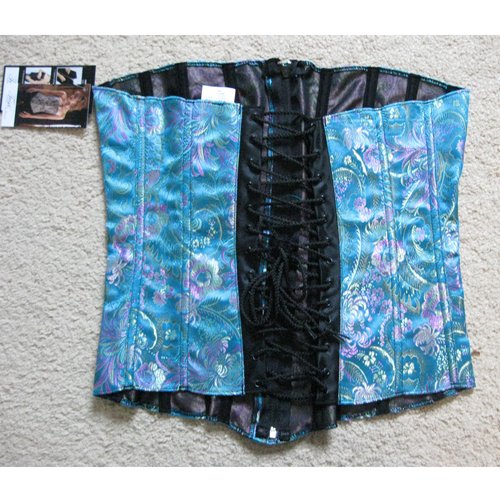 So how does it fit?
I've never owned a corset before, so this is a first. When I got it out of the packaging, I undid the strings and tightened it a bit at the ends of the corset. This way, when you pull on the strings, the corset will come together more evenly. Then I put the corset on and zipped it up. My zipper was a little stiff the first couple of times wearing the corset. It takes a little bit of persistance to unzip it, but it gets easier after a while.
Once zipped, I tightened my corset pulling on the strings. I've always wondered why they were so long until now. They're long so you can adjust and tighten your corset by yourself (so be wary if you decide to cut the strings!). Once adjusted, I tied the strings in a simple knot. The strings come down on my butt, but I don't mind it.
This it how it looks on the front (pardon my armpits, I'm still getting used to taking pictures with a mirror):
You can see the iridescent sheen of the fabric. The picture doesn't give its beauty justice. There is a little lip of fabric that makes the zipper less obvious, which I like. The corset cinches my waist and makes my figure more apparent. There is room in the bust for bigger boobs. I got the size 34 based on my bra size 34D. I am able to fit in this corset. If I gain or lose a few pounds, I can still wear this baby with no problem.
I got out the tape measurer. Here are some of the measurement specs for size 34. All measurements were done with the corset laying flat, unzipped with back of the corset held flush at the sides (where the strings are). I rounded to the nearest quarter inch to keep the numbers nice.
Width at the very top of corset: 29"
Width at the bottom: 29"
Waist: 28"
Bones: They are symmetric. From shortest to longest they are: 12", 12", 13.5", 14.25", 15" on each side.
Length: 15.75" at longest point. About 12" at shortest point.
Of course, the width measurements change based on how the corset is tied (which is why it can be called a size 34). If I missed any measurements, just let me know.
Experience
While I see a lot of people lament on how some corsets don't fit ladies with larger boobs, I think those who have more perky boobs might feel there is a bit of room at the bust. It might be fixed with adjusting the top tighter, but I had to tighten the top of my corset to feel more secure in it. I find I don't need a bra to shape my boobs well in this corset (thank goodness!). I go braless with little worry. I do kind of "lift" my boobs to my desired spot before tightening my corset all the way. You can get some serious spillage if you want. Or you can be more conservative with the cleavage. Whichever you prefer.
Here's a picture of the back. Sorry for the crookedness! Next time I'll try and find someone to help me with pictures: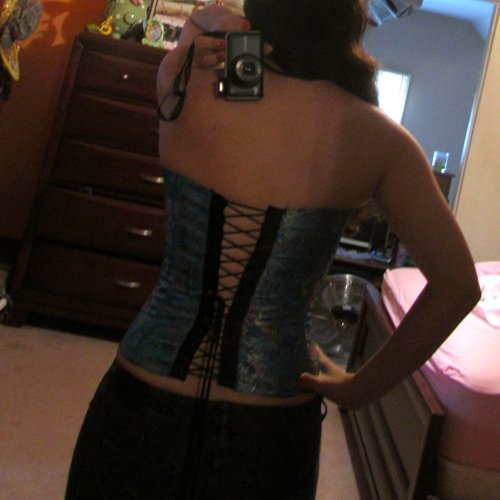 There is no privacy panel with this corset, so your skin will be visible in the back unless tied really tight. The corset tightens well. Nothing pops out or bulges awkwardly.
Okay! So how do I take care of this thing?
There are a lot of "DO NOTs" on the care tag. Essentially, treat your corset gently. Don't use bleach or anything harsh. Use mild soaps when washing BY HAND. Do not wring, twist, or be rough with your corset. Let it dry peacefully in the shade (don't want the sun bleaching away its color!) Also, when hand washing, go over the entire corset gently. If you keep washing only trouble spots, you'll have patchwork fading, which will be sad. Yeah, it takes care to keep beautiful, but I think it is completely worth it!
When storing, I only fold the corset in half from the center and place it in my dresser. It folds naturally in that place since there are strings and not bones. Also, be careful about applying deodorant when wearing this corset. Yes, it comes off with a wet wipe, but I would apply deodorant after I have my corset secure.
Anything else you want to say, Mwar?
I LOVE this corset! I've been eyeing it for ages and am so glad I made the purchase. Compared to other corsets, I think this one is well suited for public wear. I know when I wear it, my partner is thinking about sex that will be had that evening. It also doesn't get in the way during most sex. Unless you're going to be contorting in pretzel-like ways, you should be okay in it.
I feel powerful in this corset and some nice jeans when going out. It's a way to dress up and still wear jeans.
Follow-up commentary
6 months after original review
This corset is my favorite one! I LOVE it! My only pet peeve is that the zipper tends to go a bit crooked from the midline, but that's a small issue. It's held up well. The bones still have their shape and the corset looks no worse for the wear despite some hand washings.

This is perfect for a night out with some awesome jeans.
This product was provided at a discounted price in exchange for an unbiased review. This review is in compliance with the FTC guidelines.

Thank you for viewing
Turquoise front-zip corset
review page!