Beautiful, Fitting, but Could Be More Flattering
This bustier has such a fun, pretty and very spring-time look. It just makes me feel like being outdoors in nice, sunny weather. Unfortunately, the short length and placement of boning don't make me feel the most flattered. I have a curvy-ish figure as it is, and this seems to give me bulk. Removing the bones may help. The decoration is just so precious.
Published:
Pros:
Beautiful design.
Comfortable!
Great quality.
Fits like a small should.
Cons:
Should've came with panties!
A tad short.
Could be more flattering.
The Strawberry Fields bustier comes alone with garters, but without panties.
Decoration/Design
The Strawberry Fields bustier is a beautiful, cream-white colored bustier with the same cream-white colored lace overlay. Added to the lace overlay is green, pink and burgundy colored flowers. Just like the Vintage Rose bustier, this too has a "sweetheart neckline." The bustier is lined in a cream colored, satiny trim, and throughout the lace, I notice a bit of subtle shimmer, which compliments this satin trim.
Also on the bottom side portions of the "cups" is a lace trim that dips down between the breasts -- see photos for better explanation.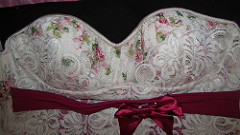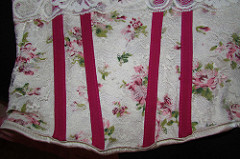 The chest has the lace overlay as well (same colored rosey pattern and everything), but the lace is shirred. There is no underwire in the chest, but the shirring and thick cotton lining means a bra isn't required! A strapless will work if you need it, though.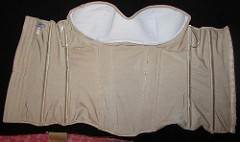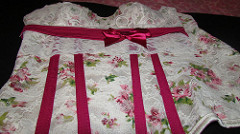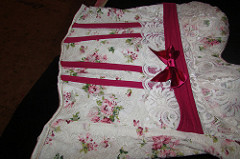 Under the bust is a lovely burgundy strip with a removable, satiny, burgundy bow attached to the side of this strip. The strange thing is that the strip isn't sewed all the way across. It's sewed on either side, so it kind of dangles sometimes.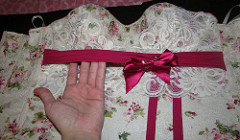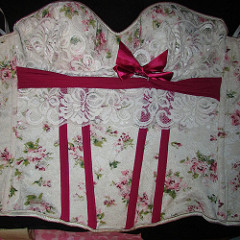 Right under the burgundy strip is a piece of white lace, which is also not sewed all the way across, but it would look funny if it was. This decoration under the bust is mostly what makes it so cute!
The four bones located on the very front are covered in the same burgundy material as the underbust strip.
This comes with cream-colored, removable bra-like straps, but I love the strapless look with this top/bustier. I was happy this one holds up well without needing straps, unlike the Vintage Rose bustier. This seems much more fitting.
There are 8 flexible, plastic bones throughout the bustier. They really don't seem to do anything extra, but the ones located on my sides will probably be removed because they tend to add more bulk. I'm also considering removing the bones in the front because they're so long that I can't sit without them jabbing under my breasts and digging into my leg. I just think it'd be more flattering on me if they're removed.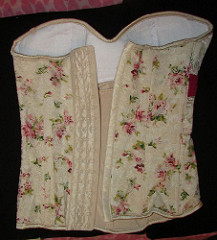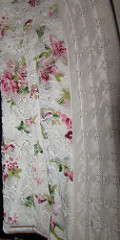 The back has 3 rows of hooks and one row of eyes. The 3 rows were very appreciated because unlike two other pieces from this line that only had two rows, I'm able to get this to fit me. If it hadn't had 3 rows, it would've been too loose, like the other pieces.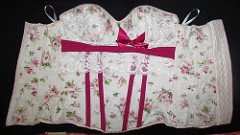 The very front bottom dips down a bit and the sides (hip area) comes up, shorter. This is typical in a bustier or corset, and usually makes it impossible to wear jeans underneath, but this one does wonderfully nice with jeans. It's made slightly shorter than most corsets and bustiers I own.
Bustier's Measurements
(Opened up, measured across.)
Size: Small
Entire length from top of "cup" to bottom: 14"
Length from between "cups" to bottom: 13"
Underbust width, straight across: 25"
Across waist: 24 1/2"
Across hip: 26 1/2"
My Measurements
Bust: 34" size A on left, small C on right.
Jean/shorts/size: Zero
Weight: 93lbs
Height: 5 2"
Waist: 26" Lower waist. Where I'm a bit wider, the love handle area: 29"
Garters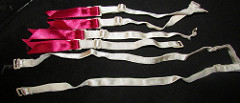 7" at longest, 4" at shortest.
The garters are cream-colored with slidey adjusters, and they have a plastic/flexible clasp. The portion that goes over the top of stockings is plastic, the under portion is flexible. There's burdgundy satin ribbons over the closures.
Material & Care
Made in China. 100% Nylon (exclusive of trim.)
Handwash only. Hang to dry.
Experience
Material & Care
Made in China. 100% Nylon (exclusive of trim.)
Handwash only. Hang to dry.
The chest is lined in a nice, thick cotton and the rest of the bustier is lined in comfortable, breathable nylon.
Note: the lace overlay can snag!
Packaging
This comes in clear plastic cellophane with "Coquette" printed in gold. You can slide it back over the bustier when storing if you wanted. There's a tag with somewhat obscene, tacky photos of a person wearing it, but they can be cut off. That tag and the bag holding the garters are attached to the bustier via a safety pin. You can cut the tag itself and remove it from the safety pin to make this gift-worthy. Fit
I already explained my issue with the bones. I also thought this looked less than beautiful on me because of the short length. I'm not used to it, and I think it makes my torso look shorter and slightly frumpy. It's still beautiful and I don't think it's so unflattering on my figure that I wouldn't wear it. I just feel that I could look much nicer, smoother in it without the bones. I hope anyways.
The other two items I got from Coquette's Spring & Summer line ran large. They fit more like mediums than smalls, but this one fits much more like a small. It's not loose like my other pieces, so this is one piece from that line that fits like it should.
This doesn't come with panties, so it looks strange as lingerie if you don't find a matching pair. I really think the matching boyshorts from this line should've been included, and I plan to get those as well. If you have a burgundy or cream lace panty, those will work. Or you could wear this as a top. That's what I'd hoped for, like the babydoll, but I just don't feel right in this as a public top, for some reason.
This content is the opinion of the submitting contributor and is not endorsed by EdenFantasys.com

Thank you for viewing
Raspberry Fields bustier
review page!