Raspberry Fields bustier
Bustier by Coquette
Sweet Raspberry Fields Bustier (Size L)
When this bustier hit Eden I just had to have it. This was the first thing that caught my eye out of the Raspberry Field line. I am glad I went ahead and got it. I can't wait to wear this outside the house. I just have to find a nice skirt or pair of pants to go with it.
Published:
Pros:
Comfortable, Beautiful, Quality is good
Cons:
Had a couple of loose threads but not on any part of the lace
The Raspberry Fields bustier is made by Coquette. This bustier can be worn in and out of the bedroom. This would look good with a nice skirt or a pair of dress pants; some may also want to pair it with jeans. I am so glad it can be worn out of the bedroom because it is too pretty to keep hidden away.

Coquette is doing a Save the Ta-Tas Foundation and they are donating a percentage of the proceeds to breast cancer research. I think that is so awesome I am glad I can help out in any way I can

This bustier comes in 3 sizes they are Small, Medium and Large. I purchased the Large. On the Coquette size chart the Large is supposed to fit body types of 12-14, Cup size C, Bust 38-40, Waist 30-32 and Hip 40-42. It does not give the Weight on the chart though. My sizes are as follows Size 9-10, Bust 38b, Waist 40-41, Hip 42, and Weight 146 lbs. The cups on here are a little big for me. I have to wear the straps because if I don't then when I bend forward you will get a eye full. The model on the product page has big probably fake boobs so it looks good on her. That was a little upsetting but there is no way I can go to a medium because it would not fit me at all. Sorry to all the ladies out there who want bigger sizes I know this is a pain and I wish they would accommodate everyone it is just not fair.

The bustier comes with removable garters and straps. There are two straps that are cream in color. They have a hook that you can slide through a little elastic piece in the bustier in the front and back. They are also adjustable. There are four garters, two for the front and two for the back. There are also little elastic bands that you slide them through. The garters also have adjustable straps. I am just happy they can be removed as I have said numerous of times I can do without them. There are sliders for the closure and over the front and back of that is a nice satin raspberry ribbon. The garters are also cream in color. They each came in their own plastic bag which was pinned onto the bustier.

The bustier has hook and eye closures in the back. There are 17 hooks in 1 row down and 52 hooks going down in 3 rows. I like that they made it this way so you have an option to tighten it or loosen it up. There is plastic boning 8 of them to be exact. There are ones for each side and ones on the back. There are four in raspberry in the front that start under the cup of the bustier and go all the way to the bottom of the bustier. The plastic did pull in my hips a little bit which was neat it gave it a nice looking curve to my figure but it is not enough to give it that full hour glass shape.

The bustier is made of 100% Nylon (Exclusive of the trim). The tag on it says to hand wash only and hang to dry. This is too pretty to be ruining. It was also made in China.

The inside chest area has a soft cotton where your boobs go. This does not have any under-wire or boob support. There is a line that goes across the chest area. This is made up of mostly all lace which can snag if you are not careful with it. There are floral prints all over the lace mesh. They are in cream color and some are in pink and burgundy with green stems. There is a pretty raspberry trim that goes across the chest area right under the line for the boobs. It has a removable ribbon which is cute but would have been nice if it was put on to stay. This is held on by a safety pin. It looks like you will have to fiddle with it to get it to stay in place nicely if you don't put the safety pin on right it will dangle and look funny. The top part where your breast goes swoops down in a beautiful little V-shape. The bottom of the bustier has a neat little wiggly pattern that goes around it too.
Experience
(
Continued
)
This comes in a clear plastic bag with a tag of the girl wearing the item on it and all the Coquette information and the other tag was for the save the Ta's Ta's. You can easily store this in your dresser drawer that is where I have mines at until I hang it up. When traveling I would put this in a suitcase so you could fold it in half. I would not put it in anything else so it does not mess up the boning.
I had a couple of loose threads but nothing too be too worried about. They can be easily removed and it was not on the lace thank god.
I gave it 5 out of 5 stars if I could give it more I would. I am glad I chose this from the line first it is so elegant. I can't wait to get out on the town with it on. It fit me perfectly and it was so comfortable to wear. I plan on trying to get the other Raspberry Field outfits at some point as long as they are still around.
Sorry in the picture I could not get four of the hooks closed I needed help and no one was around I had to work this on myself from the front then turn it around. I also have the matching panties from this line on they both looked so cute paired together.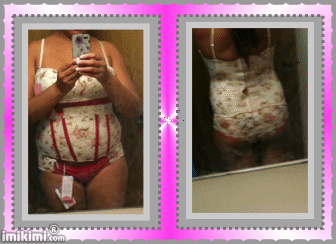 Follow-up commentary
25 days after original review
I just hope the other pieces I got in this line fit and feel comfortable as this one. All I need is a nice skirt or pair of pants to go with this and I will be all set. I am having a hard time finding anything I like because I am picky when it comes to clothes. Once I do I will be wearing this out of the house as well. For now it just gets camming time.
This product was provided at a discounted price in exchange for an unbiased review. This review is in compliance with the FTC guidelines.

Thank you for viewing
Raspberry Fields bustier
review page!