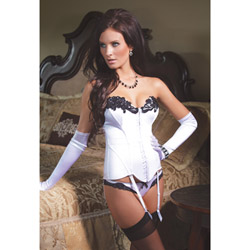 Lycra over powernet corset
Corset
by Coquette
Beautifully Sexy With A Touch Of Naughty... (Size L)
This is a very flattering and feminine corset. The Lycra Over Powernet corset will work for many figures and the unique boning pattern adds support and smoothness that is unparalleled. I love the feminine decoration of the lace, and when paired with a nice jacket, this is perfect for public wearing!
Published:
Pros
Comfortable and stretchy
Fit & busks on hooks.
Full privacy panel in back.
Cons
Can see waist band sewing.
Hooks are a bit difficult.
Plastic boning.
The Lycra Over Powernet Corset is a comfortable and dressy corset that is ultra stretchy and form fitting. You can use the lacing in the back to adjust for your measurements. I did cut the lace in two and re-laced it for maximum customization. There are 13 metal grommeted eyes to thread the lace through. The grommets are sewn into 1" white satin panels. There is a full powernet privacy panel beneath the lacing. The lace is 1/2" nylon ribbon.

The boning is plastic, which I will replace part of them. This has an unusual boning pattern in the front and sides. I was not too sure about the performance prior to requesting this as an assignment, however I do understand and appreciate how well it actually worked after wearing it for awhile. The diagonal ones that run diagonally form about 6" up the side to the bottom of the front keeps the material smooth while still allowing for full movement. The small 4 3/4" ones that run by the breasts, taking off from the breast curve on the front boning, helps add breast support without a full underwire. I did not have my corset adjusted in the pictures (hubby was antsy to get them done), but it does work so much nicer! When you have a properly adjusted corset, these are very flattering and do pull the whole look together to make this very flattering. I will try to get pics of the adjusted corset to you on my follow up review.

One thing I am so unsure of is the obvious elastic that is built into the waist. You can see the hem and it does take away from the beauty of the garment. The front has a row of 14 small hook and eyes. You must be very careful when you close them, they are actually on sturdy busks. A busk is a one piece, sturdy boning apparatus that the hooks are in front of. This allows greater support in the front, but it is harder to hook up alone. I start in the middle and work my way down the hook form the middle up. The busks on both sides are covered in white satin.

The black lace trim is sewn on very nicely and lays flatteringly against your breasts. These act as a decoration and cleavage enhancer. This corset is made pretty well, no loose or mismatched seams.

The material is 82% Nylon and 18% Spandex. It stretches very nicely. There is a nice sheen to it, however it is not satin-like in any way. It looks like polyester but a bit more stylish. This garment requires hand washing and hang to dry, a dryer would destroy the material.

I would suggest wearing this under a blazer or other jacket in public as opposed to on its own. This would look amazing when paired with the right cover up. For the bedroom, it works out very well and is comfortable enough to leave on during sex. I love wearing these to cover up my tummy pooch and feel so much more sexy if I have something on during sex. My husband loves the fact that I wear lingerie and thinks it is amazing looking.

Sizing:
My Measurements: 43D Breast - 30" Waist - 42" Hips - 28" Inseam - 22" Thighs - 5"2" Tall & 150 Lbs.
Corset Size: L
Coquette (Copied from Sizing Chart.)
Cup Bust (in) Waist (in) Hip (in)
Small 4 - 6 B 34 - 36 26 - 28 36 - 38
Sm/Med 6 - 10 B 34 - 38 26 - 30 36 - 40
Medium 8 - 10 B 36 - 38 26 - 30 38 - 40
Med/Lg 10 - 12 C 36 - 40 28 - 32 38 - 42
Large 14 - 12 C 38 - 40 30 - 32 40 - 42
X Large 14 - 16 D 42 - 44 34 - 36 44 - 46
One Size4 - 14 B 34 - 40 26 - 32 36 - 42
1X/2X 18 - 22 D 46 - 50 38 - 42 46 - 52
3X/4X 24 - 28 D 52 - 56 44 - 48 54 - 58
Oueen/
One Size18 - 26 D 46 - 54 38 - 46 48 - 56
Experience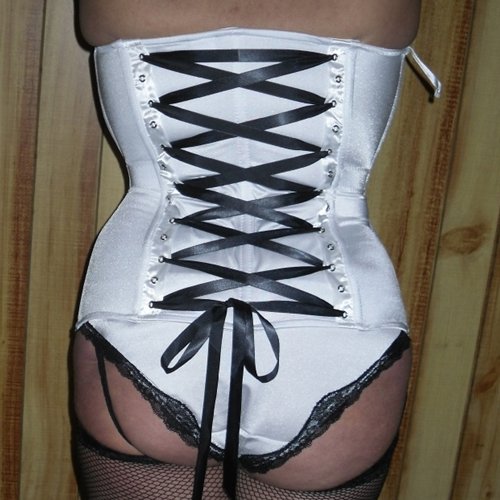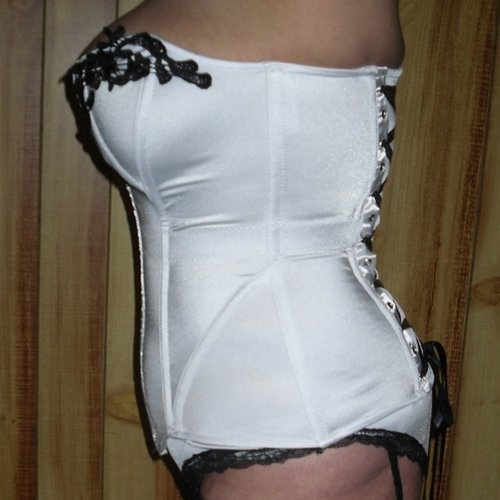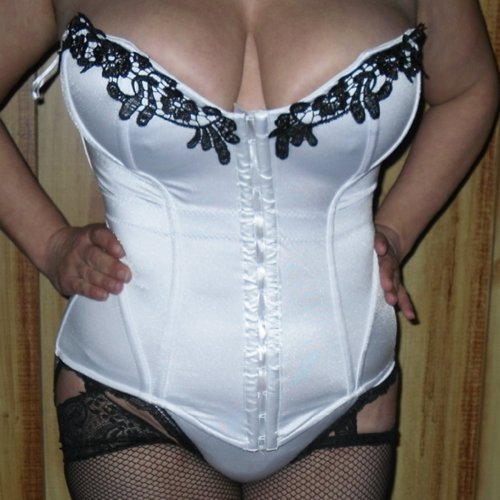 Follow-up commentary
17 days after original review
The Lycra corset has become one of my favorites. I love the flattering shape of the boning and how it holds my shape in while disguising my problem areas. I was very leery of the boning prior to wearing this, it is not the usual vertical bones, however after wearing this a few times I understand the reasoning. And it works!! I will end up replacing the plastic boning with metal soon, however, it is starting to flex and not straighten back up. Oh, for metal in all corsets!!
This product was provided free of charge to the reviewer. This review is in compliance with the FTC guidelines.
Thank you for viewing
Lycra over powernet corset
review page!