Lycra? You mean lyCRY right?
Don't get me wrong, I love Coquette. But come on, this hardly seems like something that they would come up with. Coquette usually has exciting, EYE GRABBING lingerie. Not this dull lifeless stuff.

This corset is of quality yes, but my oh my! How dull it is.
Published:
Pros:
Well made, good shape, fits well. Attachable garter included.
Cons:
Dull, boring, pricey. Panties aren't included.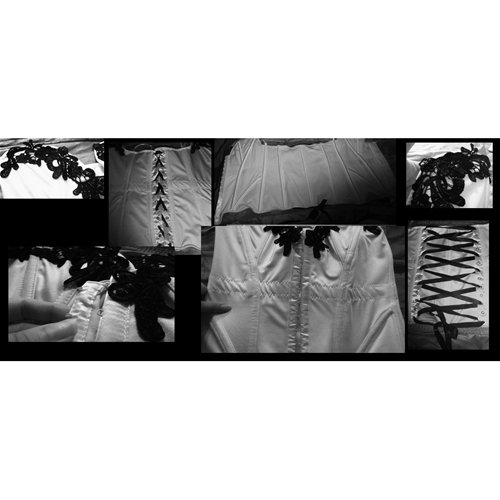 I found that this corset wasn't all that I was hoping for it to be. Sure, the style was cute, the fit was great, it was even made well.
There was just something about it that seemed a little, well… boring.
Therefore I am not finding myself overly impressed with it and I just don't think that it is really worth the high price of $60.00 bucks. After all there are so many nicer corsets out there. I have certainly reviewed my share that I would recommend. Such as the green Satin and lace corset, or even the White fully boned lace and satin corset.
I just really don't have THAT much to say about this one, usually I find myself going on and on for a long time writing about Coquettes amazing corsets and how pretty and fabulous they are … exceeding the allowed word count by 300 to 400 hundred words, but in this case all I have to say is- BLAH.
Design / Craftsmanship / Material
This corset is made out of
82% nylon
18% spandex
Therefore it will stretch a little to accommodate your body, but it will still hold you pretty tight and make you look nice and thin.
The overall quality of this corset is very nice. Coquette did a nice job with the making of this corset and I found that the lace detailing at the top was sewed on well(though I thought it was a bit to large looking) and I wasn't particularly fond of it.
Something that is nice about this corset is that the hook and eye closure is in the FRONT of the corset and not the back, so that makes this corset very easy to get on and off, especially for the more clumsy handed.
Size / Fit
This corset fit me perfectly and accentuated my curves nicely.
My personal dimensions are.
My weight
110
My cup size
B
My bust
34-36"
My waist
24"
My hips
34"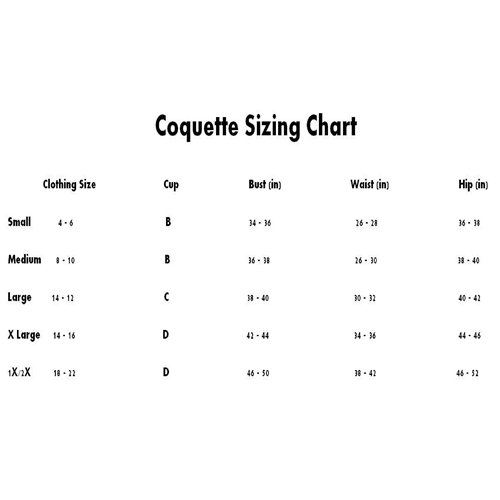 As far as the sizing chart goes on this one, you can pretty much just ignore it, keep in mind what size you USUALLY order, and go with it. If your waist is a few inches bigger, don't worry about it. Since this a lace up back item, you could be like 4" inches larger then my waist and still have it fit around you just fine.
However, as far as the bust goes, you wouldn't want to be much larger then a 36-38, or you would find yourself spilling out of the bust area.
Again, the hips don't matter that much either. Since this is a lace up back corset, you could be an inch or two larger in the hip area and have this corset work for you.
I would say that the biggest worry for you when ordering this corset is torso length.
You don't want to have a torso that is to much longer then 9" inches from under your bust to the bottom of your hips, or this corset may look a little short on you. However I would like to add that I have a pretty long torso personally, and this corset fits me very well.
Care and Maintenance
As with most lingerie I recommend hand washing and leaving it out to air dry. You wouldn't want your delicates to shrink after you spent all that time figuring out what size you needed to order!
Packaging
This corset comes on a hanger and is packaged in a plastic bag. You can reuse this bag for storing purposes if you would like, or you could simply toss it. But I recommend keeping that hanger and all its plushy, plushy goodness.
Pinned onto the corset is a picture of one of the coquette models wearing this corset.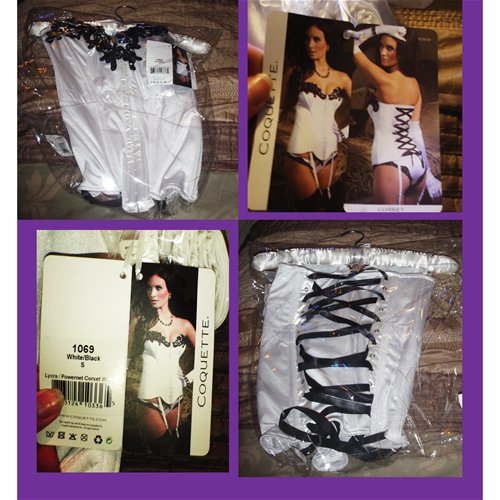 Experience
This corset is well made, I just personally found it a little dull. I know it certainly isn't anything that I really plan on keeping. . . or showing my S/O for that matter.

I took one look in the mirror and thought to myself "I paid $60 bucks for this?"


Another thing that I found dissapointing when I recieved this was the fact that the panties shown where NOT included, I guess it didn't say that they where on the product page... They just matched so well that I assumed.


So, remember. CUTE ADORABLE PANTIES ARE -NOT- INCLUDED

I know it just hasn't been working for me since I got it, and I'm not sure if many people here will like it or not, it is all just a matter of taste. If you order it just be prepared to send it back. I know it wasn't what i was hoping for, or picturing... I guess online pictures can be slightly decieving at times ;)

Oh well, better luck next time, right!
This content is the opinion of the submitting contributor and is not endorsed by EdenFantasys.com

Thank you for viewing
Lycra over powernet corset
review page!