Black and Red and Hot All Over!
Is there any sexier color combination than red and black? Coquette hits all the right notes with this lacy number, from great fit to removable accessories.
Published:
Pros:
Nice quality, runs pretty true to size, fits large breasts, adjustable details
Cons:
A little hard to put on alone, but support isn't awesome
My corset arrived in a clear plastic bag that you could use to store it in if you really wanted to, but really nothing special. Within the bag is a better option, the corset was on a beautiful, poofy black silky padded hanger. I love when they include these, such a nice little bit of luxury as a bonus!
I ordered the XL. Here's how I compare to Coquette's size chart for that size: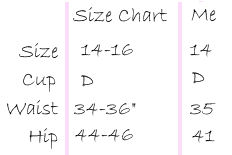 First, to get the basics out of the way, this corset is made (in China) of 100% nylon, exclusive of the trim, and the tag suggests hand washing. There are 11 pieces of plastic boning sewn in, which are flexible enough to allow you to move freely and sit, but just firm enough to help shape your midsection. There are 5 pieces on the front (one straight down from between the breasts and 2 on either side), one straight down each side under your arms, and two on each side in the back. I measured my waist before and after putting this on, and it doesn't suck me in at all- the after measurement is actually half an inch more due to the fabric and boning. Still, it does help to create a sleeker silhouette.
One thing I LOVE about this is you can change up how you wear it, because it comes with removable straps, garters and bows. Yes, the big red bows are attached to little safety pins, so not only can you take them off if you aren't feeling bowy, you can move them around to wherever you like! One thing that will probably only annoy me, because I'm weird about such things, is that the bows are a slightly different shade of red than the red on the corset itself- the bows are the slightest bit warmer of a red, a little more orange. The straps are stretchy, adjustable, and a little thinner than regular bra straps. They offer some extra support- not as much as wearing a bra, but definitely a help. The garters are also adjustable.
The body of the corset is made of stretchy black nylon covered in black lace and accented with red stripes where the boning is. The lace pattern of the corset isn't really visible in the pics, but in person it is much easier to see.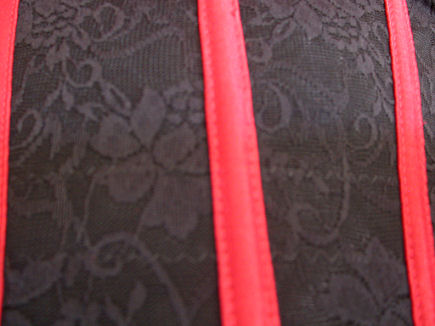 The bust area is covered in solid red taffeta (thus the corset's name) and is the only area that isn't stretchy. There are no underwires in the cups. The cups themselves measure about 5.5" high in the middle. From the photo on the corset's info page, I was super worried about the cup size, since it looks like the model is one deep breath away from some nipples popping out. I'm on the large side of D, though, and my boobage all fit just fine. The inside of the cups is lined with the same sort of material in most thicker bras, so you don't have to worry about any nipples poking through.
I can't decide how I feel about the lack of underwire. I like that not having it means you can wear your own bra with the corset without any problems, and that you won't run into any of the weird-fitting underwire problems I've had with some lingerie. However, it also means my boobs don't look that great in this without the straps or a bra underneath. You get a little support from the boning, but unless the corset fits you quite tightly, it is very minimal support.
Here is the difference between using the included bra straps and not: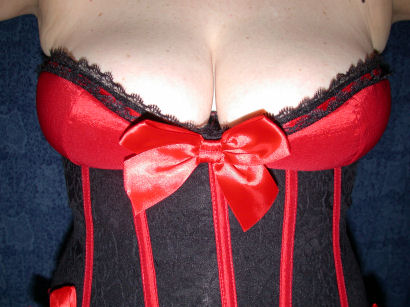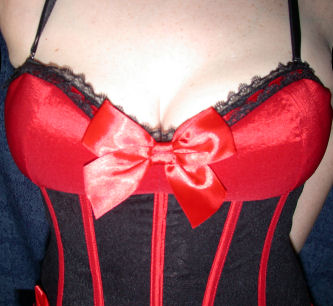 My boobs obviously look WAY bigger without the straps smooshing them in, but they're also just kinda flopping around out there. I think that for the bedroom I would totally go strapless, but if I wear this out, it is either getting straps or a bra underneath. Speaking of which, a black bra works under this corset fairly well. Here's the corset (bows removed) paired with jeans and a bra, pretty much how I would wear it if I was going out in it: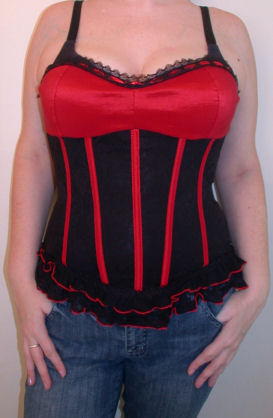 It kind of bugs me that the very top of the bra sticks out, but if I pull the corset up to cover all of the exposed bra parts, it is a little awkward, and the underwire of my bra sits way below the red section of the top: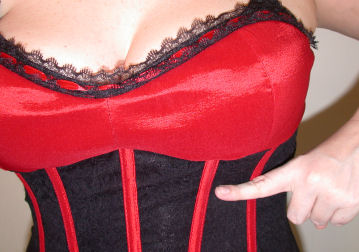 My finger is right where the bra's underwire is.
Experience
The inside of the corset is lined with soft black mesh material that feels soft against the skin. There is an inch wide elastic band sewn inside the waist to help pull you in a bit.

The back closes with hook and eye closures, just like a bra (but with a lot more hooks! 18 in total.) I personally prefer lace-up corsets, both for aesthetic value and ability to make it tighter in some areas and looser in others. There are two vertical rows of eyelets, so you do have two different settings for how tight to wear this, giving you about an inch difference in fit.

This fit me pretty much perfectly. I wish it was just a little bit tighter so that I got more of a corset effect, but otherwise I have no complaints about fit. I'm just under 5'11", so it doesn't fall very low on my hips, as you can see in the pics. Since the last 2" or so at the bottom of the corset is just lace, you don't need to worry much if your hips are a bit larger than the size chart's range. Although the bra cups fit me fairly well, they aren't a tight fit, so you could possibly fit a good solid DD in here. I'm almost tempted to order one of these a size smaller (in large) just to see how it would fit.

A few measurements to help you select a size:

16" from where the neckline dips at the center of the bust down.
14" down the center of the back where it hooks up.
About 33" along the waist where the elastic is when laid flat.

I found this to be very similar in fit to Coquette's Bow Bustier, except that one has a built in underwire. Otherwise they are nearly identical, other than fabrics used.

Putting on a corset with this style of hooks can be a challenge if you are by yourself. The easiest way for me is to put it on backwards and then suck in my stomach and spin the corset around carefully. With tighter fitting corsets, I find it is easier to put it on sideways instead of backwards, so I only have to spin it around a quarter turn instead of half.

This corset is easy to pack to travel with, you can either lay it flat in your suitcase or fold it over on itself a few times, which is easy to do since there are no underwires. Just be careful nothing is pressing on the boning, or it may get bent out of shape.

Just a note, this set does NOT come with a matching thong. I've gotten so used to everything I order coming with one that when I pulled this out of the package, I was kind of like "Hey, where is the thong?"

Overall, I have to give this 5 stars because the only faults I can find with it are really minor. I love that you can totally sex it up by wearing it with thigh highs and a thong, or tone it down and wear it out. It's comfortable, well made in great colors and fits pretty much exactly as you would expect from the size chart.
This product was provided at a discounted price in exchange for an unbiased review. This review is in compliance with the FTC guidelines.

Thank you for viewing
Lace taffeta corset
review page!