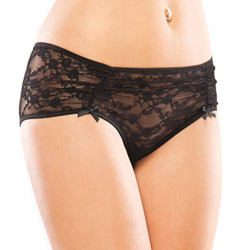 All over stretch panty
Sexy panty by Coquette
Black Lace Bliss (OS)
The Holiday Stretch Panty by Coquette is quite a hit. It has gone out of stock so many times when I intended to buy it, but I finally nabbed a pair, and boy am I excited. It's hard to find underwear on EF that offer full coverage and aren't crotchless, but this is a solid choice for those of us who like pieces that are sexy and practical at the same time for a seamless transition from day to night without sacrificing comfort.
Published:
Pros:
comfortable, full coverage, cute, soft
Cons:
one size won't fit many women, feels delicate, short panty liner
The Holiday Stretch Panty by Coquette features a black lace bikini cut with a crotch liner to make these perfectly suitable for daily wear while still maintaining sex appeal. They are pretty stretchy, but there is an XL size for a reason--these are not, as usual, one size fits all. As a size 2, that's not a problem for me, but for ladies with junk in the trunk, consider reading the XL reviews to see the measurements in comparison to the OS. I don't think these would be comfortable or a proper fit for all women. I don't see these venturing much into a size large even, but I can't be positive. Use your best judgment but order with care. I think these are most suited for people who typically order sizes small or medium.
The measurements I took are as follows:
11.5" unstretched waist
18" stretched waist
2.25" liner length
2" liner width
The Holiday Stretch Panty's lace has a floral design exactly as pictured. The front also has a ruching on each side that ends in a small black bow just above the front of the thighs. They are made of "100% nylon excluding trim" but the crotch liner is cotton as far as I can tell. These are to be hand washed and line dried. I washed them in a hand cranked washer (Wonder Wash--invest in one even if only for your lingerie, seriously) and they came out fine with no tears. I would not take the chance of putting them in a washing machine even on a hand wash cycle. The lace feels soft and delicate, so be careful with this piece. Don't let it get hooked on anything.
One problem I have is that there is a large white tag. I wish that it had been black and more discreet looking, but I understand the need for a tag for the purpose of educating the consumer about caring for the product, knowing that people will rip it out of the package and never look at anything in the bag. I will simply cut the tag off now that I have read it.
Speaking of the package, it came in a sealed, clear plastic bag with a Coquette tag safety-pinned to the panty. The tag showed the product pictures available on EF.
Now for pictures: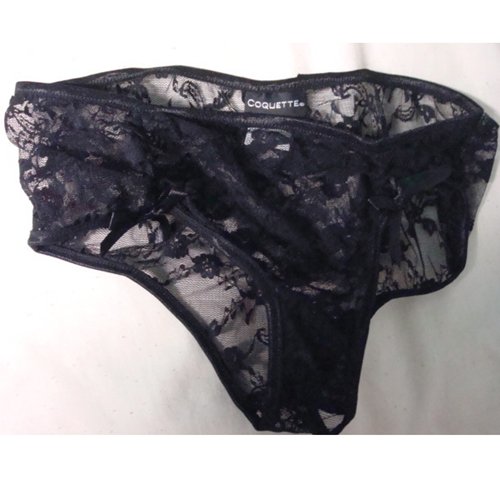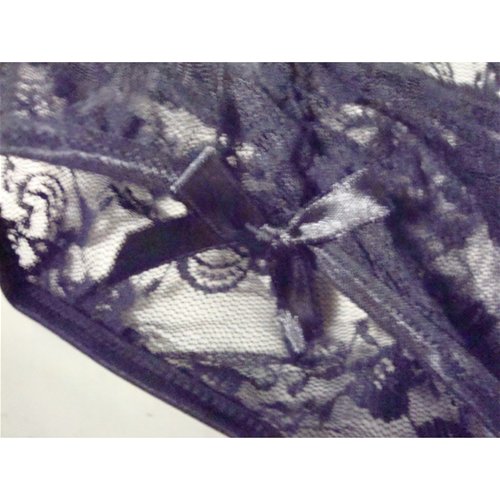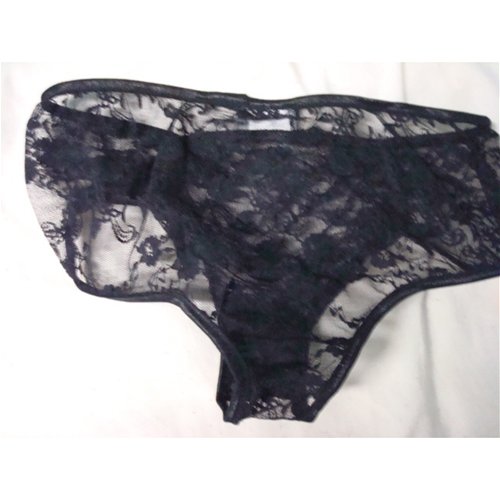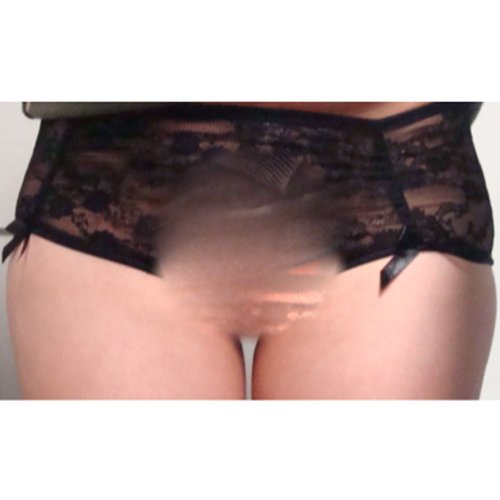 Experience
Although I haven't had the opportunity to wear these out for a day, I have a feeling I'm going to love them. While trying them on and walking around my place, they were very comfortable and they show off a lot while still maintaining quite a lot of coverage in the front as you can see. I was uncomfortable putting a picture of the back online, but it looks just like the product photo. This is a really great pair of underwear that I think will get a lot of use. I'll be sad when this delicate little number tears, and I hope it won't be for a long long time. My only complaint is that I wish that they had a longer panty liner, and the tag, but that can be cut off, so I'm giving these 5 stars.
Follow-up commentary
9 days after original review
I normally would wait a little longer before doing a follow-up review, but I already have the data I need. I took these out of the drawer this morning to wear them a second time and they had a tear near the crotch despite the fact that I cared for them properly by hand washing and line drying. That's ridiculous that they tore after wearing them only one time! I was excited about these, and my partner and I both liked them a lot. The tear is off of the seam, so I am going to attempt to hand sew it but even then I don't anticipate it holding for more than one use, and the crotch liner just is not long enough for me to want to wear these with a tear even if the tear was in a "convenient" place, being less noticeable on the seam in an area well hidden. I am sure they will tear other places. Ridiculous! $11 pairs of underwear should not tear after one use. These are a rip off. Unless you want them for a perfect outfit for a one-time thing or party or something, don't bother. There is definitely better lace underwear out there.
This product was provided at a discounted price in exchange for an unbiased review. This review is in compliance with the FTC guidelines.

Thank you for viewing
All over stretch panty
– sexy panties review page!