My little black panties! (OS/XL)
I would purchase these again if something were to happen to these. I normally don't pay quite as much for a panty but for this kind that flatters and showcases my assets,and are comfortable enough to wear at work, I will pay a bit more for.
Some of the seams weren't spot on but with stretchy lace, that is hard to make perfect at times. It didn't make a big difference to me because when I had them on, it wasn't noticeable. These aren't glitzy or highly fancy but they don't need all that.
Published:
Pros:
Comfortable fit, Visually appealing
Cons:
Seams could have been a bit straighter but not a major flaw.
In terms of fit, comfort and style, these Holiday stretch panties from Coquette get a perfect score from me. I honestly couldn't find anything majorly wrong with them. I even managed to fall asleep in them one night and that usually doesn't happen with my sexy panties.
Lately, it seems that I have been on a lace kick and it sees to be the "in" thing so having these in my panty assortment, just makes it even spicier!
For the sizing, Coquette offers these in OSFM and OS/XL. These are the OS/XL size. These panties are very stretchy and I would suggest that these would fit a XL - 1X/2X the best. A size 7-10 in normal panties should be able to fit into these with no problem. I say 7-10 because due to different brands, a size 7 in one brand may fit like a 8 in another one.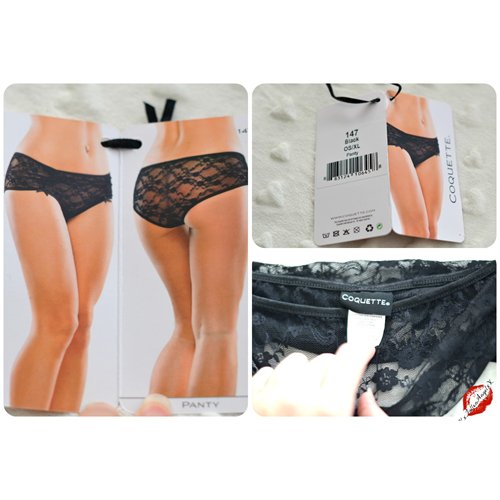 Those with larger behinds like myself that want coverage and who can fit into the ranges listed above should love the fit of these. The reason is because the lace isn't a thin, cheap lace and it seems to hold up well. The panties managed to make it through my first hand wash before use and my stretching for the review without any rips or tears.
You can snip the tags off in the back for a better appearance.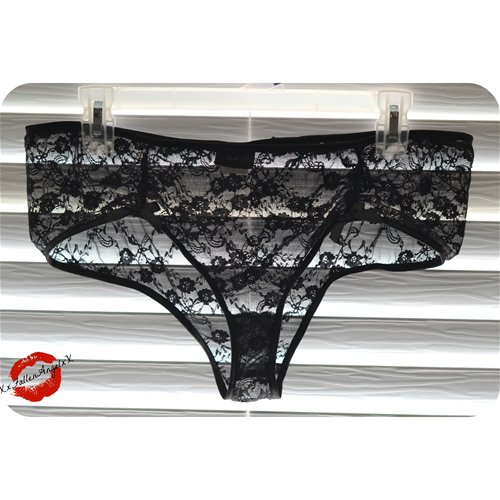 Coquette's sizing chart for these sizes are listed below.
Cup Bust (in) Waist (in) Hip (in)
Small 4 - 6 B 34 - 36 26 - 28 36 - 38
Sm/Med 6 - 10 B 34 - 38 26 - 30 36 - 40
Medium 8 - 10 B 36 - 38 26 - 30 38 - 40
Med/Lg 10 - 12 C 36 - 40 28 - 32 38 - 42
Large 14 - 12 C 38 - 40 30 - 32 40 - 42
X Lg. 14 - 16 D 42 - 44 34 - 36 44 - 46
O/S 4 - 14 B 34 - 40 26 - 32 36 - 42
1X/2X 18 - 22 D 46 - 50 38 - 42 46 - 52
3X/4X 24 - 28 D 52 - 56 44 - 48 54 - 58
Q/OS 18 - 26 D 46 - 54 38 - 46 48 - 56
You could go by the Coquette charts on this one but the chart seems to be all over the place.
I will add measurements of the panty so you can get an idea of how these will you fit you individually.
Measurements
Waist measured across unstretched: 17"
Waist measured across stretched: 24"
Top front to top back unstretched: 23"
Top front to top back stretched: 29"
Length of total crotch area: 5"
Length of cotton crotch panel: 2.5"
Elastic Ruching length unstretched: 3"
Elastic Ruching length stretched: 5 3/4"
Satin Bow Size: Bows were made using 3/8" ribbon and are 1.5" wide
Side panel(Hip) Measurements from top to bottom: 6"
Leg opening unstretched: 22"
Leg opening stretched: 30"
These panties stretch both vertically and horizontally.
Material
These panties are 100% Nylon.
It is a lace material that is sheer. The lace pattern on this panty is a small flower pattern that seems to be enveloped in leaves and the pattern is continuous throughout the panty. The lace material is the only fabric on this panty besides the elastic on the waist, leg openings and hip area ruching.
I have added a photo to show how visible that my hand is right behind the material.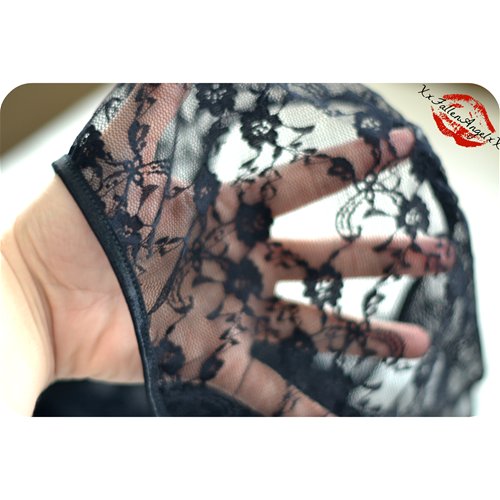 Any person could wear these, male or female. They will flatter most people in my personal opinion. This panty has support in the front and back to work for both genders.
Experience
I really like how the elastic pulls up on each side at the hip area and gives the ruched look. At the bottom of each ruching panel, there is one black, satin bow. The edges of the bows seems to be sealed and they have not frayed on me. Here is a little tip, just in case you do get these and one day they become frayed. Take a candle or lighter and lightly take the flame up and down the very edge of the bow. Be careful not to burn them or singe the bow. This will help keep the bows in better condition over time. These bows seem to sewn on well with a machine and not hand sewn, so for those of you who dislike the bows, you may have a hard time removing these without tearing the panty or potentially ruining them.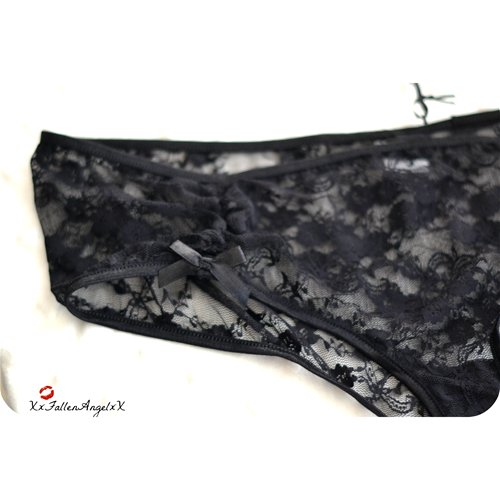 I experienced a comfortable wear with these, no itching, no irritation, no digging in, no problems.
These are named Holiday stretch panty but these can easily be an everyday type of panty and not just for the bedroom.
There are days that I want to feel sexy enough for work and I can toss these on under my favorite dress slacks and feel cute all day long! I can also dress these up for a night with my special someone by adding a nice lace garter belt, some lace top fishnet thigh highs, a lace cami and come sexy stilettos.
The fact that I can wear these around the house under regular clothing is a major plus. They don't have ruffles that poke out and show through. I can wear these with leggings and there is nothing that shows. It's as if I'm wearing a normal cotton panty. The small bows on the front are not visible under clothing.
These are a versatile panty that have so many options to offer you.
I really like how it covers my bottom but it's still sexy at the same time. The elastic on the waist and the leg portion is soft and doesn't cause any issues. It doesn't itch, dig in, or cut off my circulation. They stretch with my body.
I like that it has a cotton lining on the crotch. It's small but it can be moved a little each way to accommodate where you need them to be. They hit in the perfect spot for me unlike some other panties that I have purchased in the past.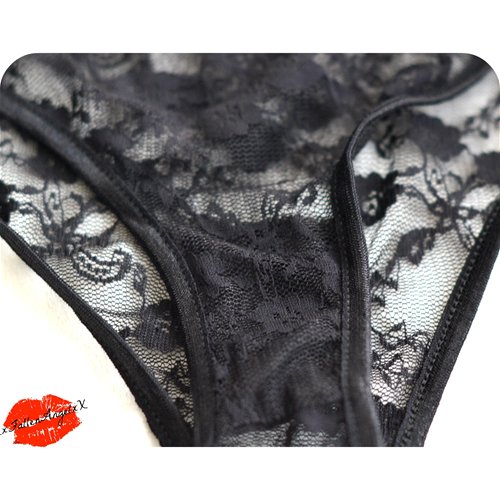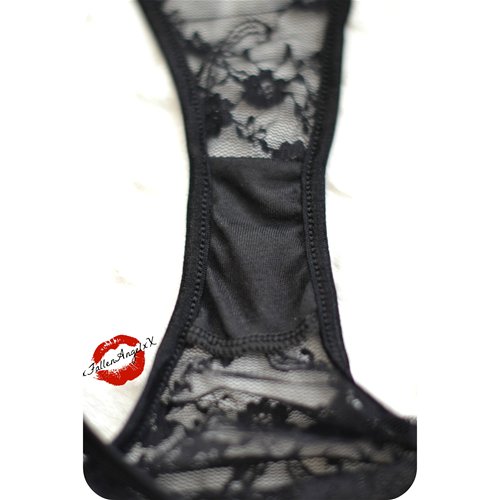 There are three tags right at the top back of the panty. The top tag is black and reads Coquette. The one underneath that one states the size OS/XL. The bottom tag reads 100% Nylon, Exclusive of trim, hand wash only, hang to dry. Made in China.
I hand washed these before wear as I do all of my lingerie and new clothes. You never know what chemicals could be on them and I surely don't want an unknown substance near my goodies, if you know what I mean. I used my Woolite to wash these and I have sometimes used Dreft just because it is gentle on my intimate clothing. Hang these up to dry because they dry really quickly because of the sheerness and lace fabric.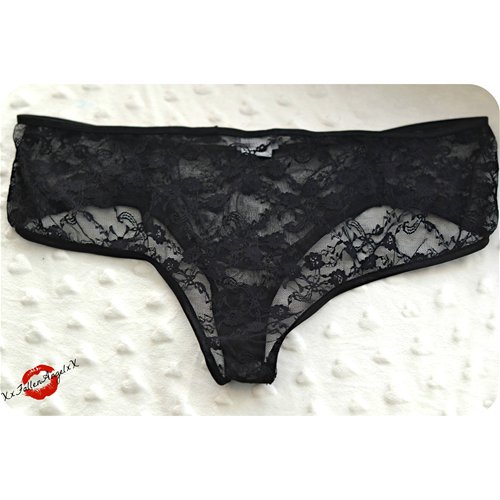 Follow-up commentary
28 days after original review
These panties are very sexy and they held up well during washing! They look as sexy as ever! I'm so glad that I purchased these!
This content is the opinion of the submitting contributor and is not endorsed by EdenFantasys.com

Thank you for viewing
All over stretch panty
– sexy panty review page!