Blue Persuasion - ( 1X/2X )
This is something that I'm glad to have in my lingerie assortment. I love the style and comfort of this chemise and thong. It's different and it stands out. The color can't be beat because it is my favorite and my guy's favorite color. You don't often find blue pieces that look this nice so I had to jump on it!
Published:
Pros:
Comfortable, non itchy, My favorite color, BLUE!
Cons:
Small breast cups
Sizing
The size 1X/2X seems to fit true to size for the Seven Til Midnight sizing charts listed below.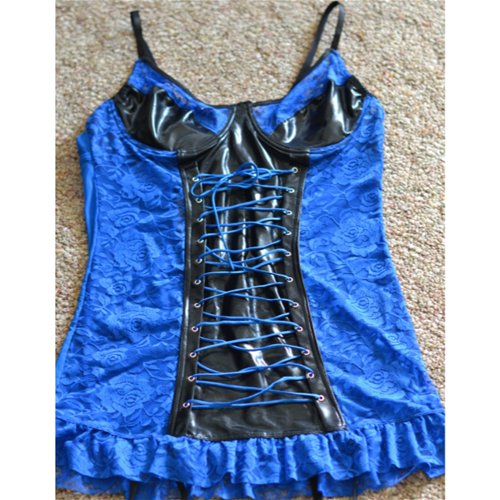 Cup Bust Waist Hip
Small 2 - 6 A - B 32 - 34 24 - 26 34 - 36
Medium 6 - 10 B - C 34 - 36 26 - 28 36 - 38
Large 10 - 14 C - D 36 - 38 28 - 30 38 - 40
XLarge 14 - 16 D - DD 38 - 40 30 - 32 40 - 42
Sm/Med 2 - 8 A - B 32 - 36 24 - 28 34 - 38
Med/Large 8 - 14 C - D 36 - 38 28 - 30 38 - 40
1X/2X 16 - 18 D - DD 40 - 46 36 - 38 42 - 48
3X/4X 20 - 22 D - DD 46 - 50 40 - 44 50 - 56
One Size 2 - 14 A - D 32 - 38 24 - 32 34 - 40
One Size Plus 16 - 22 C - DD 40 - 50 36 - 44 42 - 56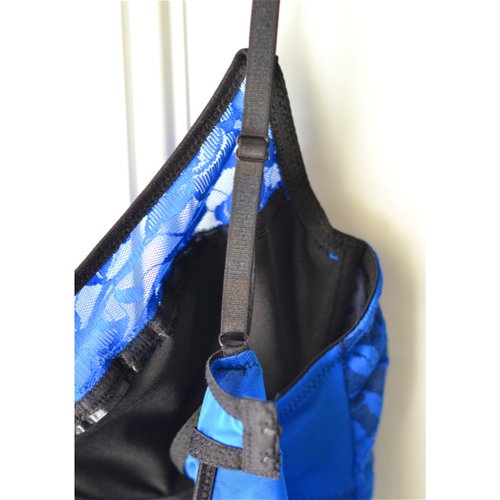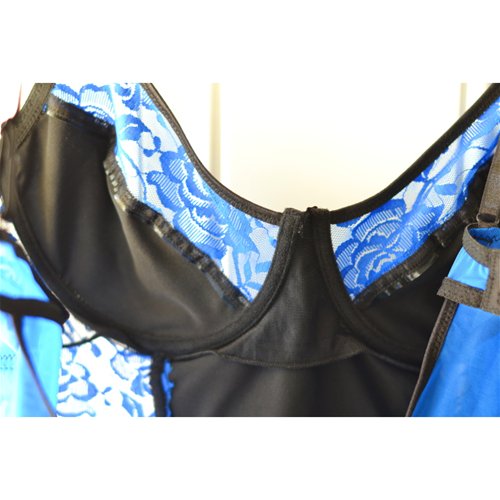 I am 5'2" and my waist is 37.5. I wear a size 14 in jeans and clothing.
The chemise wasn't very short on me because I am a shorty myself. I imagine that if you are 5'5", it may be short on you.
Measurements
The underwires of the bra measure - 12 "
Total length across from ends of each underwire is 14" wide.
Length of black corset look panel is 20"
Width of corset panel is 7"
Bra straps at longest length is 17"
Bra straps at shortest length is 10"
Garters at shortest length are 5.5"
Garters at longest length are 9.5"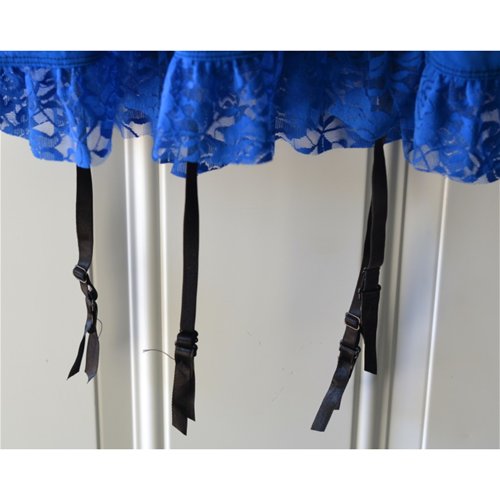 Full length of chemise in front from top of cup to ruffle is 25"
Chemise measured across waist area is 15" unstretched.
Chemise stretched fully across waist is 21.5 inches.
This has stretch to it but not a huge amount. Nothing on this piece is itchy or scratchy to me. I walked around the house doing normal activities and had no issues with anything being uncomfortable.
Shape/Material
This chemise is 92% nylon and 8% spandex.
The cups are lace at the top portion and a spandex type material in black at the bottom portion.
The front of the chemise is mainly blue lace with a panel going down the front middle with laces just like a corset. There are several silver grommets that run down each side to lace up the small, color coordinating blue cording.
There are 11 grommets on each side. 22 total.
The garter clips are plastic. They worked well with my fishnets and held them up nicely and they did not come unfastened.
If you are very busty, you may want to double check the sizing. A size D and smaller would be idea for this piece. DD's and DDD/F cause a bit of spillage. If the cups were larger, this would totally be one of my favorite chemises.
Larger hips and behinds will still look great in this set. It gets larger the further down that it goes.
It does show a bit in the front because the lace is see through.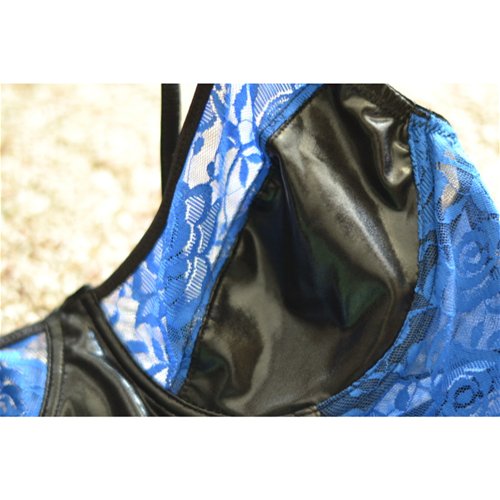 You can tighten up the laces from 7" to 2" at the tightest point.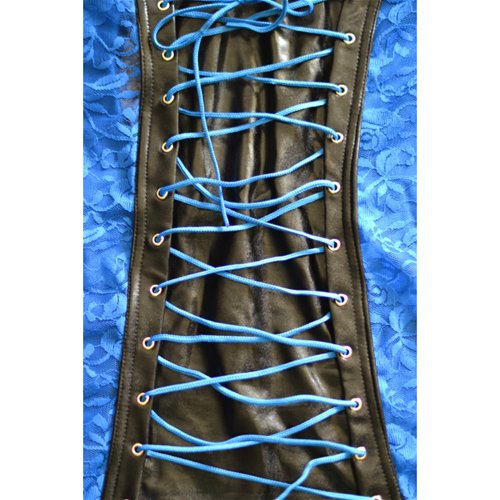 The back of the chemise is a sheer, non lace material. It is fully sheer in the back with a similar blue sheer material.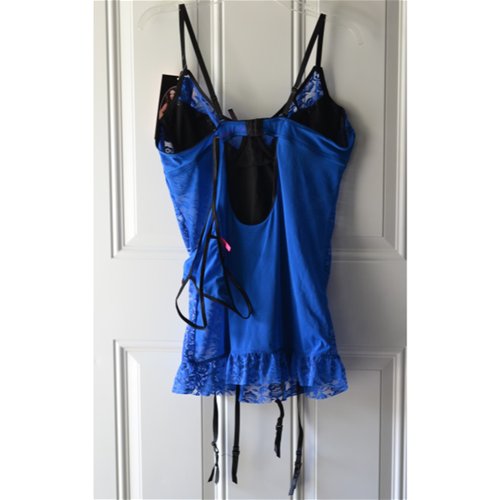 The hooks in the back are the type of a basic bra type. It has 3 adjustable rows to fit your specific body type. This did not irritate me or scratch my back.
Near the hook in the back is the very noticeable pink tag that hangs out and shows through. I noticed this while taking photos. You will need to cut this out for the appearance. However, this tag was not itchy because it is made from a silky fabric.
The thong triangle measures 9 x 9 x 7".
It is made from the same mesh material as the back of the chemise.
There is a black, cotton lining on the crotch area. It measures 3 inches long.
The waist of the thong is 16.5 inches unstretched.
The waist of the thong is 28.5 inches stretched to max.
The thong from the top front to the top back fully measures at 19 inches unstretched.
The thong from the top front to the top back fully measures at 25 inches stretched out to max.
There is also a tag on the bag of the thong that you may want to snip out. It is visible through the mess. These also fit true to size.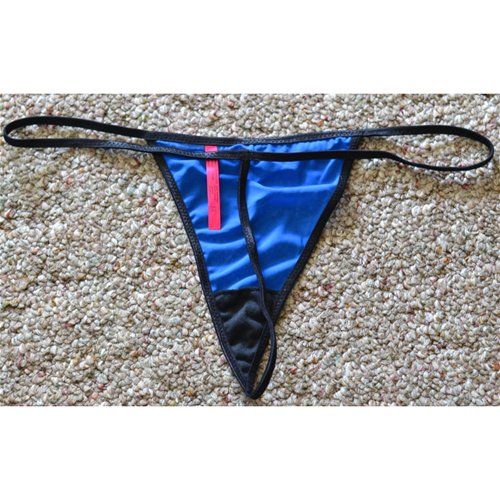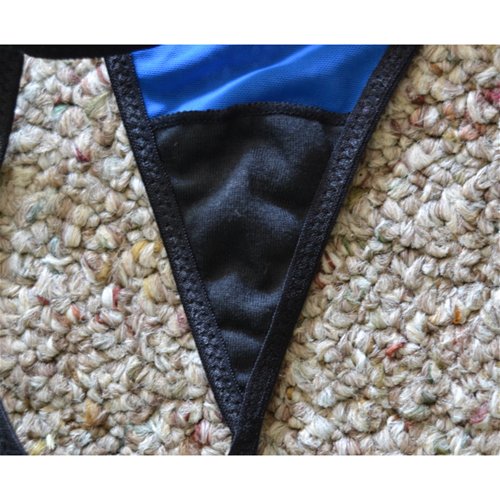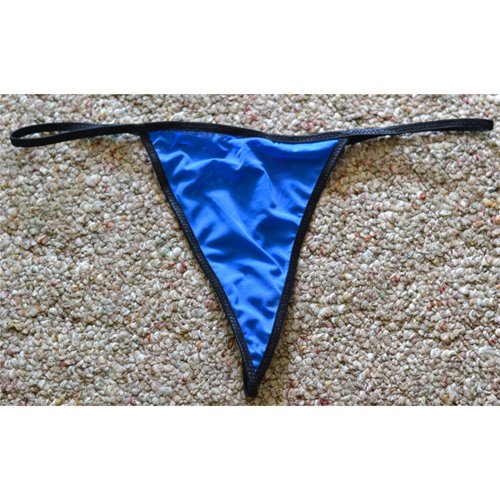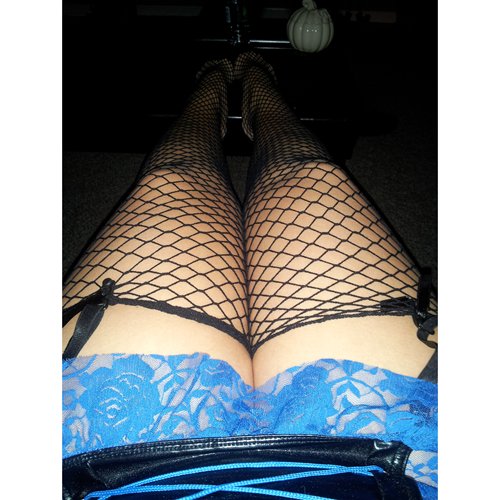 Experience
I fall into the Xlarge for my body type but above the largest size for my breast size which is 38F. So I went with the 1X/2X.
My breasts really over ran this chemise. I still rigged it up where I could wear it because it was so hot and sexy looking. I just tightened up the shoulder straps quite a bit.
I took the photo below sitting on the couch to show how see through that it is and to show how my tummy shows through. Sorry about the angle but I wanted you all to be able to see how it fit while sitting straight up.
I felt like a bad girl the whole time that I was wearing this! This set from Seven Til Midnight screams bad girl! The blue is bright and looks great! Even if you may not like the color blue, it does look good on most people. If you have blue eyes, this will bring out your eyes. The black gives a great leather look. I ordered a size 1X/2X and the sizing fit good on my whole body. The lace on the front has a flower pattern. There are ruffles that hand down in the front for an even sexier appeal. The ruffles are my favorite part of the chemise. If the cups were more my size, this probably wouldn't last long because I would be wearing it a lot.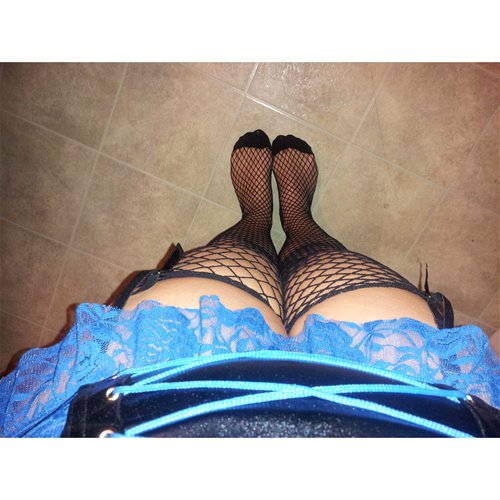 Eden sells boy short panties that match this set. Type in Blue royale and it should pull up the other pieces that are similar.
Bottom line, this color combination looks great together!
Follow-up commentary
1 month after original review
This is very pretty and it still looks great! The blue is still very vibrant after washing! I love this and wish they would carry more blue lingerie!
This product was provided at a discounted price in exchange for an unbiased review. This review is in compliance with the FTC guidelines.

Thank you for viewing
Blue royale chemise and thong
review page!