My breasts bust outta this royal blue number, but with a little imagination, it works for me.
This piece is so comfortable, it can be worn around the house or if you dare with a pair of jeans or a short black skirt for a night out on the town. It is everything I thought it would be and even though I did not care for the thong it is still a good quality so for those of you that do thongs you will like it. I give this piece high recommendations.
Published:
Pros:
love the royal blue/black combo
snug fit
Cons:
not enough room for 3x/4x boobs
This hot little royal blue piece is from the seven til midnight collection, and the size is a 3x/4x. There are two cute little pieces of ribbon that are the tags one lets me know it is a piece from the seven til midnight collection and the other lets me know that this piece is 92% nylon and 8% spandex.
Care instructions are hand wash in cold water, do not bleach, do not iron, and line dry it. The chemise color is royal blue with a black section down the middle that also has a royal blue string that ties together at the top under the breasts. The clips that hold stockings up are also black and the clips are hidden by a strip of ribbon, and I really like this feature. The chemise measures from the start of the spaghetti strap to the bottom of the hem is 29" long. The width of the cups that hold my breasts is only 6", but in the back is part of the chemise with two clasps that hook like a bra that lend more support than I thought it would.
I have larger breasts, so I did have to wear my bra to get all of my boobs into this hot little number. The garter clips are 10" long perfect for ladies that have longer legs. The shoulder straps are adjustable like a bra strap is.
This chemise came folded neatly in a plastic bag and had no hanger or cute designer box not even a picture on the bag.
The thong is huge! The top of the triangle on this thong is a whopping 8" across, and 9" on the sides it is so big it could cover several crotches. The strings are a little bit on the large side, so they are uncomfortable, but then again, I have never wore a thong. I just cannot get use to the idea of a string up my butt crack. There is a long pink ribbon for a tag that will have to be cut out before anyone can wear it, it tells me that the item is 90% nylon and 10% spandex. The care of this thong is simple hand wash cold water do not iron, don not bleach, and line dry it. On the inside of the thong is a very small patch of black material that measures 2.5" long and 3" wide; this is the panty liner part of it.
The front of the chemise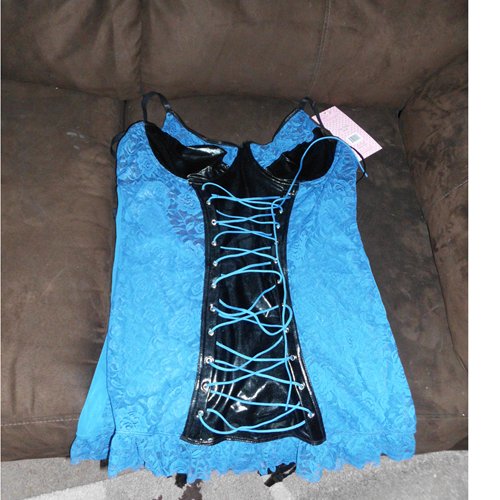 Clips for stockings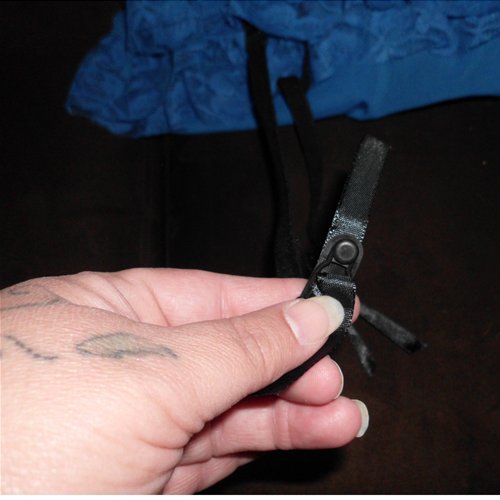 Double "bra" type clasps in back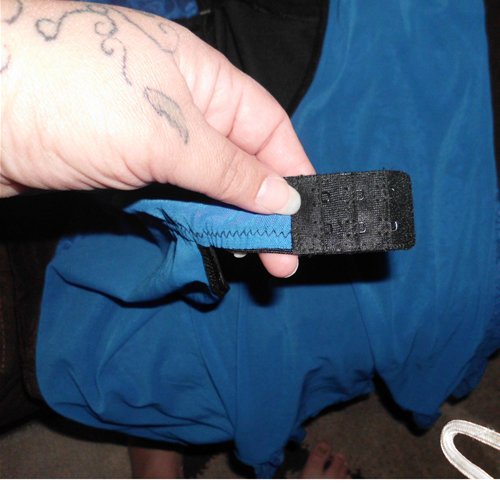 Back view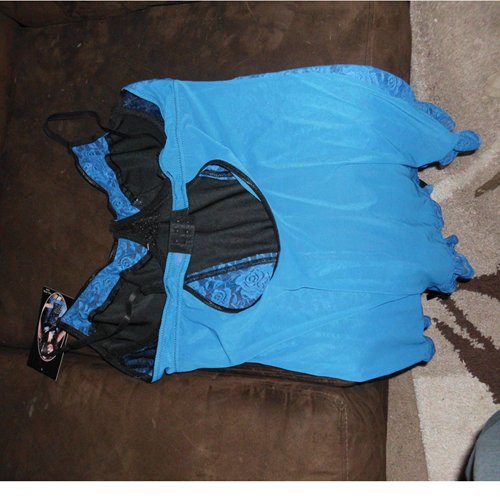 Cups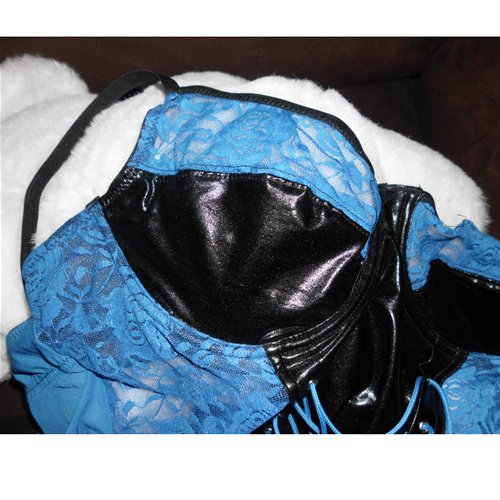 showing the length of the string that ties up the front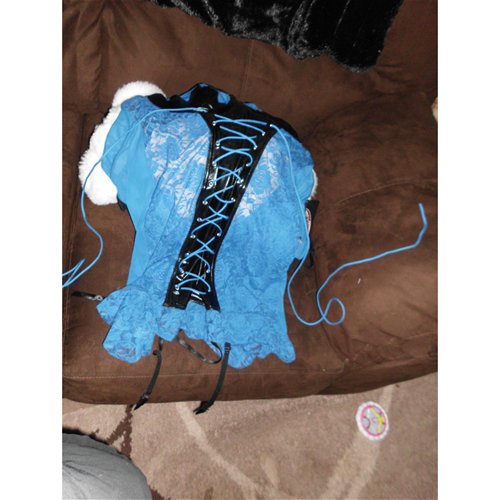 Experience
This is a see through piece and hubby and I agree that even though it fits well and hugs all my curves; I am not comfortable enough to show myself in this one. I need to get a body stocking or something like that then maybe do a follow up on it. I love this piece and it is comfy enough to wear around the house or under your clothes, if your up for that.

My measurements are 52" bust, 52" hips, and 52" waist. My bra size is 46 DD, so I was really busting out of this top, but I put on a cute little black bra under it and it held my boobs in place. The cups stayed where the are supposed to be, and it gave a fun and different look to the outfit. I am 5'5" tall and my weight; well, it is not what it use to be and soon it will be where I am more comfortable!
Follow-up commentary
2 months after original review
I have spent a few hours trying on my lingerie pieces that I have written reviews on today and trying to catch up on my follow up reviews, and this piece still lets my boobs over flow it but since I have lost a few pounds they don't flow over so bad but I still have a ways to go until I lose enough weight to take a picture of this outfit.
This content is the opinion of the submitting contributor and is not endorsed by EdenFantasys.com

Thank you for viewing
Blue royale chemise and thong
review page!