If the sight of the blue chemise fills you with joy. (XL)
This product would've been a strong four stars if it hadn't been for the quality defect in my particular garment. Overall, I still really like it. This is, in part, due to the fact that my husband likes it, and men seem to lack the ability to count grommets (and care about their asymmetry) when they're about to get sex (go figure). Since this piece doesn't hide ANY flaws below the bust, it will probably be a thin-day-only piece.
Published:
Pros:
Great color, Hugs curves (not always good), Underwire, Detachable garters, Thong, Easy to put on
Cons:
Defect (in mine), Itchy material in front panel, Won't hide any flaws, Only comes in S and XL
I was super excited when order time came around and this was back in stock for my size. I took a few moments to contemplate why this was only available in small and XL (I came up with nothing), but decided I didn't really care because it came in MY size.
This set comes in a simple plastic bag (one that cannot be reused) and includes the chemise, four detachable garters, and a matching thong.
Chemise Tag:
Content 92% nylon 8% spandex, hand wash cold, do not bleach, do not iron, line dry
Thong Tag:
Content 92% polyester 8% spandex, hand wash cold, do not bleach, do not iron, line dry
Straight from the horses mouth.
The chemise, laid flat. The garment is longer than it appears here, but it is still not very long. I am 5'8" and it covers half of my butt. The numbers in parentheses are the stretch limits for those parts of the chemise, although I don't recommend trying to fit 50" hips in this. More on sizing below.
If you are blessed with the ability to count to 11, you may notice that it is only necessary to do so on one side of the lacing panel. I detracted a star and a half for this, because, while this is surely not a feature of every individual piece, I can't imagine that mine is the ONLY ONE that was made this way.
I took away a half star for the itchy material used on the front panel and the undersides of the cups, though I didn't notice the cups being itchy. the rest of the material is very comfortable.
I know it seems that the top is bigger than the bottom in this pic, but part of the fabric was bundled up in the back near the bottom, I suppose.
The detail of the lace that makes up the sides of the front of the chemise, the top half of the cups, and the ruffle around the bottom (front and back).
I personally love the fit of Seven 'til Midnight's thongs. This one is not *quite* as good as the other ones I have gotten from STM, but it is still a nice fit. The triangle is a see-through mesh and has a tiny pantyliner that serves no real purpose.
Since Eden does not currently have a Seven 'til Midnight size chart, here is one: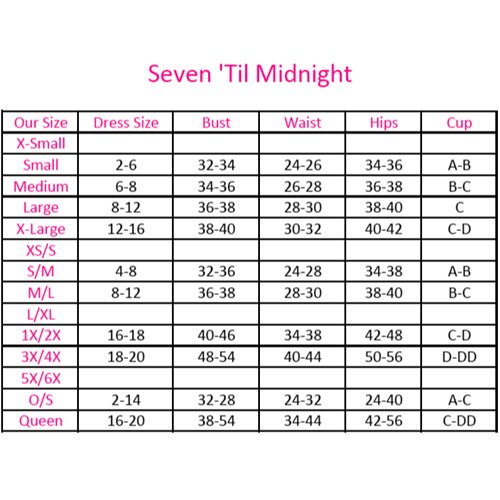 This chart says that an XL fits:
Size 12-16
Bust 38-40
Waist 30-32
Hips 40-42
Cup C & D
I would add two or three inches to all of these. This material is very stretchy. I pushed this chemise down over my hips without any problems and without even noticing that I hadn't undone the hook and eye closures of the top part.
Me
Size 16
Bust 42
Waist 32
Hips 42
Cup C
From top to bottom: I really like the cups on this. They are soft cups but provide plenty of support. I have full C cups and I think these cups would be a comfortable fit for small C's to medium D's. The band with the hook and eye closures is very stretchy. My underbust is 37" and I can wear this on the tightest setting (though I'm not in the pictures below) without the material digging in very much.
Aside from the front panel, the body of this is very stretchy and very clingy. It will leave no curve un-hugged. Unless you are very comfortable with your body, I wouldn't get this piece. The front panel isn't going to hide anything, either.
The lace trim at the bottom is unfinished. This is nitpicking, but I would like to have seen a trim on the bottom like that on the top, for unity's sake.
The color of this piece isn't as bright as that of the product picture, but it is still very lovely.
I usually don't like how frontal some lingerie seems to be, what with the elaborate fronts and then the solid, neglected whatever back, as if nobody's going to look back there, but I like the solid blue back of this.
So, in conclusion, the grommet thing is my only real complaint. Since my husband has no complaints, I can make peace with it.
I found a picture of this being modeled by this lovely plus size model. I feel this picture better represents the product (the way the front panel creases when one is not standing perfectly straight), and it does not have the weird photoshopped sheen on the back of the chemise like the smaller one does.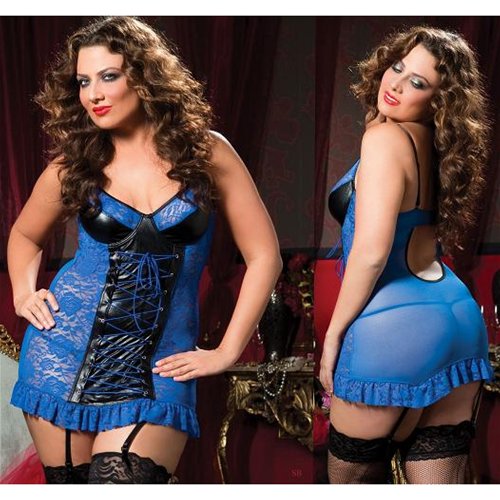 Experience
The grommet thing really bothered me until my husband saw me in this. He wasn't at all concerned about the uneven number of grommets :p Guys are so easy to please.

I wonder how many of these came like this?

If anyone reading this review already has this chemise, do share.
This product was provided at a discounted price in exchange for an unbiased review. This review is in compliance with the FTC guidelines.

Thank you for viewing
Blue royale chemise and thong
review page!