Bows & Leopard Print: A Few of My Fav-or-ite Things
The bodystocking: truly, the most baffling of all lingerie garments. The purpose of the bodystocking has long evaded me. They're difficult to get into, hard to get off, and often don't allow for easy access. Hell, most of the time they're downright ugly. But, this eccentric leopard print number caught my eye as a way to sex up a layered party outfit, and boy, did it come through in that regard! It will have fellow party-goers saying "A body-what? Why didn't I think of that?"
Published:
Pros:
Leopard print! Pink bow accents! Crotchless for easy peeing! Stretchy! Cozy! Wonderful!
Cons:
Material a bit coarse, may bleed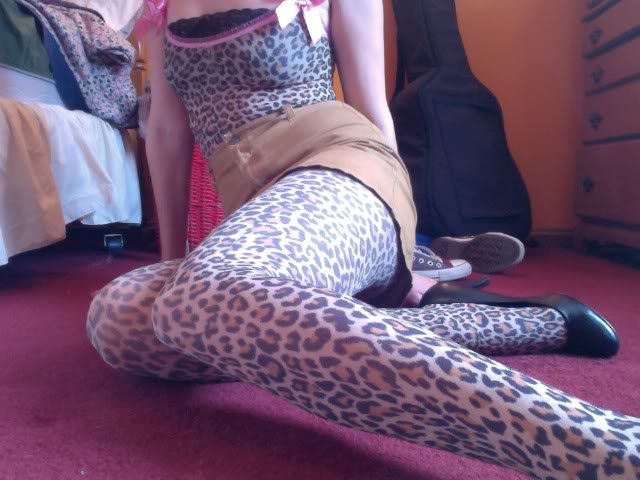 If you ever happen to catch me out at a dive wearing this thing, feel free to ask me what the hell it is that I've got on. Seriously, it's New York, so I won't be offended. Besides, I'd actually be thrilled to tell you. Ask me, and I will joyfully announce "What, this old thing? Just a leopard print bodystocking, of course!" I will then turn back around to the bar and leave you to ponder what you just heard.
Is she crazy? Aren't stockings for legs? Are those bows? Is she really going to finish that entire pitcher of beer by herself?"
To answer these questions that your feeble mind will inevitable come to tangle itself around: yes, no, yes, and absolutely yes, just watch me do it. It's not the bad lighting or the several Jagerbombs you've just downed playing tricks on your eyes. I really am layering a tube top and mini skirt over a crotchless bodystocking and expecting The World to get on board with this choice.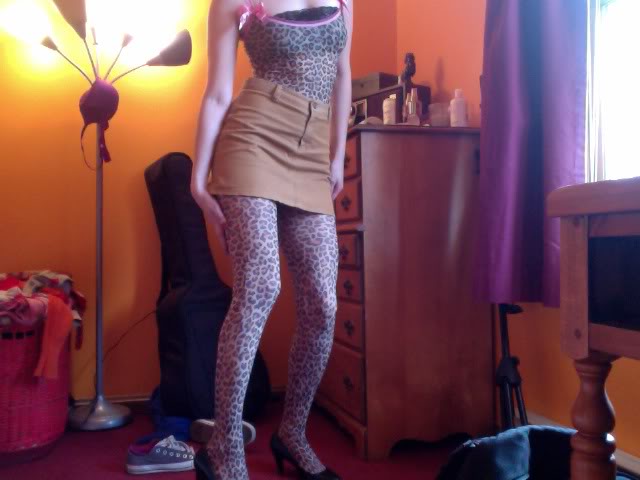 People, regardless of your opinion of the bodystocking as a fundamental of boudoir attire, we can all agree on at least one thing. Wearing what essentially amounts to an animal print leotard out in public is the single best way to send the following message to The World:
"One life to live, no fucks to give."
Sure, you could wear
a sexy, black mini dress
and hope to grab the attention of potential mates by the virtues of your good taste and curves alone. But, why would you do that when you can wear an outfit that will guaranteed be the envy of every eight-year-old girl you meet? Exactly. You wouldn't do that. You would pick the outfit that would piss off eight-year-olds every time, because your priorities are in order.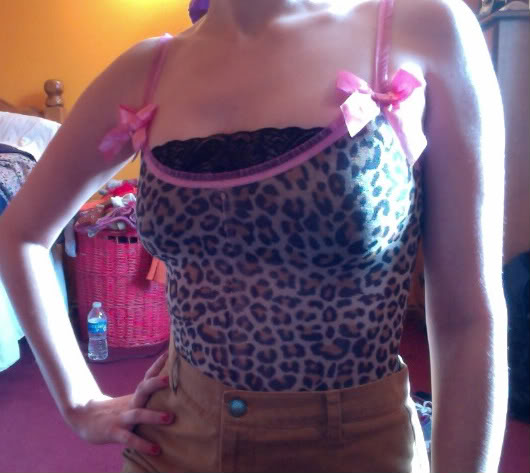 Thing is, I'm only kind of joking. I bought this with the knowledge that this would be weird as all get-out to wear to entice my partner. To each their own, but I have serious difficulty imagining this bodystocking working on its own as a piece of lingerie. It can definitely be flattering and curve-hugging, but the whole concept of this piece is astoundingly bizarre. Your partner will likely be more mesmerized by the pattern and the bubblegum pink bows than your body itself. So as far as lingerie goes, I don't recommend this; it will steal the show. However, I
do
highly recommend this bodystocking as the foundation of a solid "peacocking" outfit.
What do I mean by
peacocking
? Dressing to grab attention. In this case, the Music Legs Leopard Print Bodystocking doesn't only grab attention, it commands and holds onto it for dear life. If you're not comfortable being the center of attention, you're probably not considering this number in the first place. But, if you dig the feeling of being noticed in a crowded joint? Give this one some thought. This sheer, nylon piece will need to be layered with some articles that can keep you from violating public decency laws, but the pink trim and black in the leopard pattern lend themselves to great color combinations. I love the way that golden yellows look with this: mustard, goldenrod, saffron. Fuschia pinks set off the lighter bubblegum pink of the satin bows and trim, as well as violets like eggplant and thistle. Matching your pumps or sneaks to the colors in the leopard pattern or the trim is a safe bet, but if you're feeling brave, deviate and tie the color of your shoes in with accessories or make-up.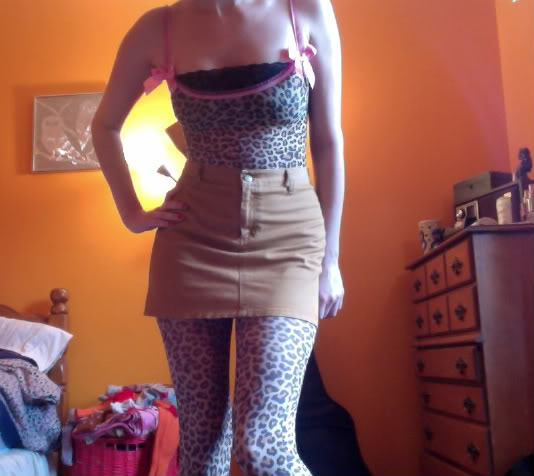 This bodystocking is also just a great way to keep warm in the winter months. December and January winds always bring crowds of shivering, underdressed ladies to the patios of bars and clubs for cigarette breaks. Don't be a jerk! Stealthily layer this skimpy (but cozy!) stocking under an evening dress and look trampy
and
stay warm at the same time. This nylon is semi-opaque and surprisingly thick and warm. Think more along the lines of "tights" and less along the lines of pantyhose. This is a thicker knit and a lot warmer than you'd think. The downside to this is that it can get a bit warm inside the club, so again, account for temperature changes with tricky layering combinations!
Experience
All in all, this is an amazing piece. I have almost nothing bad to say about it. My biggest concern is the sizing; this is a one size (fits practically no one) piece. I'm a medium (36C, 28, 40) and this bodystocking fits me comfortably. I can see this fitting up to a large, but if you're a large leaning toward XL, you'll want to skip this. Sadly, the pattern distorts and fades the more it's stretched, plus it's just not comfortable to wear at that point. Luckily, there are
XL, 1X, 2X, 3X and 4X options
for bodystockings on Eden. If you like the ideas for layering this for wearing out at a bar or party, you can mix and match with some of the different options Eden has available.
The top is also remarkably skimpy. This is likely because this is meant to be worn as lingerie, but even so, I can't imagine it containing breasts much larger than mine. You can see from the pictures that this stocking squishes my breasts down rather flat - though this isn't helped by the bandeau I'm wearing underneath. I am a smaller 36C and even I found that I popped out of this a bit. Use your best judgment and use these pictures as a guide to assess whether or not you'd fit well in this top. I wouldn't recommend this to D or above, and even fuller C cups may not like the way this fits. Also keep in mind that this offers no support; there are no cups or underwire.
My single other concern was that the piece of cardboard that this bodystocking came folded around had the faint imprint of the black part of the pattern. I soaked this piece in cold water for a few hours, and it looks like some of the excess dye was removed that way. After hang-drying (never put this in the drier!) it seemed a bit better. I wore this for three hours and didn't have any bleeding on my skin, but keep in mind that if you're out dancing and sweating, the possibility for bleeding is there. I highly recommend soaking this is cold water first. Beyond that, I love this thing! It's comfortable, just bizarre enough for my tastes, and endlessly versatile. I'll probably never wear it in the bedroom, but I am going to keep in rotation among my peacocking garments!
This product was provided at a discounted price in exchange for an unbiased review. This review is in compliance with the FTC guidelines.

Thank you for viewing
Leopard print bodystocking
– bodystockings review page!