Butt Rouching Is The New Black
These panties are so cute on, and they really make my flat lifeless bum look like it's a nice round one. My husband loves the look of these on me, and I find them comfortable enough to wear everywhere. Unfortunately, they run a bit large, so I recommend ordering a size down, but other than that they are absolutely wonderful!
Published:
Pros:
Magically makes it look like I have a butt, Wear under clothes easily, High quality, Inexpensive
Cons:
Runs large,
::deep breath:: Okay, I'll admit it! While I do have ample hips, my butt, well.. My ass is flat. There, I've said it. I've always dreamed of having a nice juicy bubble ass, but that's just not in the cards for me. I've accepted that, and put that behind me. Of course, back when I accepted that, I hadn't heard about the amazing powers of butt-rouching panties. It's true! It'll give anyone an ass, and make those who already have one, look even better. You don't believe me? Let me just do some Internet magic here and show you what can go down if you have some magic butt-rouchers on your rump. Bear with me.
Here's what I look like in normal panties. Pre-rouche.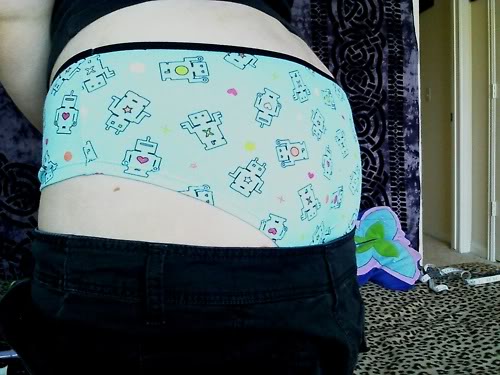 Flat and lifeless, yes?
Ok, now we'll use the fantastic powers of the butt-rouche panties! ALAKAZAM!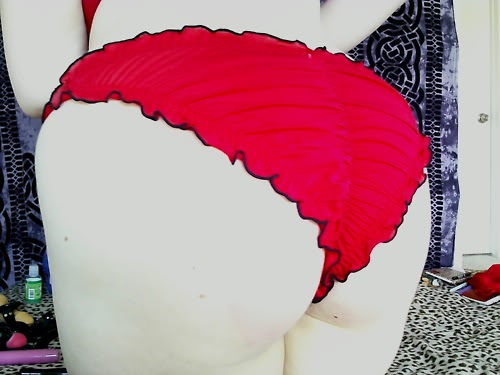 Shocking, yes? So, we already know that these panties have super powers, and are embedded with magic fairy dust. Now what? Well, you should know that these run a bit large. My measurements are a 33" waist, and a 40 hip.
According to the size chart, I should fit the large best, which will fit from a 30-32" waist, and a 40-42" hip. I thought it'd be a bit snug in the waist, but figured that'd be fine. Well, they do look fabulous on, as you can see in my picture (I am wearing a large in the picture), but they are a tad bit loose. Their actual measurements lying flat are: 15" unstretched, and I can easily stretch them up to 26" without feeling any tension in them. This means they can fit quite a bit bigger than the sizing chart says. The hip section of these panties are not as stretchy as the waist, but they do stretch and are high cut, so they will fit a high variety as well.
When I wore these, I could only wear them for a little bit before they would slip down. While I never wore them long in the bedroom, this became an issue for me when I wore them under clothes. The ruffles are not detectable under clothes, however, the slipping made me feel uncomfortable, so I ordered the black pair in a size medium.
Medium fits me perfectly! According to the size chart, a medium should fit 28-30" waist, and a 38-40" hip. Actual measurements of the panties laying flat are: 13", and they stretch comfortably up to 20". The hip is a bit free-size because of the cut, just like the above red ones. The only real difference in the black and red panties is that the red ones have a contrasting black trim and black bow, and the black ones are 100% black.
I love the size medium, and these are so comfortable to wear, even to bed or under pants. My husband loves the illusion of me having a badonkadonk, and he actually wants me to buy enough of these to wear one pair every day of the week. He has a very big panty fetish though. He just loves the look of panties, and these ones are both flattering, and sexy.
Experience
(CONT) To wash these, I put them through the washer and dryer on delicate just fine, I haven't even felt the need to use my lingerie bag. The stitching on these are impeccable, and while tags say to hand wash only, I have had no issues with the washer. They haven't shrunk on me yet either. (Much to my dismay, with my red pair.)


The mesh is not super soft, but I do not find it to be scratchy either, and it is made of 82% nylon, and 18% spandex, with a small cotton liner in the crotch. These are the type of panties that you can wear in the bedroom to make you feel hot, but you can also wear them out to work and feel pretty without anyone knowing what's under your clothes. I was so relieved that the ruffles around the edges didn't show.
Follow-up commentary
10 months after original review
It was difficult for me to choose a rating for this one, because I have mixed feelings. I love the look of these, and I bought several pairs. However, I have noticed that a couple of the pairs have had little bits of elastic poking out from all around the legs and waist. This is likely due to the fact that I wear them so much. I have had to throw away the ones with the worst elastic issues, but I do still like these. They look really awesome on, I just wish that they were holding up a bit better. If I could I would have rated these "I still like them, just a bit less." Still, almost a year is a good long run for a sexy pair of panties. I would buy them again for sure.
This content is the opinion of the submitting contributor and is not endorsed by EdenFantasys.com

Thank you for viewing
Mesh panty with satin bow
– sexy panty review page!