Candy Striped Lady of Sex
I had high hopes for this set. It looked really good on the model and that's about it. The bottoms are a pain to get on unless someone is helping you. I wouldn't buy this again; save your time and money. NO GOOD FOR THE NORMAL SIZED WOMAN.
Published:
Pros:
sexy, good price, 3 piece
Cons:
rough fabric, small bottoms and tights, bottoms are a pain to put on by yourself
This striped set made by Leg Avenue comes with 3 pieces: tie bra top, tie bikini thong bottoms and stockings. This set is available in pink/black and pink/yellow.
Husband-The stockings and top that comes with this set could be used in public but I wouldn't let my wife wear the bottoms in public. I really love the tie strings on the bottoms easy to slide to the side and have fun. The top is just all around sexy to me.
Wife- I wouldn't wear this set in public just for the sheer fact that you can see my nipples though the top and my thighs are a little to big for the stockings.
The material that was used to make this is 50% nylon and 50% polyester. Nylon is a strong, hypo-allergenic and synthetic material. Polyester is usually woven or knitted for sets like this, has low absorbency and is rough feeling. The material is plain; there is nothing extravagant about it. It doesn't shine and is a little see though.
Husband- From straight out of the box, this set felt rough and itchy. The strings are soft and super stretchy. After the first wash, the material got a little softer but is still itchy and I noticed a little flaring at the seams on the back of the bottoms. Also, the care tag came off.
Wife- Taking this set out of the box and feeling the material, I didn't want to put this on. It felt like it would rub my skin off because of how rough the material felt, so I deiced to wash the set and put in a little bit of fabric softener. It was a little softer after that, enough so I could wear it and not feel as if my skin would peel off.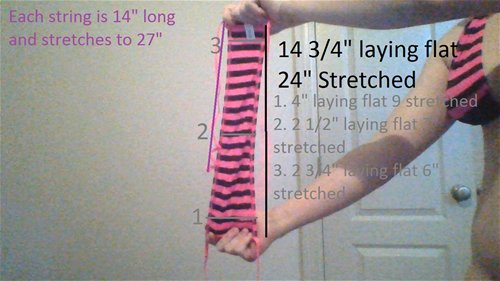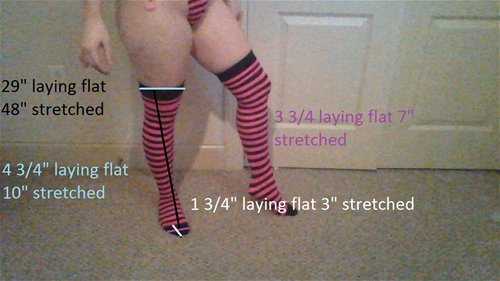 Husband-Keep in mind this is a one size fits most, so the fitting isn't great with the set, unlike with other sets I have gotten for my wife.
Wife- I usually love one size fits most but not with this set. To me, the bottoms look terrible on me. Always having to adjust the strings is a pain. Also, I can hardly get the thigh highs above my knees and when I do, they just roll back down.
My size is:
5' 2"
122 lbs
34-36D
29" waist
38" hips
Experience
Wife- I store this set just like all the rest of my sets: in their own separate bags with labels. Then I either hang the bag on a hanger or put it in my toy dresser.
To clean this set, hand wash in warm water, with only non-chlorine bleach when needed. You can also put a little fabric softener (I used gain) in with it. Drip dry and hang the stockings so they can stretch a little. If you throw this set in a dryer, it will shrink up. Do not iron this set. The tag, which came off after the first wash, states how to care for this set in English, Spanish, German, French and Italian, so it would be super simple for one to take care of this set.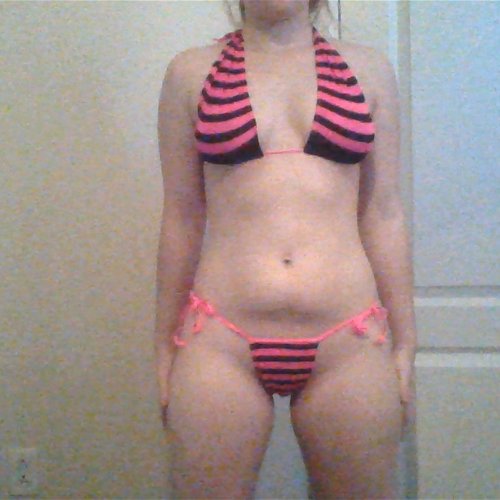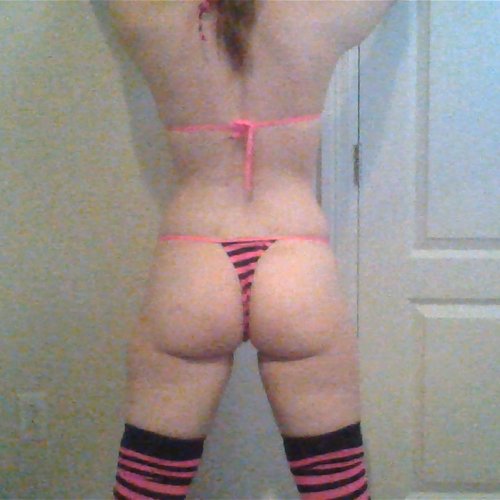 Husband-Our crazy night with this set was unbelievable. The bottoms easily slide and the top is like a little peek show when my wife's nipples are in the pink stripes. I just didn't like the thigh highs with this set; they look out of place. From a distance, this set looks like normal swim wear but sexier.
Wife- Our night with this, it took me about 10 minutes to get the bottoms to a place where they felt good and the strings weren't digging into my hips. The top was easy to get on but for the slight twisting of the string. The thigh highs were just a waste; they just keep rolling down or my leg fat rolled over them, which isn't a mood booster. All in all, it was about 20 minutes to get ready. The bottoms do slide over easily, which is a plus, but the digging strings kind of throw the mood after a little while. We also left the top on the whole time because my husband thinks it looks great on me. I lost the thigh highs 5 minutes after we started having sex. We also got some lube on this set, which didn't hurt the material. It just ran right off, so no big deal.
This product was provided at a discounted price in exchange for an unbiased review. This review is in compliance with the FTC guidelines.

Thank you for viewing
Striped top and bikini set
– bra and panty set review page!