Kandi Kids Rejoice!
This fun colored piece allows the user to size as needed, but still may not fit absolutely everyone. The halter top provided more support than expected and I actually liked the way a string bottom looked for the first time ever. The leggings, however, are made for taller girls and didn't work out for me. The colors are over the top and lively and are a reason to own this piece in and of themselves.
Published:
Pros:
Fun colors
Some bust support
Ability to size bottom
Cons:
Easily frays
Leggings for tall girls only
I fell in love with this piece when I found it. Most lingerie I have seeks just to be sexy. This one looked bright and fun. It looked like something I could wear out to a rave or a fun beach party (if it wasn't so see through).
It comes in black standard packaging with a picture of the piece on the front and back as well as the care instructions. In case you decide not to keep this, the care instructions are also printed on a tag in the back.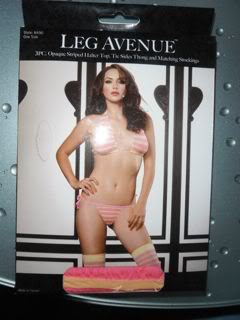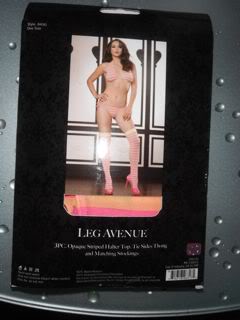 The colors on this are amazing. The pink is bright, neon pink. Someone in another review called it "day-glo" pink, which is why I ended up buying it. I think that was a good description. The yellow is a slightly toned down version of what you would see in UV yellow. The colors work well together. Almost everything I own is hot pink, black, or a combo of those two colors so I really wanted to add this piece in for the vibrant pop.
This comes in "one size fits most," which of course is never really the case. It's three pieces - the top bikini piece, the bottom thong, and the leggings. The leggings measure 27 inches long un-stretched. The thong is 15 inches long. The front of the thong is 3.5 inches wide and the back is 1.5 inches wide. It ties together on the sides with two strings, each of which are 14 inches long. The bikini top is a halter top that ties with a string in the back. The string is 35 inches long. From the top of the halter tie to the bottom of the cup measures 21 inches long. The bottom of the cup is 4.75 inches wide.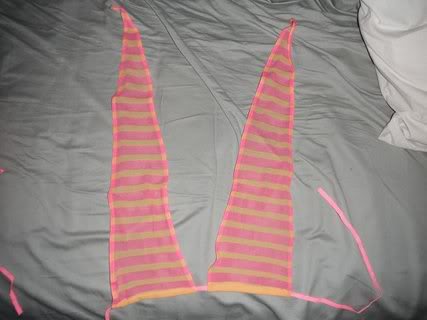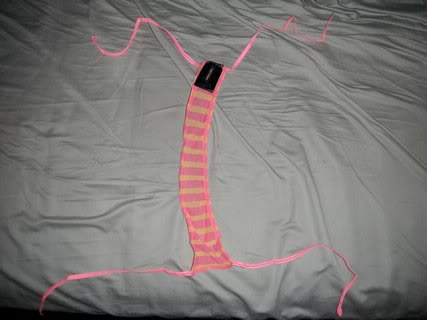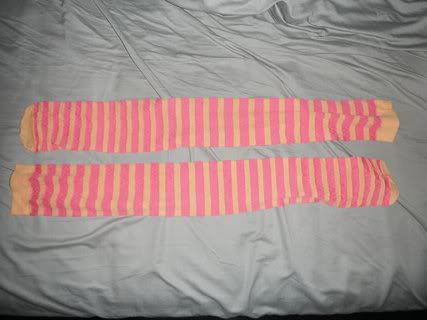 There's a lot of stretch to the material, especially the tie strings and seaming (less so the mesh itself). I don't think this will fit everyone though. I do think it would probably go up to a larger size. I wear a size 4/6 (28 waist, 39 hip) and had a good bit of string left over from the thong after I tied it and I tied mine very loose so it wouldn't cut into my skin. I wear a 34DD/36D cup and this gave me way more support than what I expected it to. I had to almost cut circulation off to my neck to get it with the halter, but I did get my boobs to lift up a bit. They were slipping out a little from the bottom so I'm thinking anything above DD won't be able to fit very well in the top.
The leggings were the least "one size fits most." They came all the way up to my crotch. I'm 5'6 which I thought was pretty average height. These were clearly made for model height girls. My legs measure 32 inches. When I scrunched them down, they cut off and made a fun little leg version of a muffin top. Sexy, right? My thighs carry some weight at 21.5 around and, I'm not gonna lie, I never go to a gym so they're certainly not all muscle. You might have better luck with the popover but you'll still have to be tall and leggy to make use of these.
The material is 50% nylon and 50% polyester. It should be hand washed in warm water, not put in the washing machine. It should be drip dried and not ironed. The box says "opaque" which I supposed you could call this. I'd describe it as "colorful mesh" but however you want to put it, I suppose. It seems to me that the only reason it comes off as opaque is because of the color, not the material. As mentioned, the mesh itself doesn't have a lot of give but the seaming and string do. The mesh did fray very easily where the colors met each other. I noticed some were frayed when I got it and many more frayed as I put this on and took it off. I also noticed some fraying at the seams. I noticed this on the top and leggings but not on the thong.
Hand Through Mesh: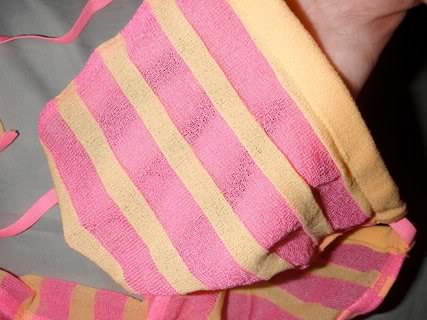 Fray: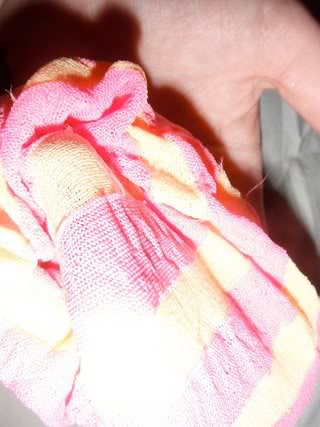 Instructions: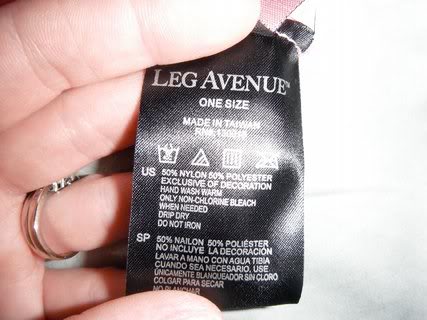 Experience
Despite the fact that the leggings don't fit at all, the top and bottom look way better than I thought. I actually expected the opposite - for the leggings to be usable and not the other two pieces. I was very happy with the amount of support given by the halter top. It's nothing like you'd get from an actual bra but for what it is and given the weight of my breasts I was notably impressed. I also really liked the way the bottom fit. I usually hate string thongs because the string cuts into my hips and makes the skin roll over the string and just generally looks awful. Because this was sizable (you tie it yourself), I tied it very loose and avoided this problem. I also tied nice little bows in it that I used to hide my hips a little. Minus the too high leggings, I loved the way this looked.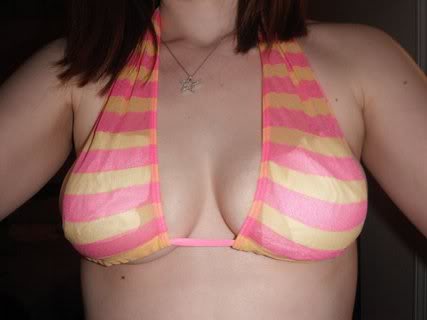 Note: Because this is see through and I had no pasties, I shoved tissue paper in my top. I do not have weird, lumpy boobs. I just figured you didn't want to see me nude. Right?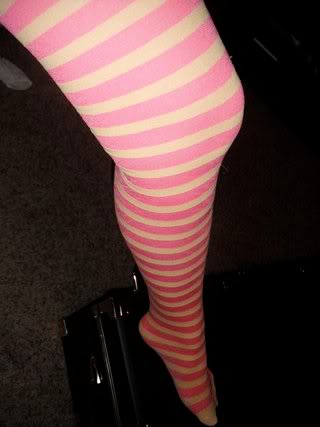 Sadly, my husband despises this. It's way too much color for him. At first he said it was "okay" but when pressed on if he would actually have sex with me in it I got a pretty solid "no." This makes my heart break because I really love this outfit and his "no" renders it useless. I so badly wanted the color in my lingerie routine! He's just not a fun color kinda guy. I'm trying to figure out a way to layer the top with another shirt to wear this out to a club or something because I refuse to let it go to waste.
I went back and forth on how to rate this. The whole thing is pretty useless if my husband hates it, but I really just adore it. I'm impressed by the top and bottom but not the leggings. The material has great aspects (super stretchy, supportive), but then frayed easily. In the end, my love of the color won out and I just had to give this four stars. I'm probably being a little generous with the rating but the color is to die for. It just makes me want to go dance!
Follow-up commentary
4 months after original review
The fact that my husband hates this has really been a problem for this piece. I haven't worn it since I got it. I can't really figure out a way to wear it with any clothes I have either. I've tried layering it with other things but it never looks right. It sits in my lingerie drawer unloved. It's a really cute piece but I just have no use for it.
This content is the opinion of the submitting contributor and is not endorsed by EdenFantasys.com

Thank you for viewing
Striped top and bikini set
– bra and panty set review page!