Clasically Sexy
This red, lacy bustier is a pretty clasically sexy piece of lingerie. It feels cmofortable and sexy on. It's flattering and not tight and isn't tough to put on by yourself. If you have a matching pair of red, lacy panties, they'll be handy since this comes with none. I didn't have any matching panties, so it looks awkward without them.
Published:
Pros:
Beautiful, Sexy, Comfortable fit, Wonderful quality.
Cons:
Snagg-able material and doesn't come with panties.
This red bustier is made almost entirely of very soft, stretchy, floral-patterned lace, making the entire garment see through. Despite the disappointment that it didn't come with a matching panty – which does look strange wearing only the bustier and stockings – it does come with four garters, which are red with clear clasps. The garter slots on the bustier are a bit small, so it's a tight fit.
The bustier has non-removable, but adjustable straps. They're 12" at the longest and 10" at the shortest. These adjustable bra straps combined with the underwire do provide a little support, but since the cups are also nothing but the stretchy lace, there is not added padding. It's still flattering on the chest. The cups are lined in a lace trim.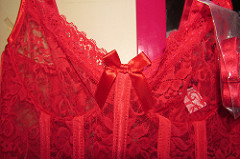 The two layers of ruffle trim lining the bottom of the bustier include one layer of lacy trim and one layer of mesh trim. This ruffle is part of what makes the bustier more unique than your typical red lace lingerie.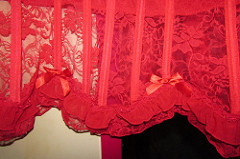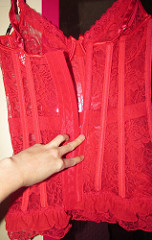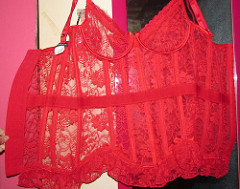 The bustier has eleven flexible, plastic boning that isn't going to create a new shape, but does enhance the natural curves of a body. The back has eighteen hook and eye closures and two different rows of eyes to better fit different body types. Since the two rows aren't any more than an inch apart, it's not exactly a big enough difference to make this suitable for a whole 'nother range of sizes outside of its listed sizes, but it did save me from having to wear a bustier that was way too baggy. I use the second row and still, the back is loose and doesn't lie totally flat to my body, but it's not so unflattering. The fit looks nice and you don't notice that it's not totally form-fitting.
Three satin bows – one on either hip and one between cups -- decorate the bustier giving it a more lovely look.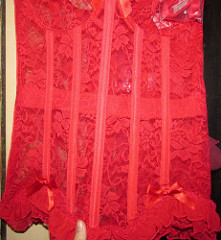 There is an elastic red waist band that runs the inner bustier, all around the upper waist, which seems pointless to me. I suppose it's designed to create a more "hour-glass" figure, but it does nothing if it's not a somewhat tight fit on. However, I already have curves, so I'm glad it didn't fit tighter because the band may have just created more bulk in my love-handle area. This band can be seen through the lace.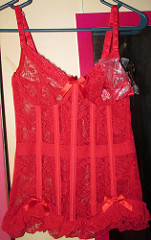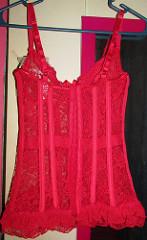 [img| Before moving on, I want to mention the shape of the bottom front of the bustier. It dips down above the crotch area, into a V shape. The back though, is a straight across cut. It's common for corsets and bustiers to have this V shape, and often times it makes it uncomfortable and causes it to bulk-up when sitting or moving, and can prevent you from wearing jeans or anything under it, but this one doesn't cause a real problem. I guess it's not so long that the V jabs my crotch when sitting to cause the bulking, so this is good. And this won't likely be worn with jeans since it can't be worn outside of the bedroom, so no worries there, but I try it on with jeans and didn't have any problems with the V dip getting in the way of pulling them up.
Made in China.
Material & Care
100% Nylon, exclusive of trim.
Hand wash only, hang to dry.
Coquette is sort of known for their extremely soft, comfortable lace pieces and there's no exception with this. The lace is probably some of the softest I've felt, not itchy and very elastic-y feeling. You can almost see the little elastic fibers when looking close. One problem with an entire bustier made of such soft, awesome material is that it easily snags and holes throughout the lace could happen quickly. It's delicate.
Bustier's Measurements
Size Small
From top of back to hem, including ruffle: 14" long.
Garters measure 9" at longest and 6" at shortest.
From between cups to hem: 15" long.
From top of cups to hem: 15 ½" long.
Cups: 5 ½" wide.
Bust across: 11 ½"
Underbust: 25" across.
Waist, laid flat and opened: 28" across.
According to Coquette's size chart, this should fit a B cup with 34-36" bust, 26-28" waist and 36-38" hip. I'd say that's pretty accurate, but it isn't going to be form-fitting on anyone with measurements like mine. It still looks amazing and fits beautifully though. I would say a size medium could fit this as well, probably not larger than that though. The cups were perfect for my strangely sized breasts, but won't allow room for anyone over a small C.
Experience
My Measurements
Jean/shorts/size: Zero
Weight: 93lbs
Height: 5 2"
Waist: 26" Lower waist. Where I'm a bit wider, the love handle area: 29"

Packaging
The bustier came wrapped in plastic with an bag holding the garters attached via the strap, like most Coquette pieces. There's a tag with several trashy photos, but they can be removed by cutting the tag from the ribbon and safety pin that holds it on, or remove all of those pieces together, for gifting purposes. I don't recall this having a hanger with it.

There's a care tag located on the inner bustier, right behind the underarm. It shows through, but can be cut off.

Experience

I got this back in early December and while I really do like it and have nothing not to like about it, it just hasn't been a piece I've been eager to write about.

This is a lovely bustier. The red lace combined with ruffles and bows definitely says spicy to me. I'm happy with it besides thinking it should've came with panties & the lace seems like it'll easily rip or wear holes. I'm really not big on red. I usually avoid it, but this was so beautiful I couldn't. I feel sexy and happy while wearing it and my partner absolutely loves the transparency of the entire garment, but it's just not a bustier that really takes my breath away. It's probably just that I'm used to crazier colors, though. It's lovely, I'll wear it gladly and I do think it'll be stunning on all bodies. I wouldn't say that I'm neutral to this, I'm a little more happy about it than that, but it doesn't cause me to rave over its perfection like I have with other pieces.
This content is the opinion of the submitting contributor and is not endorsed by EdenFantasys.com

Thank you for viewing
Red lace bustier
review page!