Red Lace Bustier a bust...
Looks hot as all heck on, too bad it's made of cheap nylon. This bustier is a complete bust in my books and made me completely sad face. It's cheaply made and falling apart before I even put it on. I mean come on! The underwire was coming right out of the cup before I even had time to unwrap the piece from it's plastic wrapping. Not worth the price at all. However, if you're looking for a hot piece to be ripped off in a night of passion you found it.
Published:
Pros:
It looks hot as heck on! Fits busty women.
Cons:
cheap, falling apart, material is 100% nylon.
Coquette had me sold with the mention of Red Lace. I love red and I love lace, so I figured that this lovely bustier would add nicely to my lingerie collection.I was so excited to find out I could review this product. Until the product arrived on my door step. I opened up the box and withdrew the item with anticipation. Only to be knocked off my high horse of happy to sad land. I took the piece out and noticed immediately that the item smelled really plasticy but, I summed that up to the fact that it was wrapped in that clear plastic bag stuff. Unfortunately, the bustier still smelled of plastic when I took it out of its 'protective wrapping'. I shrugged it off thinking that the smell would fade once it aired out a little. Sorry to inform you, 2 weeks went by and it still smells like plastic. The piece definitely has some highlights that could make it super awesome. Such as it's cute little adjustable shoulder straps, removable garters and center back hook and eye closure complete with elasticity waist (to pull your tummy in, and 3 satin bows makes this piece look amazing on when you wear it. However, it's 100% nylon material makes it cheaply made, easily torn and not worth the money it costs at all.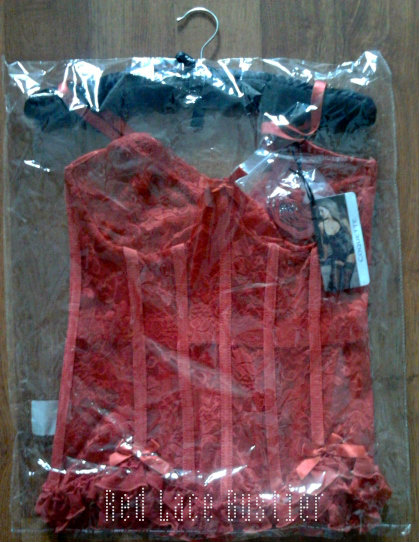 As you can see it comes to you on this lovely black padded hanger that adds to the classy look of this piece. So as you can imagine I was super excited holding my brand new stretch red lace bustier, with it's cute mesh and lace ruffled hem cuteness in hand.
The piece really is pretty though. Here's a few shots to give you an idea of what it looks like when it's not being worn: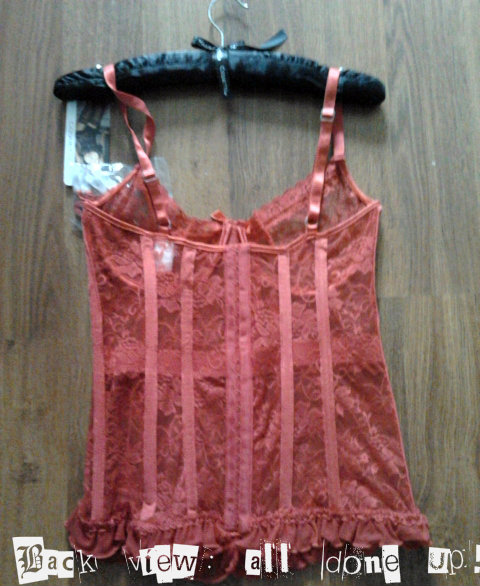 Back view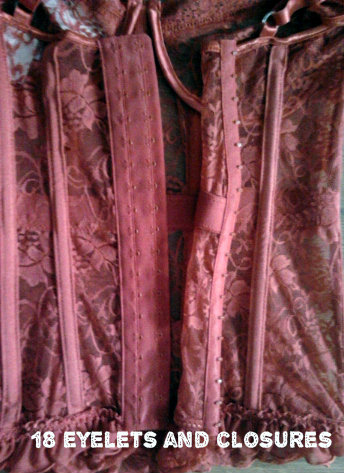 Close up of eyelets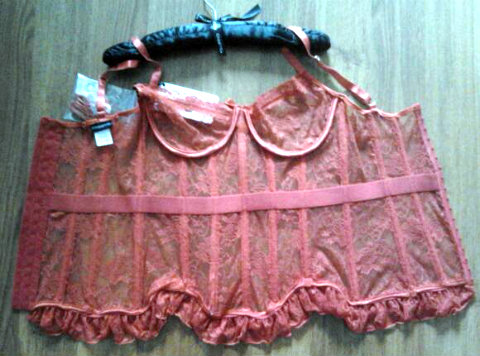 Fully laid out. As you can see the piece has a elastic band that 'pulls' everything in for that hour glass look
So as you can see it's super pretty right?! So I was all kinds of excited while looking at this piece. However, that excitement died quickly when I laid the bustier on my bed to admire it. There I was standing infront of my bed in awe looking over the bustier thinking "Oh it's so freak'n pretty...Wait, is that the underwire of the cup sticking out!?"....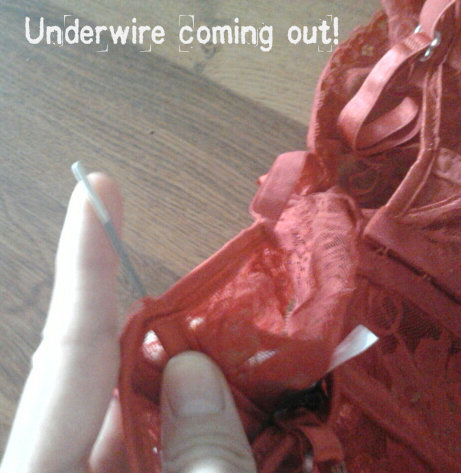 How freaking devastating. I've had this piece all of like 10 minutes and it's already falling apart. However, considering how much I wanted to like this piece I just shoved the underwires back into place wore it anyway. In my mind I figured once it was on I might not be as upset about the whole underwire business.
Experience
When I got the piece I immediately stripped down and put the bustier on and looked in the mirror. I stood in slight awe, as I was content to see that this piece DOES look amazing on. Seriously, look at this!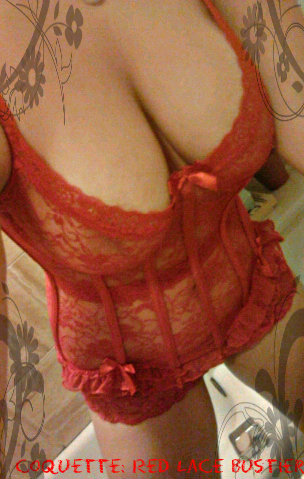 This bustier does look RED HOT when on. Yet, the cheap material that this bustier is made out of makes it a complete bust in my book. You know how the underwire came out before I even put it on, yeah well I saw another cheap little trade mark issue. Looking in the mirror I noticed the plastic boning on the side was poking out as well. See now I'm just annoyed. This piece has so much potential to be so awesome, but it's so cheaply made that the price of it makes it just a waste of money. Also, being made of nylon with it's cheap boning/underwire issues means that you need to hand wash this piece as well as hang dry it. Great, so not only is it falling apart but, it's also a pain in the butt to wash.
I want to note though, my experience with this piece wasn't completely just all sad face. I mean look at it, it looks hot on me! That's the thing that really makes this bustier stand out. It has so much potential to make a woman look good. Especially because I'm a busty lady (36 DD) and this is a size Large, it looks pretty damn fitting. However the material being this low nylon quality (and obviously cheaply put together) I'm honestly gonna let this piece become wear once and "rip it off me" fun time item. Reality is, this isn't a durable enough bustier to wear under a dress out in public anywhere but, it will do just fine in the bed room for a night of passion.
This product was provided free of charge to the reviewer. This review is in compliance with the FTC guidelines.

Thank you for viewing
Red lace bustier
review page!