Definitely a versatile club-friendly mini-dress
This dress will definitely turn heads as it's very form-fitting and bares a good amount of skin. Because of its multi-way functionality, you are basically getting 8+ dresses in one. So make sure to take this with you if you're traveling because you will be able to wear it in multiple clubs without the look getting old. Due to its length, I recommend this dress for smaller girls (5'3" or shorter), unless you want to wear it as a tunic.
Published:
Pros:
- Definitely versatile
- Form fitting
- Can wear outside
Cons:
- Thin material
- Straps and dress may be a bit short
One word: sexy. I definitely love this dress and will be wearing this to go clubbing and dancing. It's tight fitting, has a cute bubble design, and it's easy to wear. I'll start with the cons and end with the pros.
Cons: The dress is a bit short. I'm 5'3" and this dress barely comes down to mid-thigh (the bottom portion which is from the waist down--where the bubbles start--to the bottom of the hem is 16 inches long). While this may be long enough for some people, based on how tight fitting this dress is I am worried that it will start riding up when I dance. Thus, this may be a type of dress you wear if you're going to be making small movements while dancing or you will be readying yourself to pull down many times throughout the night (I think it may be fine for dancing alone, but if you're grinding with a guy it might be riding up quite a bit).
The straps for the dress also aren't as long as I had expected (about 4 feet). Other multi-way dresses I own have straps, which are much wider and longer. The base of the straps (chest part) is 9" and it tapers to 6" at the end. While this may seem long and wide, it's actually pretty short considering you will be crisscrossing it and looping it 1.5 times around the waist. Thus, it may be a bit tight if you are trying to tie the knot in the back (it will be fine if you're doing it in the front). It will also bring out your back fat more because it's so tight. One good thing is that the straps have stitching on the edges in order to prevent loose threads (instead of just cutting the jersey). However, some of the stitching has already come out from one of my straps.
The material is also pretty thin (it's definitely a 90% polyester/10% spandex blend -- think semi-shiny legging material). However, because all the configurations show off the back, it's pretty impossible to wear a bra. Thus, I recommend wearing those silicone stick-on bras to prevent the nipples from showing through underneath the dress. Additionally, because it's so thin but form fitting, it's easy to see any problem areas in the front. I have a bit of a stomach, so it was apparent when I wore the dress -- but then again, this style of dress usually shows the stomach. On the other hand, it's very compact, so it won't take up much space in your suitcase if you're traveling.
The bubbles at the bottom portion of the dress is made from a shiny print and not made of sequins, so it might rub off after a few washings. Already, it seems that a few bubbles have "holes" in them.
Furthermore, there is imperfect "ruching" at the bottom hem of my dress, but this may be a defect of my particular dress -- it's not apparent in the model pictures. You can see what I'm talking about in the below pictures.
Pros: There are definitely a ton of different configurations you can make with this dress. I am not too original, so I basically tried out the configurations that came with the package slip. They were all pretty doable on my frame (I'm usually a size 0-2 in American dresses and have a bust of 32C), although the tight wrappings caused some of my back fat to become more apparent. Additionally, sometimes the cloth felt baggy in my bust area, but I think it's because I didn't pull it tight enough. But this dress is meant to emphasize the boobs, so it may look better on those with bigger breasts.
One really big pro is that the dress does NOT show your underwear!!! Even though it's quite form fitting, I don't have to worry about underwear lines.
The dress comes in simple packaging and comes with a matching thong. I guess you can wear the thong under the dress to minimize underwear lines when wearing out.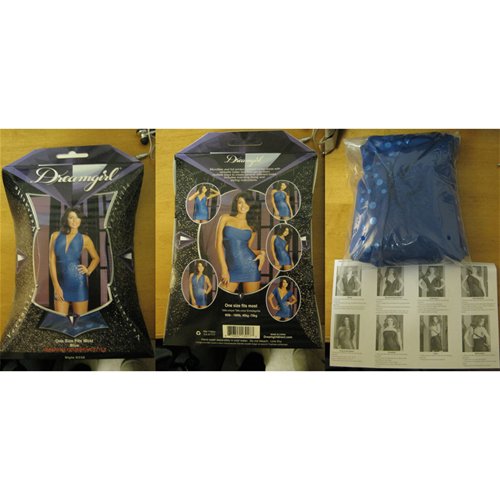 For care, the dress and thong states dry-clean only. I doubt it. I'm sure you can just hand wash this in cold water and dry flat. I threw my thong into the washer and put it in the dryer and it returned in perfect condition. So, while I think the fabric can stand machine washing, I would still advise hand washing the dress because it will help the dress last longer (i.e. the stitching won't come out).
Experience
I tried out five different configurations with this dress. I'm 5'3", around 120lbs, and 32C bra size. I feel this dress may also function well as a tunic for those who are taller. Though because this dress is so tight in the back, be aware that back fat is apparent!
Here are a couple pictures of the different configurations from different angles so you can get a sense of how much skin is shown.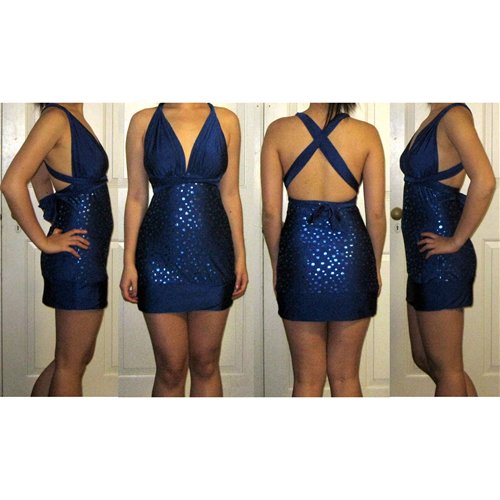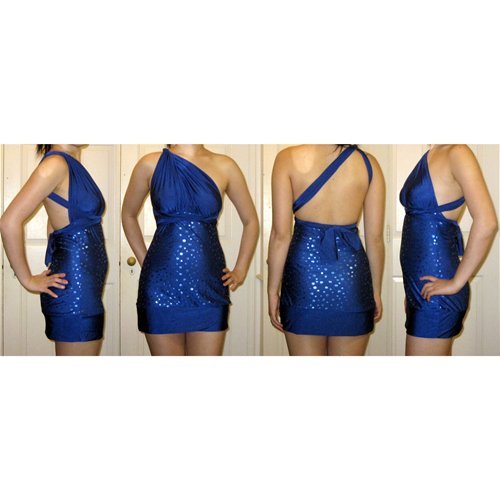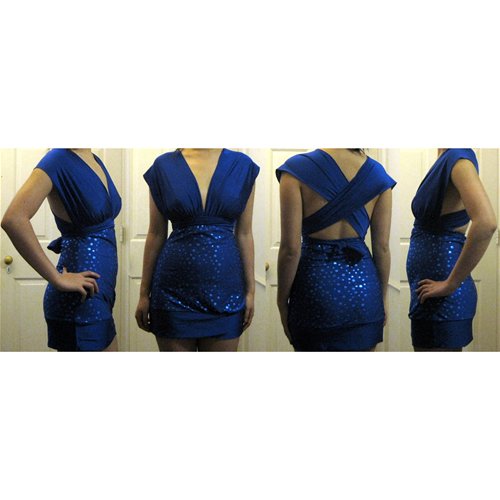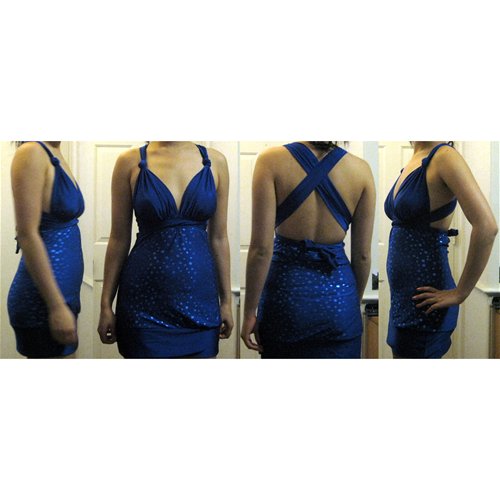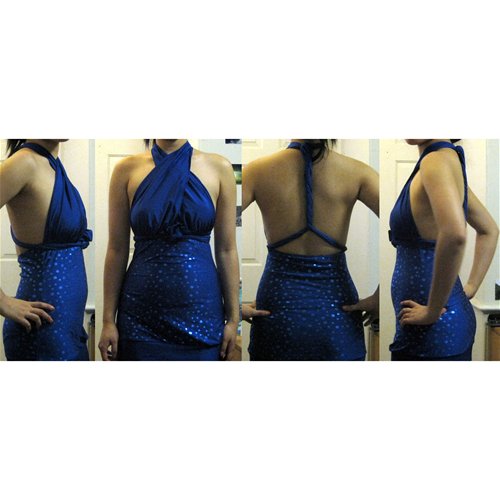 Follow-up commentary
1 month after original review
I've only worn this out once so far, but I got several compliments on it. I wore this item out as a top in a halter top style (I folded the bottom non-bubbled edge under to decrease the length). I paired the item with a black 3/4 sleeve blazer, black jeggings, and pumps. Everything looked pretty smart and classy, especially since my blazer covered up my bare back.

I'll definitely be wearing this more in the future!
This content is the opinion of the submitting contributor and is not endorsed by EdenFantasys.com

Thank you for viewing
Versatile clubwear style
– dress review page!