Twist It, Tie It, Wrap It!
This dress is so much fun to experiment with! There are dozens of ways to wear it. The only problem is that it's almost impossible to pair with a bra, so if you're like me and REALLY need some support, you may have some issues.
Published:
Pros:
Can be worn multiple ways, fun to experiment with!
Cons:
Almost impossible to wear with a bra, one size.
I love this dress. There are so many different ways to wear it, and experimenting to come up with new ones is a lot of fun! The dress is pretty simple in concept; it's basically a skirt with two very long straps of fabric attached to the top that can be wrapped around your body in various ways to create different styles. I noticed that the metallic polka dots that decorate the fabric look silver online, but they're actually the same shade of pink as the dress.
This dress is made by DreamGirl, and comes in pink, black and blue. I ordered the pink, but I now have the blue on the way, too! The dress is only available in One Size Fits Most (Some), but I contacted DreamGirl and suggested it be added to their plus size collection ASAP! DreamGirl's size chart says the one size should fit sizes 2-12, B or C cup, 32-38" bust, 24-32" waist, 34-40" hips, 60-160 lbs. (Really, DreamGirl? *60* pounds??) The size chart is a bit off on this one. I'm size 10/12, 38D, 33" waist, 39" hips, 155 lbs and this fit me pretty well. Given the way the top part ties, I think bust size is pretty open, you could easily fit a DD or larger.
The band that sits below your bust is probably going to be the biggest factor in who this will/won't fit. It measures 12" across unstretched, so if you're less than 24" around below your bust, it's probably going to be too loose. It will comfortably stretch to about 18" across, so it should accommodate those up to 36" around. You can always wear the band a few inches below your bust for a different fit, but then you won't have the support it provides. I measure about 33" around at that point, and it fits snugly without being uncomfortably tight.
This is a little big tight around my stomach, but then that is probably my biggest "problem area". At 33", I'm an inch larger than the suggested waist measurement, but since this is fairly clingy at that spot, I'd say this would probably work best on a waist 31" or less, or just a flat stomach in general.
The lower band at the hem of the dress measures 17" across, and stretches to 24", but your height will obviously affect where this hits your body. The dress is 18" long from the band below the bust down to the hem, so if you measure from your bra band down, you should get a good idea of where this will fall. I'm 5'11", and on me it doesn't even come close to covering my butt if I wear the band right below my chest. Definitely not "dress" length by far, there's no way I could wear this without pants.
If I had to make a sweeping generalization, I'd say this would best fit someone that usually wears a medium or large in dresses, or approx sizes 6-12.
The dress comes packaged in a cardboard display box printed with photos of the dress: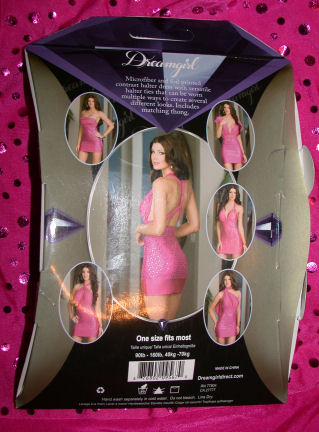 Inside the box, you'll find a paper insert with instructions for a few different ways to wear your dress.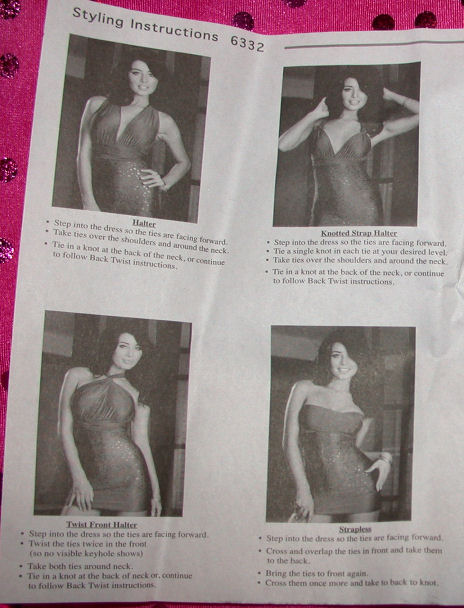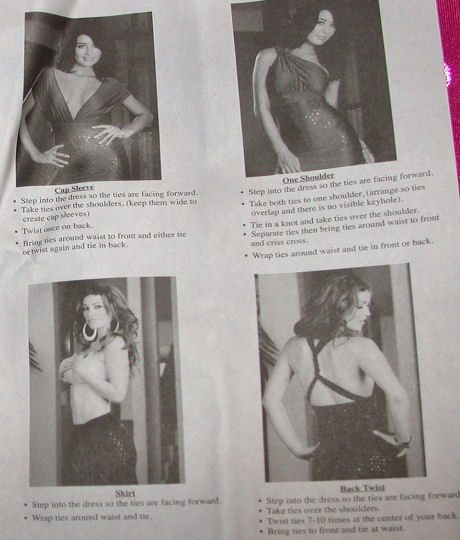 This is really just a starting point, it's easy to come up with many other variations!
Experience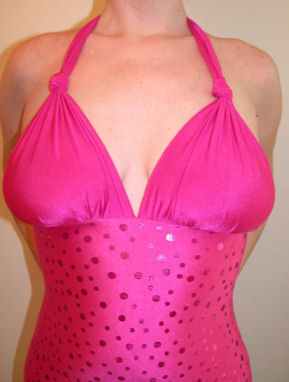 This is the knotted halter style described above. I *never* wear anything without a bra, but this almost works.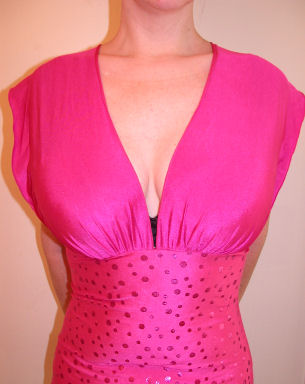 The cap sleeve style is the only one that you could possibly wear a regular bra with. The main problem is that no matter what I tried in the back, I couldn't really get the fabric to cover a bra band.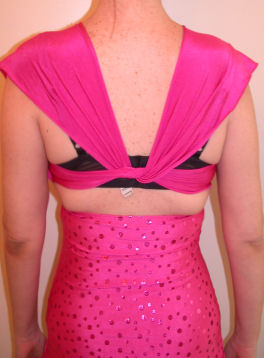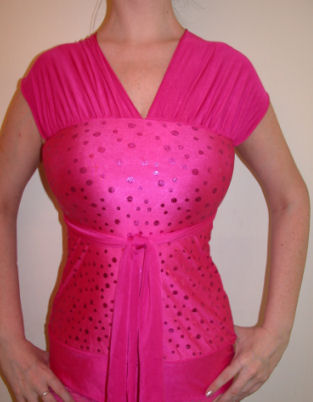 This was my sort of experimental attempt to come up with a way to wear this with a bra by pulling the band up so it was worn like a tube top. Kinda awkward-looking, but I'm going to keep trying!
The solid pink strips of fabric that make up the upper portion of the dress are each 9" wide near the bust, gradually narrowing to about 6" wide at their ends, and 48" long, so you have a LOT of fabric to work with here! One negative is that the strips are very thin fabric, and there are very few styles that let you wear a bra with this, so you might want to either use pasties or those stick-on bra cups, or you'll probably be able to see your nipples through the fabric.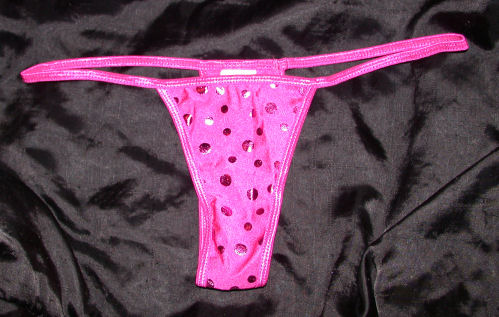 You also get a matching thong with this dress. The thong's waistband is 12" across unstretched, and stretches to almost 19". The front of the thong fabric is 4.5" wide, and the back is 2" wide. If you lay it flat and measure from the top of the front around to the top of the back, it's 15" long, so it's going to come up about 7 and a half inches from the middle of your crotch. It's got a 2.5" cotton crotch liner inside.
Like I said in the beginning, I'm really digging this dress, even though I don't have the best body for it. Experimenting with different shapes is just plain fun, and I think that with some creativity you could probably come up with dozens of other ways to wear it beyond the ones I've already listed. I do wish it was just a *tiny* bit larger from the bust line down (or that I was a little bit smaller!), but I knew I was taking that risk when I ordered a one size item. I also really wish it came up a bit higher in the back so that it would cover a bra band, making it possible to wear a strapless bra!
If you have smaller or very perky boobs (or augmented), this dress will probably work much better for you than it does for me. Still, I'm having too much fun playing with it! If DreamGirl does come out with a plus size version, I'll be thrilled!
This content is the opinion of the submitting contributor and is not endorsed by EdenFantasys.com

Thank you for viewing
Versatile clubwear style
– dress review page!