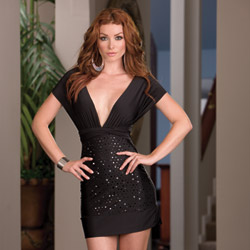 Versatile clubwear style
Dress
by DreamGirl
Moments After These Pictures Were Taken I Was Jumped #2
I had to have this dress when I saw it! How fun!?!? You can make up your own style or try one of the ones that comes suggested in the instructions. It's a bit short for my tastes, but more petite women might find that it's a good length. The shortness is my partner's favorite part, so he loves it, and for that...I love it a bit too.
Published:
Pros:
Versatile, Creative, Stretchy, Polka dots, Instructions included
Cons:
SHORT!, Runs a bit small for OS, Bust area can be a problem, Cheap feel for some aspects
The Versatile Clubwear Style dress from Dream Girl was one of those I-have-to-have-that-now pieces. While it didn't end up quite as dreamy as I'd hoped, it's still a really awesome dress to own, and it's so much fun trying to come up with new ways to wear it! It takes me back to when I was a kid and I'd try to make dresses out of towels and sheets - toga party! With so many different ways to change the top or even turn this into a skirt, it's well worth the price...if you can stand not being able to wear a bra for most of the styles! It's also really short. Even though this is a little black dress, it's unique amongst myother dresses.
*Contents/overview:
Two piece set
*Versatile dress
*Matching thong
The Versatile Clubwear Style Dress is a tube like dress that has two long pieces of fabric extending from the top. This allows the top to be tied into various styles. It comes with a matching generic thong (pointless since it shows major VPL - I tossed it!). It's available in OS and two other colors: pink and blue. I chose the black. The other colors are a bit too Barbie for me, especially in this style.
*Material:
Cheap but stretchy
This set is made of 90% polyester and 10% spandex. The material is similar to swimsuit material and reminds me of the dozens of dance costumes I wore growing up. It's very flexible and super stretchy, but the material is strong. It's got a medium thickness to it as well. You can't see through it, but bulges and body piercings will be seen. The black is the color I got. All of the colors have a polka dot pattern that is printed onto the material. The polka dots are smoother and a little shine so they are subtle. My bf thinks they look like water droplets.
*Design/craftsmanship:
Versatile, Unique
The dress's design is fairly simple in shape. The majority of it is like a high waisted skirt. It's 18" long. 3 3/4" of it as a solid band at the bottom. It doesn't have the polka-dot pattern the rest of the skirt has. Note that the chest/sleeves area of the dress doesn't have it either. At the bottom of the skirt, it's 17 1/2" across. At the top it's only 12". On me the top falls higher than my natural waist. It actually goes around the largest part of my rib cage. If I pull it up all the way, right under my breasts, it becomes way too short. While the bottom has multiple layers of fabric and is nicely hemmed, the top isn't the same. The top has a cheaper feeling band of elastic. In the back of the dress is where the tag is sewn.
The front of the dress has two sections of very long pieces of fabric. The seam is 6" long for each where it attaches to the dress. It is bunched where it connects. It's widest at the bottom and gets slimmer as it goes up. It starts out around 10" across and ends at 6". The pieces of fabric are just over 4' long!
The thong is very typical. It's a g-string and just black with no matching polka dot.
*Cleaning/care/storage:
Dry clean only/Box
The dress comes in a cardboard box with pictures of the various versions of the dress. It can be reused if you're careful. Also included is the g-string and a sheet of paper that shows how to accomplish the various versions.
The tag says to dry clean only, but from experience with this material, I know it can be washed in a machine or hand washed if done carefully. Always use a short, cool cycle and never iron over the polka dots. Let it hang dry.
*Sizing/fit:
A bit small for OS, doesn't fit the highest end of the given chart
This comes in OS. For Dream Girl, I have rarely had a problem with their OS. According to the sizing chart it says it should fit dress sizes 2-14, cup B-C, band 32-38", waist 24-32", hips 34-40", and 90-160 pounds. At the time of this review I weigh about 145 pounds, wear a size 8 in most jeans and 8/9 in dresses. I wear a 34/36 D in bras, with a 30" waist, and 38.5" hips. I find this dress to be a little tight, but it's in a formfitting kind of way, not an uncomfortable fit. The bust area provides minimal support for those who need it and likely will expose those over DD in breast size.
Experience
It's near impossible to wear a bra with this unless you have a convertible one. Even then, it only works well if you are short enough to pull this up to right under your breasts. For me, that makes the dress too short. I have to pull it down a bit. The length is what I found to be most disappointing. It does ride up a bit with walking. I feel it's too short for wearing out on my 5'6" frame, but my partner disagrees. Although I have not tried it yet, I think it would make a great tunic top.
Here are some of the better working designs. For the life of me I could not get this to be strapless as a dress. The only ways made my tits look ridick. The long shot shows how short this thing is. WAY too short for my liking.
The chest area is better in some designs than others. The cap sleeve design was a complete failure since it provides no support and allows for the breasts to just go where ever. The fabric also slides around and exposes whatever it wants. The styles in which there is a knot tied are the best for close coverage and support. But for the most part, I didn't have too much trouble with it. For those who want a little lift or discretion, you can wear nipple pasties. Larger designs have the ability to lift the breast slightly. They won't work for breasts larger than D, however.
The band area might be tight on some and won't fit the range it suggests. I wish the band were bigger so it always laid perfectly, but it's not. The torso part of the dress is nice. It's form fitted and smooths the body. If it weren't so damn short, I wouldn't even need to wear undies. It comes right below my butt but ca ride up with walking or depending on the style I choose to mold the top into.
My Re-done chart/BEST fit:
For the OS
Dress: 4-10
Cup: B-D
Band: 32-36"
Waist: 27-31"
Hips: 34-39"
Weight: 115-160 lbs
Height: No taller than 5'5", unless you want it to be a tunic or super SUPER short.
Possible accessories:
Sky high heels, baby! Because of the wet look dropples, I'd pair this with a vinyl heel in black. My favorite staple heel in my collection is the Cap609 in black from Pleaser. I'm wearing them, but it's hard to see.
Conclusion:
****
This dress is a lot of fun to mess around with, but it can be hard to figure out at times too. Not all of the design idea will work for everyone and neither will the length, but it's cute for more medium frames. I also found that it's a bit on the small size for OS and the fabric does feel a bit cheap. It's a cool item for the price, though. If I could, I'd be giving it 3 1/2, but my partner jumped me as I was taking pics, so it gets 4 for that!
Follow-up commentary
5 months after original review
I still like this, but I don't like it as much. It really is too short and that is a huge issue. I haven't found bottoms to wear ti with yet either. I just wear it around the house for my boyfriend.
This product was provided at a discounted price in exchange for an unbiased review. This review is in compliance with the FTC guidelines.

Thank you for viewing
Versatile clubwear style
– dress review page!