Do I have to speak Parsletongue to get into the Bustier of Secrets?
Once you manage to slither your way into this snakeskin print bustier, it's pretty cute. It isn't my favorite bustier ever, and it definitely has some design flaws, but it's a fun addition to my collection.
Published:
Pros:
Inexpensive, unique fabric
Cons:
No zipper/hooks, garters aren't removable, boning really blows
Actual IM conversation with a friend about this bustier:
Me: the boning is pointless
Friend: out of context, that's hilarious
Me: What can I say, I need sturdier boning.
Friend: Amen.
Snakeskin pattern is huge in fashion right now, you'll see it popping up everywhere! (Just check out the Armani Prive couture show from a couple of weeks ago. Gorgeous!) Escante's Snake Bustier set lets you slither into a sexy reptilian top of your own, for just over $30.
The bustier set (which is made in Mexico) comes with the bustier itself, a pair of one size fits most black nylon stockings, and a matching black snakeskin print G-string. The care tag on the bustier is interesting because it separates the fabric between the front and back halves of the bustier, with the front being made of 95% nylon, 5% elastane, and the back being 87% nylon and 13% elastane. The matching G-string is also made of nylon and elastane, at a ratio of 95% to 5%. The stockings are 100% nylon. Everything should be hand washed and line dried, with no twisting or wringing.
The set arrived on a sturdy black pastic hanger and was covered in what looked like a big white trash bag. Not the classiest packaging ever, but it got the job done. Escante does some weird things when it comes to packaging and tags. For example, the cardboard tag attached to the bustier has a sticker on the back with the size and bar code, but the front of the tag features a totally different lingerie outfit. Also, the stockings come wrapped in a ball around a thin piece of cardboard- not the most attractive packaging for them. One weird thing I do like is how the tag is attached to the G-string. It's sewn on the back band near where the strings meet, but is really easy to tear off due to its placement. G-String tag placement
One thing I dislike about Escante's presentation is that they attach the G-string, bag of nylons and item tag directly to the bustier with those plastic tag strings that poke a hole in the garment. They were attached to the elastic that runs around the top of the bustier, not to the more delicate fabric, but I'm still not a fan of them poking 3 holes in it just to attach stuff. G-string attached directly to bustier elastic
I really like the bustier, but I do have a few issues with it. I love the fabric that makes up the front, it's a great snakeskin print that has a bit of a blue metallic duochrome to it. It has a little bit of shimmer when the light hits it, but it isn't glittery. It's very soft to the touch, both inside and out. I was surprised by how thin the fabric is! Most bustiers are pretty sturdy, since they're made to shape you a bit, but this is really thin. Think thinner than your average swimsuit fabric, but a little thicker than nylon stockings. It's also quite translucent. It's really easy for snakeskin print fabric to look cheap, but I think this actually looks pretty nice.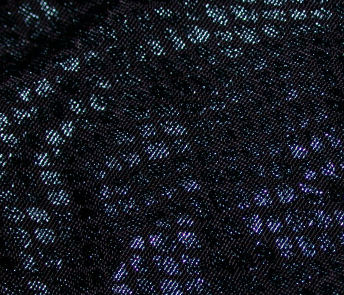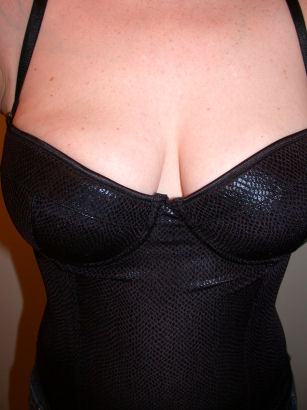 The bustier's bust area isn't see-through, since it's nicely lined. I wouldn't exactly call it padded, but the lining is thick; you won't be seeing any nipples poking through. The cups are firm enough to give my boobs a great shape, and the underwires were wide enough to accommodate my D-cup. Yay! Also holding your boobage up are some nice adjustable bra straps, which are removable. You can also choose to wear the straps criss-crossed in the back, or just wear one strap in a halter top style. However, I found that if I wore it without straps or with just one halter strap, I got *zero* bust support.
The back of the bustier is plain black nylon, quite a bit thicker than the front. It's very soft and smooth on the outside, but a little bit rougher inside. Both the front and back have a lot of stretch to them.
Did you notice I didn't mention a zipper, or hook and eye closure, or anything like that? The bustier has none! I was pretty surprised by that, I've never had a bustier that I had to pull on over my head before! Have you ever tried to put on a top that has boning by pulling it over your head? A little awkward. I can imagine it might get equally awkward when it's sexy time and your poor partner has to try to figure out how to get this thing off of you!
Experience
If I could only change one thing about this bustier, I'd ditch the garters, because they are NOT removable. I like corsets and bustiers that I can wear out of the house, bit I can only do that with this one if I tuck it in, or else the garter straps are going to be flapping in the breeze. I may eventually snip these off, since I rarely wear stockings with my bustiers. They are attached really well, so I'll have my work cut out for me!
The bustier has 6 pieces of totally pointless plastic boning sewn in. (See conversation above). The combination of thin, stretchy fabric and super-flimsy (even for plastic) boning just isn't going to do anything for you. In fact, when I sit down, the boning bends with the curve of my stomach, accentuating the roll and making it look bigger. Awesome, totally what I wanted! I'll most likely remove the two pieces of boning on the front, since adding even more curve to my stomach is soooo not what I need!
The other problem with the boning is that since it stops right below the bust, the weight of my chest is too much for the flimsyness, so this happens: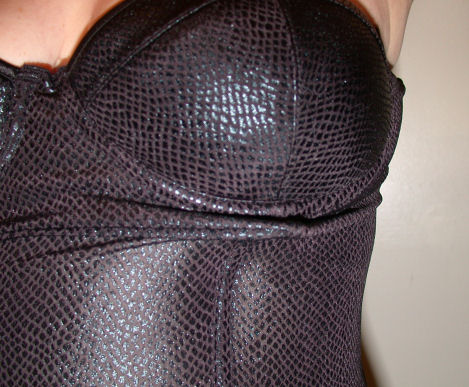 Yep, that's the boning curving outwards. Sexy!
I have a similar problem with the boning on the sides. It pokes out at a weird angle near my underarm: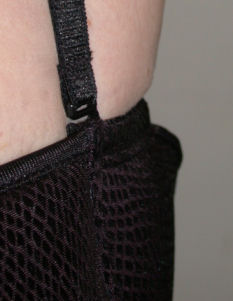 This set is available in sizes small, medium and large. I ordered large, which the chart says should fit sizes 10-14, C-D cup, 36-38" bust, 32-34" waist, 34-36" hips and 140-160 pounds. That's almost perfect for me, since I'm size 10/12, 38D, 33" waist, 39" hips and 155 lbs. I'd say this runs pretty much spot on with the size chart, other than the hips, where you can definitely be bigger.
Here's that part of the review where I do math:
Bustier measurements:
14" from center of the bust down to bottom hem, 10.5" down the center of the back.
14" across just below the bust when laid flat
16.5" down near the bottom when laid flat
Each bra cup is 6" tall, 8" wide across the tops of the underwire.
Garters measure 5" at the shortest, including the clip, or 8.5" adjusted to their maximum length.
G-String measurements: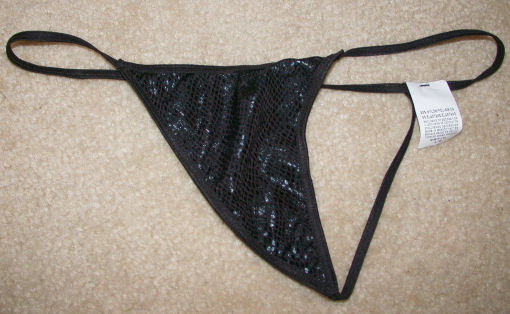 Triangle of fabric is 6" across top, 7.5" down each side, 7" from top hem down to apex of triangle.
Waistband is 14.5" across laid flat, will stretch to about 22"
Butt floss...err, back string... is 7" long.
Crotch liner triangle is 2.5" at the widest and 3" long.
Warning: Apparently the reptile print is pretty realistic, because cats think it's AMAZING.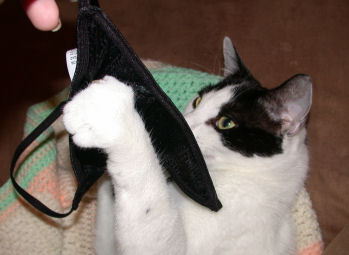 (I gave up and let him keep it.)
One thing I really like is that you can really dress this up or dress it down, make it super sexy or fairly low key, all depending on what you wear it with. You can wear this with jeans and a black jacket just as easily as you can wear it with fishnets and kinky accessories.
This content is the opinion of the submitting contributor and is not endorsed by EdenFantasys.com

Thank you for viewing
Snake bustier set
review page!