Silky Sexy Snake Bustier
A solid 4-star set. The Snake Bustier set comes with everything you need to get your sexy on. A devilish snake pattern coupled with soft silky material and a nice stretchy bustier make gals happy. The bra could stand for more push-up, and the thigh-highs are cheap, but still, it's a pretty solid set.
Published:
Pros:
Soft material
Shiny
Breast support
Comes with G-string and thigh-highs
Panty Liner
Cons:
Metal garter clasps don't match
Cheap thigh-highs
Itchy spots in bra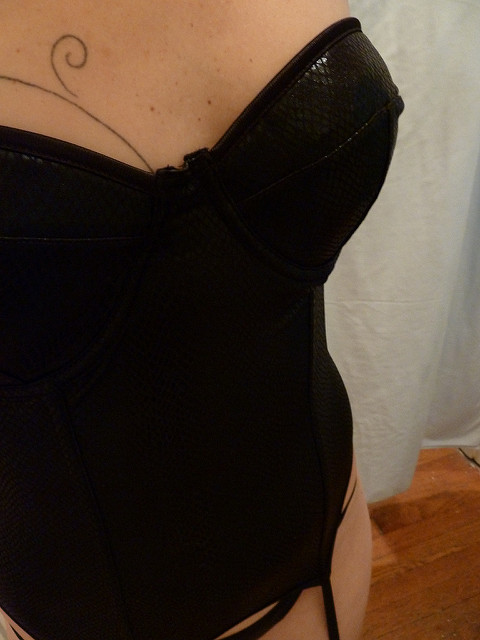 The Snake Bustier set by Escante is one hot set. Escante pulled out all the stops with this bustier, G-string and thigh-high set. Silky, sexy, soft material and some 'Va-va-va-VOOM' bra cups make this a really unique set that won't disappoint.
The set came wrapped in pink tissue paper from Eden. Attached to the bustier were the G-string, thigh-highs, and an Escante tag featuring a model wearing a
different
lingerie set. Odd, but oh well.
The Bustier
The stretchy 95%Nylon/5% elastic material of the bustier slipped over my head easily. No grunting while putting this on! At 5'6", 125 lbs and a size 5-7 pants size, the Small-size bustier fit me like a glove. My 34A breasts were supported and padded and 'puffed up,' so to speak in the molded cups with light padding.
The adjustable bra straps had an annoying habit of slipping easily out of their hooks, which was definitely a problem. And where the straps met the top, just under my armpits, was a little scratchy.
The bra straps can be worn in multiple ways, as shown on the product info page. Criss-cross, halter, etc.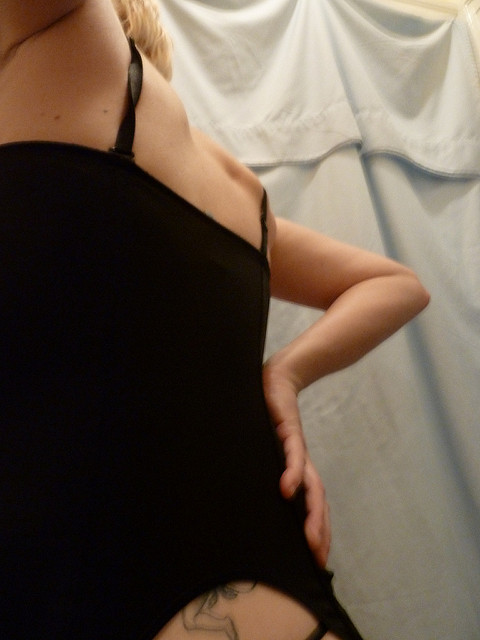 When sitting down, the boning bends and bulges up, and looks and feels really odd. Despite the odd bending, the plastic boning gave way to the rise and fall of my chest, and I didn't feel restricted at all while standing.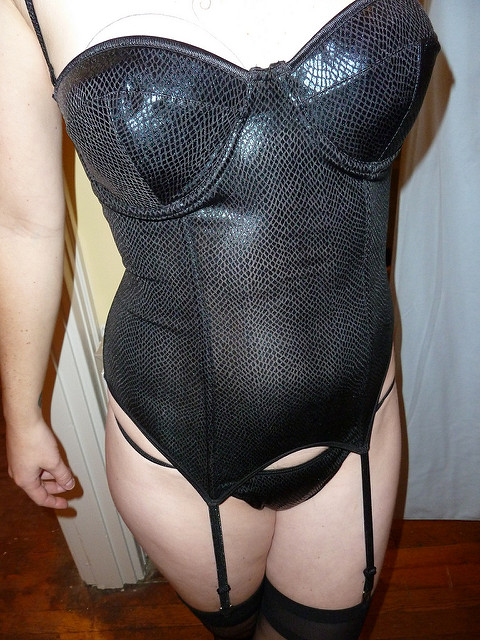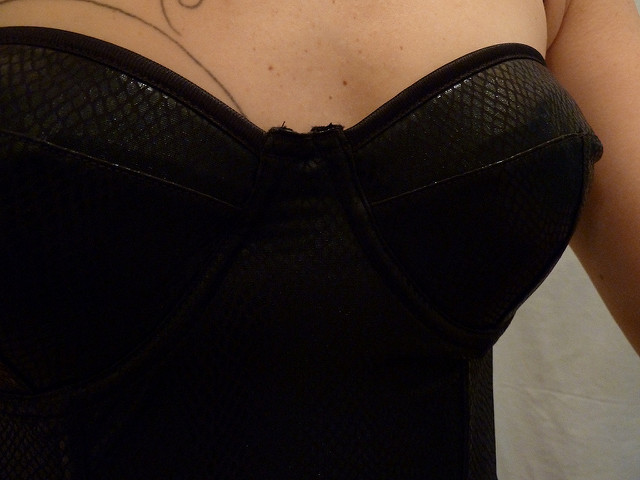 the G-String
The G-string was more comfortable than many I've run across. It did feature a cloth panty liner, which was good. And the string-part didn't start until it
nearly
reached my ass. The drawback here was in the cut of the front. It was horizontally too thin, and my bikini line showed awkwardly. And as a size 5-7 gal, I can say this likely won't fit anyone over size 9. Still, it was a comfy enough panty, for a G-string.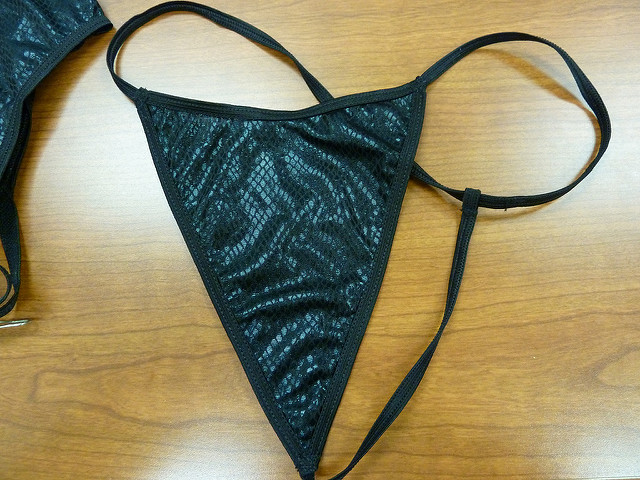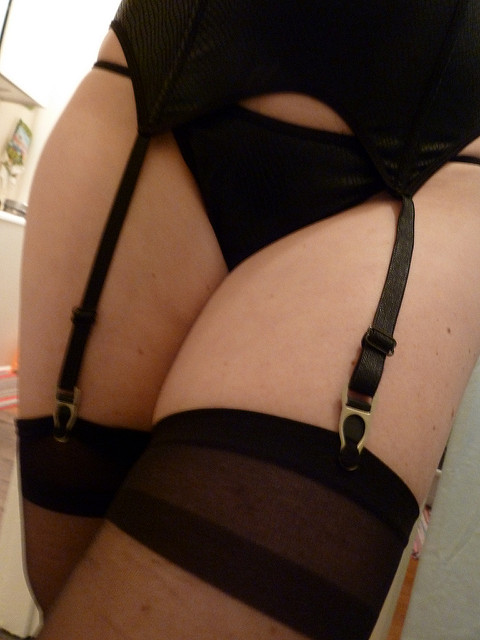 Thigh-Highs
Plain, black, thin and cheap. A visible seam ran along the toe and was thick, and likely annoying in shoes. Also, the stockings came with a few runs in them, though you can't tell from the below pictures.
They're likely to snag and run very easily.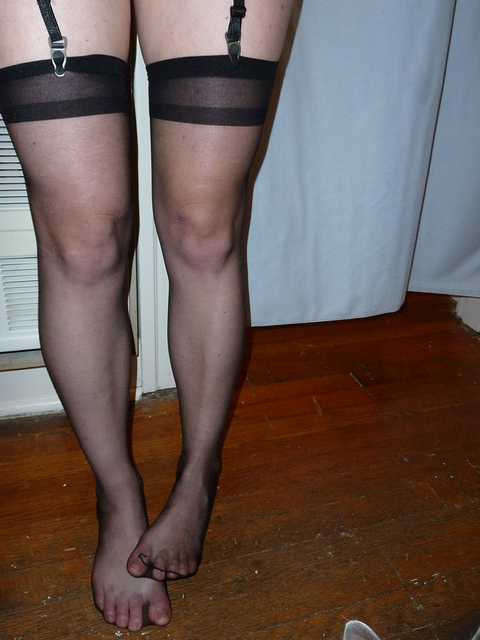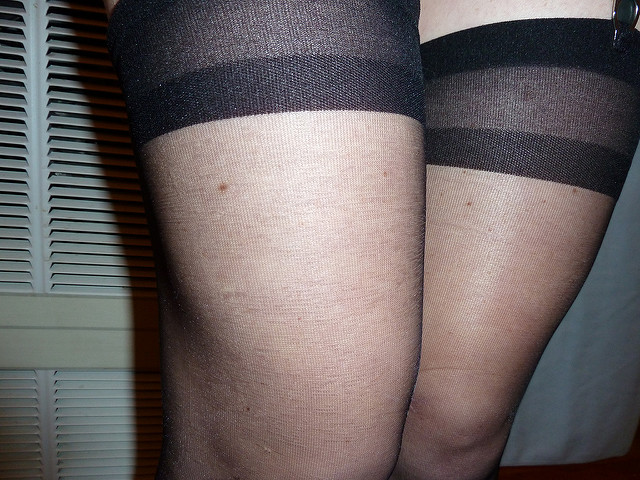 The Garters
The metal garters did not match the rest of the set. It would've been nicer to have black ones. They featured rubber backs to attach to the stockings. The garters themselves were about 6" long extended fully, and did feature bra-like adjustments. At 5'6", I had to adjust them to about 1.5" from fully extended on the front, and completely extended on the back, in order to bring my stockings to proper height.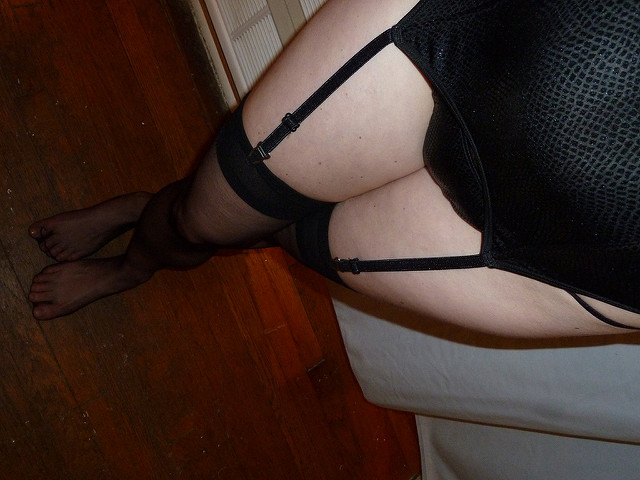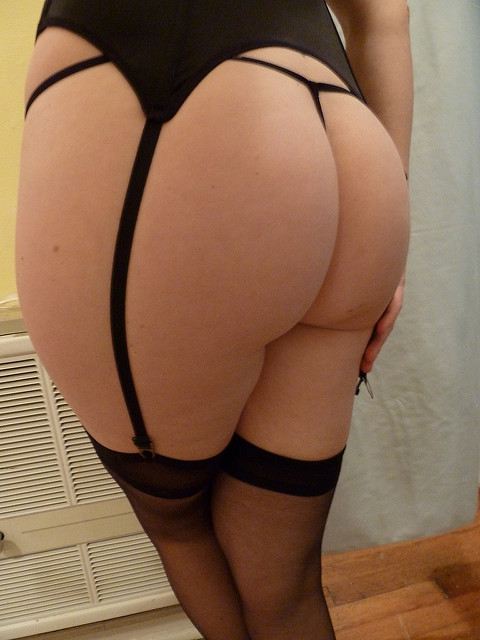 Experience
Material
The material was very soft and smooth, and felt good on my skin. And I have to say, I looked pretty damn good in it! However, my growing belly pudge did show. The shiny, stretchy material
will
cling to your every bulge, so beware.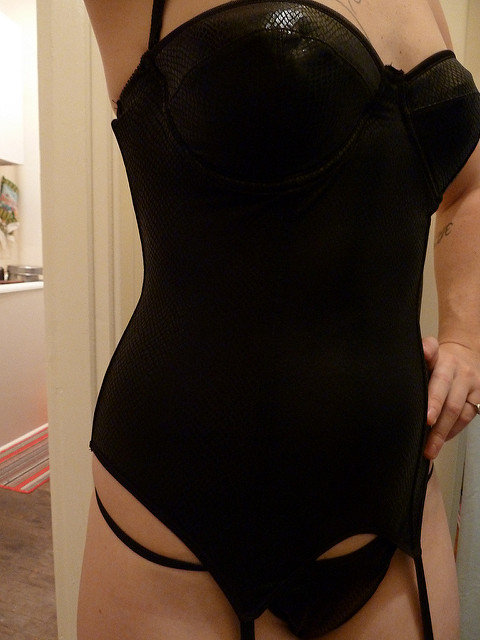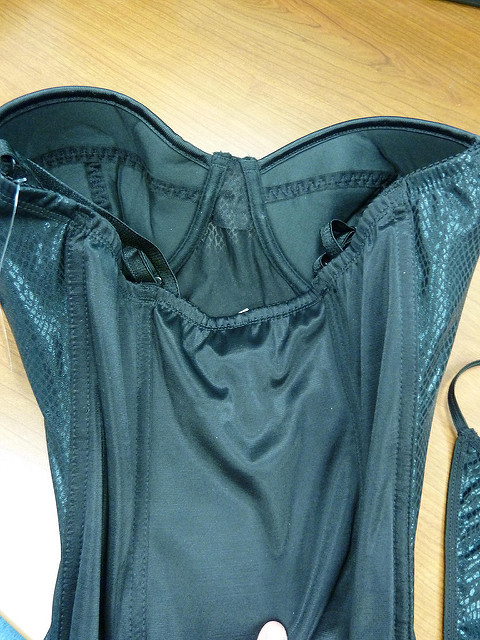 There was a dent in the bra padding, too. It made my boobs look odd. You can see it in the above shots. It's caused by the stitching on the underside of the cups. Poor design. Alas.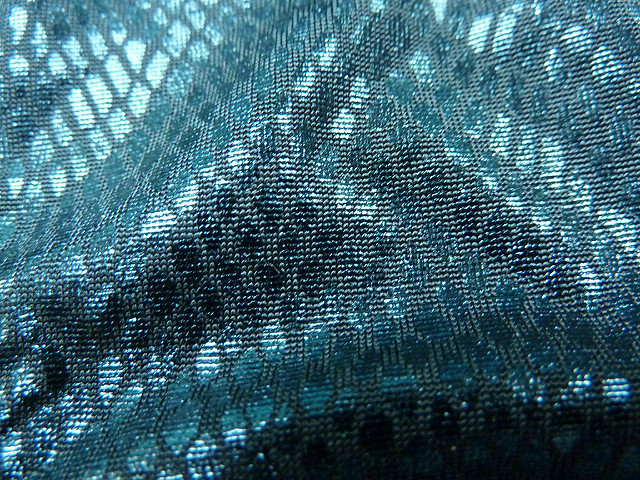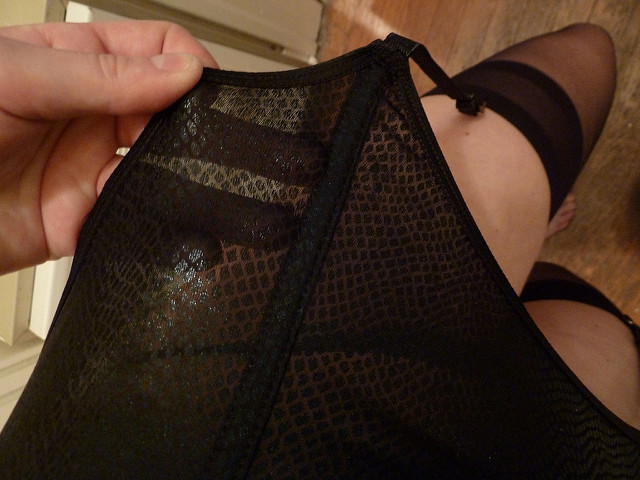 The snakeskin-like material was the finishing sexy touch on this set. You can see it above. The snakeskin appeared opaque when worn, but as you can see, it is actually transparent. A pretty unique bustier, this is.
Care
The tags state to hand-wash this in cold water and line-dry. You may iron this on low temperature. I recommend hanging the bustier in the closet to avoid buckling the boning. The G-string and stockings will do fine in your lingerie drawer, though you may want to place the stockings in a plastic bag first, to avoid any snags that may occur.
Conclusion
In all, this is a pretty decent set. I wish I were more inclined to wear lingerie, or mostly that my boyfriend was more into it. The shiny, sexy snake pattern of this set lends an air of devilishness, and the set is overall a pretty good deal. I appreciate the soft material, but wish the bra straps were less likely to fall off, and did not scratch where they met the top. Also, a little more push-up in the bra wouldn't hurt. Still, this is a great set, and I would definitely recommend it. I'm giving the Snake Bustier set 4 solid stars.
This product was provided free of charge to the reviewer. This review is in compliance with the FTC guidelines.

Thank you for viewing
Snake bustier set
review page!