Elegant, Fancy, Beautiful, Classy, Perfect, Perfect!
This is such a perfect corset in so many ways that it's hard to even knock stars for the falling off rhinestone, the falling apart pearl strands & the tiny fraying on one garter, but those add up. Besides that though, this is amazing! It's the most flattering, gorgeous, elegant corset I've ever seen. It's flattering to all shapes and makes me feel like a princess!
Published:
Pros:
Gorgeous design, detail!
Flattering on & well fitting.
Good quality, sturdy corset.
Cons:
Rhinestone was off before it arrived.
Pearl strands fall apart.
Fraying on a garter.
This corset is has what I think is a Victorian-look/design. It's by far the most gorgeous, breath-taking, fancy corset from my entire collection. In fact, it's probably the most gorgeous, breath-taking, fancy corset I've ever laid eyes on. I'm finding it hard to not just write "Oh my Gosh! It's perfect, it's beautiful, it's flattering, it's amazing, I feel beautiful," and just go crazy right now. I'll contain myself, but bear with me!
Design, Detail and Pieces
I believe the bust would be called a sweet-hear neckline as the cups come up and in between dips down. The front dips longer at the bottom and the back edges up a little shorter. Lace trim runs around entire length of top and bottom (front-back.)
This corset is has very intricate detailing, so I'll start by describing that. You have pearls, you have a satin bow belt that can be tied in a variety of different ways, you have the most soft, sensual ivory lace ruffles. You have champagne colored satin bows, you have a little rhinestone – seriously, this is a girl's dream corset – for me anyway. It's like every fancy, pretty, feminine little detail you ever wanted all wrapped in one. Getting carried away again. Sorry. So the champagne satin bow is located between the cups. Unfortunately, I wasn't even aware that there was one until after I stood up from the chair after opening the box & seeing the rhinestone fall off my lap! It had fallen off the corset's bow before it ever arrived. Thankfully, it can be glued back on. Photo above shows me holding the rhinestone where it's supposed to be.
Then there's the lace. Talk about the best lace you've ever laid eyes or skin on! It lines the back, on either side, it lines the bottom in a two-layer ruffle fashion and it lines the cups. Above the ruffle trim lace, is a champagne colored ribbon design – photos will explain better. The 4 strings of pearls dangle from between the cups & it took me a minute to figure out why they had lobster clasps at the end of the strands. On the corset's sides, there are 4 metal clasps that these pearl strands are clasped onto! Unfortunately, as I was walking around in it, one strand came loose. Upon further inspection, I seen that the lobster clasps are barely tied onto the pearl strands. I rigged it back for minute, then while taking photos, another came loose! I was going to remove the strands and just re-string them onto longer, sturdier string, but the pearls don't have holes to string them on. What I'll have to do is use my own pearls to fix this. Photos show the loose strand dangling. The entire corset is this champagne colored satin and the contrasting colors are the ivory. Ivory lace, ivory straps that are removable and ivory ribbon laces for the back.
The other parts include a champagne colored satiny G-string trimmed in ivory and ruched, perfectly Victorian-style champagne pink garters that complete this look.
Garters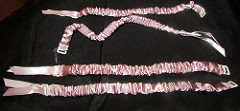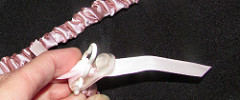 They attach with plastic hook, clasp is squishy clear silicone or plastic (shown in photo). There's ribbon over the clasps. They aren't adjustable, but are stretchy and ruched, so they just stretch to fit. I can stretch them to 13" long easily. As is, they're about 10" long.
The belt is satin gray ribbon. It looks good with or without it. Clasps and Closures
This has 14 front busk closures, which is why the back gets so much lovely attention. There are two ribbons to lace up the top and the bottom separately. They lace 20 through metal eyes.
The 8 bones are plastic, and not as flexible as Coquette usually uses. That combined with the quality corset definitely makes it possible to pull very tight and allow some shaping, if you choose. This is a sturdy corset and there isn't much moving to be done in it.
There's an instructional card and garters inside a bag attached to the corset via a safety pin and ribbon. The card and paper with photos of someone wearing this has nudity is on it, but if you cut the tag where the hole is, you can remove it without having to remove the safety pin and other attached parts.
The instructional card shows a photo of someone's hands and back side with their hands tied via the ribbons. It says "How to tie the ribbons: 1. Take one ribbon from each side of corset, and tie bow with them at the back. 2. Use two remaining ribbons on right to bind right wrist with bow.
Experience
... 3. Use final two ribbons on left to tie bow around left wrist. Or use ribbons to tie both wrists behind the back."
My version is to simply tie the ribbon belt in the back in one big bow or three bows. Three bows looked really bulky. You can have a partner tie your wrists, but I didn't fancy having one wrist strangely tied behind my back and since I wasn't sitting still at all while wearing the corset, I didn't keep my wrists tied. It was more of a pain than anything else, and I figure if we decide to restrain me, we can just use our real restraints as I was enjoying myself way too much in this corset to be handless.
Made in China, comes in plastic cellophane.
Material & Care
100% Polyester, exclusive of trim (lace). Hand wash & hang to dry.
I am terrified to even get this wet, so before I dunk it in my sink to hand wash, I'll try spot cleaning it with a damp rag first, but it won't need cleaned regularly since it isn't worn long or often.
[Corset's Measurements] Size small.
Entire length: 19" including 3" of lace trim at the bottom and 2" lace trim at top
16" from top of back to bottom, including the lace trims.
Corset laid open, measured straight across:
Bust: 26" (each corset panel is 13" wide)
Under bust: 11 ½" wide, 25" total.
Waist: Each panel: 12", total across: 24"
Hip: 14", 28" total.
Very bottom (where lace trim is): 15", 30" total.
My Measurements
Jean/shorts/size: Zero
Weight: 93lbs
Height: 5 2"
Waist: 26" Lower waist. Where I'm a bit wider, the love handle area: 29" This is the most flattering corset. It'll "suck you in" if you pull tightly. We had to adjust the ribbons in the back to fit me, and left a small bit of back showing between the laces and still had about a foot left, so there's plenty of length to adjust. I found the chest slightly loose, even when pulled tight.
Note: I would've never been able to put this on myself. Thankfully, my partner enjoys dressing me & spent time doing my laces and even tying my bow. I wanted to warn about pinching when someone's lacing you up. Twice he pinched the skin on my back, so have your helper be careful. He also pinched my belly skin when he decided to do the front too. The front busks can be closed by oneself without as much trouble, though.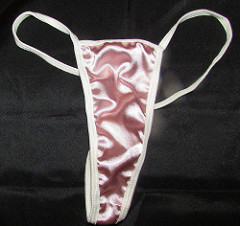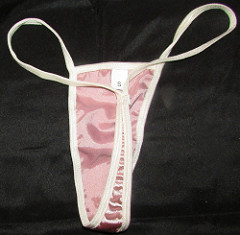 Thong
has 11" elastic waist, no liner and little coverage.
Ribbon belt
is well over 60" long and has 3 ribbons attached to the one on either side to ties wrists or bows.
Follow-up commentary
1 day after original review
Oh what a princess this makes me feel like! It's not the most comfortable because it is sturdy and well fitting like a corset should be, but it's not very uncomfortable. It's very hard to bend over and sit in this since it's long. It's also tough to wear jeans under it. You have to put them on first and then the corset, and you better hope they don't need adjusting because it's hard to reach up the corset to pull the jeans up. It does look elegant and precious with a pair of jeans, and for the right occasion, it could be paired with them and heels.
It's so gorgeous that it reminds me of a pretty top you'd wear to have your photos taken, and this would be wonderful for that. I felt that this corset was totally flattering to my figure. I normally don't love how corsets look on my body since they tend to be hard to really flatter my already curvy figure and they sometimes just don't hug the right places, but I actually feel pretty perfect in this. I normally have trouble getting the front busk-closures to lie flat instead of stick straight out on my abdomen, but this one is the real deal. It's perfect! Literally perfect except the minor issues with needing to re-apply the rhinestones and rig the pearls.
This product was provided free of charge to the reviewer. This review is in compliance with the FTC guidelines.

Thank you for viewing
Lovebound corset
review page!