Its So Frilly I'm Gonna Die!
The Lovebound Corset is the perfect corset for a girly girl. It has tons of lace and frill and even some pearls thrown in there all topped off by the beautiful pink color. With the ability to mildly shape to add some curves, and the option to use the belt as a hand restraint we had lots of fun with this one.
Published:
Pros:
Ribbon Lacing Allows for Sizing Options, Fits a Small Waist And Large Hips Well, High Quality Fabric
Cons:
Difficult To Put On Alone, Pearl Strands Seem Prone To Breaking, Oddly Shaped Boob Cups
Basics
The Lovebound Corset is a corset made by Coquette. Included in the package is a corset, a thong, and a belt that can be used for light restraint or for show.
Design
Corset
The Corset is a beautiful old fashioned pink color with white lace trim along both the top and the bottom. The front is closed by 7 busk closures while the back has ribbon lacing with more white lace lining it. The ribbon is fed through 20 metal grommets so it would be difficult to rip the corset by tightening the ribbon too much. There is no modesty panel in the back so unless a larger size than needed is ordered there will be a gap in the back that shows some skin. There are removable shoulder straps, so this can be worn in either a strapped or strapless configuration. These shoulder straps can be adjusted using a bra type slider between 8 and 16 inches long. Also included are four removable garters that attach to the bottom of the corset and can be added or removed as required. The garters are a stretchy material that looks similar to a hair scrunchy. They can stretch between 9 and 14 inches long, and the end where stockings would clip on is hidden by a small piece of ribbon. The included ribbon belt has a thread loop on each side to support it and keep it in the right place, but wouldn't hold up to vigorous tugging by any stretch of the imagination. On the front a bow is safety pinned with strings of pearls that attach to the corset with little lobster claw attachments. Other reviewers have mentioned that these pearl strings can easily break releasing pearls everywhere, but luckily we haven't had any problems so far, but we also haven't used this one very much. There are 8 pieces of plastic boning in the corset evenly spaced on the front, back and sides. The busk closures seem to have a much more substantial metal boning that goes with them up the front. Because most of the boning is plastic this can shape moderately, but I wouldn't expect anything exceptionally dramatic. Also, I have a feeling that if left bent for long periods of time the boning may get stuck in that configuration. The corset has a series of three tags in the back, right next to the lacing. One has the Coquette name, one has the size, and the other gives washing information, composition (100% polyester), and that it was made in China. Next to this tag, and on the other half are two small loops of ribbon that can be used to hang the corset on a hanger. If desired the tags and ribbon loops can probably be trimmed with a limited amount of effort. As usual with Coquette the quality of construction was excellent, there were a few loose strings, but nothing that would be structural.
Front of Corset Showing Measurements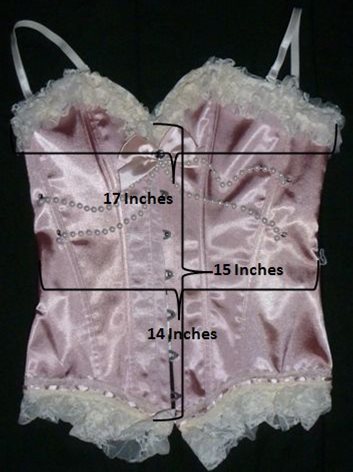 Back of Corset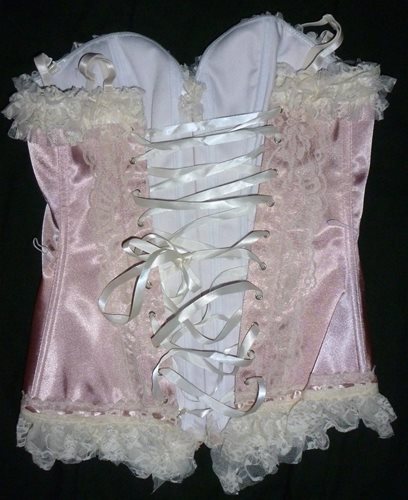 Detail of Lace Along Bottom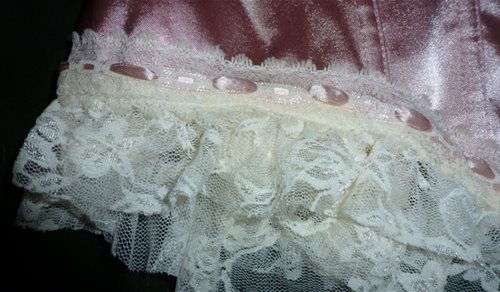 Thong
The thong is simply a triangle of the same fabric used in the outside of the corset. The trim and straps are made out of a stretchy elastic material allowing the hips to stretch to fit a wide variety of people. While the straps have a good amount of stretch the body of the thong really doesn't. Also, there is no panty liner so this one probably wouldn't be ideal for long term wear. In the front part of the thong there is a small size tag, which could be removed if it was annoying.
Sizing
We purchased a medium which according to the size chart should fit:
Size: 8-10
Bust: 36-38
Cup Size: B
Waist: 26-30
Hips: 38-40
My girlfriend's measurements are as follows:
Bust:34
Cup:D
Waist:28
Hips:36
Thanks to the ribbon lacing on the back the sizing of this outfit can be adjusted fairly easily just in case you're larger or smaller than the sizing chart indicates.
The Corset Being Worn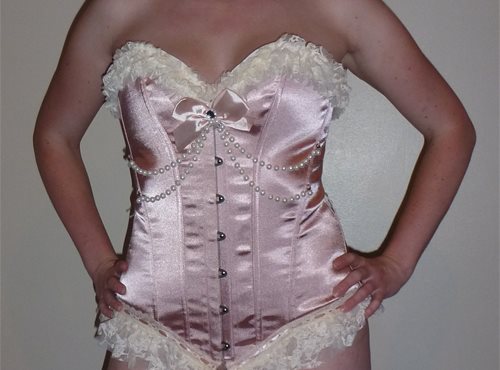 Packaging
The corset came wrapped inside of a Coquette bag that can be resealed and used for storage if desired. Safety pinned to the corset is a pair of cardboard tags as well as the garters in a small plastic bag. The ties and thong are included in the same packaging, but are just running around loose. Of the two tags attached to the corset one shows pictures of the front and the back of it when worn on the same model as the product page. The second tag gives instructions on how to tie the ribbon properly, which could probably come in handy. Also it has the washing instructions. On the back is this same information given in French and Spanish.
Experience
Care and Maintenance
Based off of the attached tag this garment should be hand washed. Also, it says not to tumble dry, use bleach, or have it dry cleaned. Based of of the delicate nature of this outfit I would have to agree with the instructions. Unless it gets seriously dirty spot cleaning with a damp cloth can probably take care of just about any messes involved. I probably wouldn't suggest traveling with this unless you had plenty of suitcase room since if bent to much it may stick like that.

Our Thoughts
The busk closure is difficult to close, we had the problem of some popping open while clasping others. It takes a great deal of patience and finesse to put this corset on alone, so if the idea is to surprise the boyfriend with some sexy lingerie make sure you have plenty of time to get ready so you don't keep him waiting! The material is so soft that it can easily be worn before, during and after sex. Even the lace is soft. Sometimes it's more fun to keep an outfit on and this is the perfect corset for that kind of play. The ties can be confusing to use but that leaves the door open for creativity. You don't have to use them exactly as the packing says. I personally love that this corset incorporates light bondage as part of their design. If you are looking for a way to ease some light bondage into the relationship then this is the perfect product to start out with. This way you don't have to purchase bondage material separately if you just want to give it a try.

One major problem we had with this corset is that the cups didn't quite fit. With a corset I expect a great deal of push up power to make the ladies pop up and say howdy, however, this corset did not quite do them justice. The corset size we purchased is for a B cup and I am a D. However, even buying a smaller size did not help. I have noticed this trend with many corsets by coquette. The cups just don't quite fit right even though the hips and waist might be exactly right. Keep this in mind when you're trying to decide which size is right for you. I know I tend to by a size down just so I can make sure my boobs are well represented.

I hope you have fun with this corset. I know we will!
This content is the opinion of the submitting contributor and is not endorsed by EdenFantasys.com

Thank you for viewing
Lovebound corset
review page!