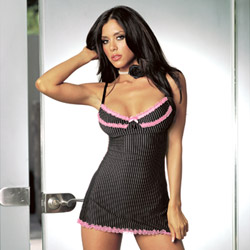 Sexy pinstripe chemise set
Chemise and panty set by DreamGirl
Every girl loves pinstripes!
Every woman loves pinstripes! This chemise is perfect for a romantic time with your lover, throwing on some jeans and going to the mall, or just something to make you feel sexy! Slimming and with a great fit, this set is bound to give you exactly what you are looking for!
Published:
Pros:
Fits well
Sexy design
Comfortable
Cons:
Not a lot of breast support
Wouldn't be comfortable to sleep in
I can't honestly think of any woman out there who doesn't love pinstripes! They are attractive and slimming, plus they can be dressed up or down for any occasion! After coming across the
Sexy pinstripe chemise set
, I knew it was just a matter of time before this was in one of my future orders!
Although pinstripes already have the ability to make you look more thin, this piece hugs you in all the right places and hides what you don't want to be seen! It comes in a two-piece set, the top and panties. It comes in a variety of sizes. I chose the L.
The set came wrapped in pink paper, much like the thin paper you wrap Christmas or birthday gifts in when placing it in a gift bag, or in those clothes boxes. The material is microfiber but feels very silky! The set is black as the base-color and the pinstripes are pink. There is pink lace trimming and a bow and button on the top, right between the breast area. The button is black with a sparkling "diamond", which I found to be a cute touch! There is under-wire under the breast area, which worked just fine for myself, but I don't feel that it will allow much support for those with larger breasts.
For those of you not familiar with microfiber, the glory to this material is that it stretches - a lot! Just eyeing the piece, you may feel that it is far too small, but as you begin to slip it onto your body you will notice that it stretches to fit every contour! The silky feel of the material is very comfortable against your skin, not itchy or scratchy at all!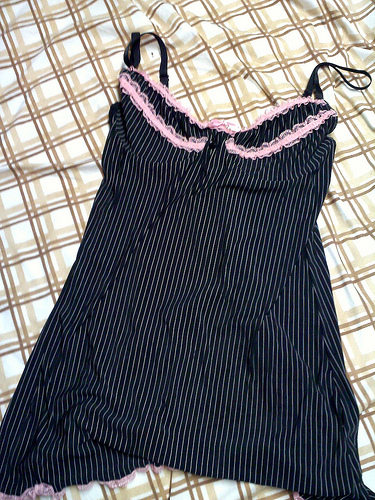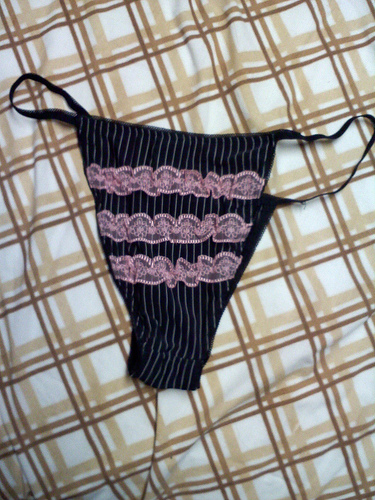 As I mentioned, I purchased the L size. For a full sizing chart for DreamGirl, you can
click here
. Some of the specifications I looked for were the cup size (C-D), bust size (36-38), waist (28-32) and hip (38-40). Now, I did have to go one size above my normal measurements, because I have a larger shoulder build, which makes everything much tighter on my chest area, and also a wide-set pelvic bone, which means that my hip size can be tricky! My actual measurements are: cup size C, 37 bust, 30 waist and 38 hip. I fluctuate between 125 and 130 pounds and am 5'2" tall.
This set fits wonderfully. The panties, from what I've seen in other reviews, can be work with the tag either in front of back, but I prefer to wear it in the back. I will admit, I do not like the way most panties feel, so I am a prude when it comes to panties and if I do find a good pair to throw on once in a while, I'll gush on and on about them. I have to admit, they were not uncomfortable in the least! They didn't "ride up" nor did they feel too loose, and they hugged me quite well!
On the top portion of the set, there is a 10" slit in the back, allowing for a little bit more room if needed. I liked that it allowed the rest of the piece to fit snugly while giving "breathing room" to my hips, but I would've preferred a smaller slit.
You will want to note that this item is
hand wash only
, and I would recommend hanging it up to dry afterward. I tend to hang my lingerie up in the closet because I have the privacy to do so, although I don't feel that storing this in a drawer would cause it to become wrinkled due to the material.
Typically
, microfiber is pretty good about avoiding wrinkles. Because of the silky, slippery feel of the material, it doesn't fold well, and if you
can
fold it, it will easily unfold. You may want to keep this in the paper it was wrapped in, or in a plastic bag, if you choose to put it in a drawer, just so it doesn't snag on anything or catch. It isn't incredibly delicate, but better safe than sorry!
I took a few pictures so you can see how it fits me, you'll have to excuse the picture that has the spots on the mirror, I had no way to retake these! Maybe one day if I am able, I'll edit this review with better photos with no mirror spots!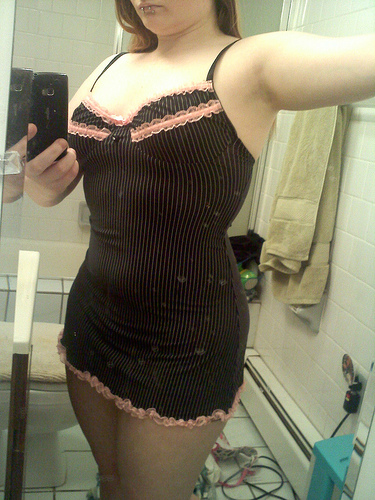 I left the larger size so you can see the button a little bit better on this second photo!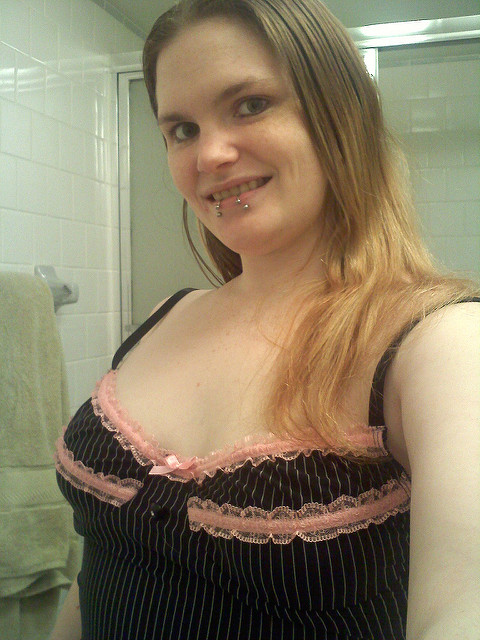 Experience
All in all, I absolutely love this set! I was clicking on different costumes and some of the lingerie on the site when I came across this one, and showed my boyfriend. Typically he shows about as much enthusiasm (even when he is genuinely excited) for something like this as he is about feeding the cats, but when he saw this, I actually got a reaction out of him!

"Oh wow, that's hot!"

I had already wish-listed this item, but that sold me. If he would react with that much enthusiasm (and for him, that is some serious enthusiasm!) then this needed to be mine! Already being a lingerie addict that I am, I do have a bigger collection of lingerie than I do toys, and he loves each and every one, but even men love pinstripes on a woman!

We did enjoy me wearing this set quite a bit during foreplay, although when I fell asleep in it, it became uncomfortable. While microfiber is a comfortable material in general, it does hold body heat, and the under-wire wasn't exactly comfortable either when being laid on. As long as you don't mind a little cleavage showing, you can also throw on a pair of cute pants and wear this out in public. It isn't see-through and it looks a lot like one of the sexy corset-style tops sold in Victoria's Secret that you wear out, except this costs a whole lot less!

5 out of 5 stars for the fit, design, comfort, and for getting my boyfriend excited over it before I even ordered it!!!
Follow-up commentary
4 months after original review
I've worn this little number several times since my review. It has held up well to being worn and washed, and there has been no fraying. My only concern is that the button appears to be coming loose, but nothing a little handy-work can't fix!

I love the way I look in this chemise, and my partner does too! It is so sexy and form fitting for me! I would definitely recommend this piece of lingerie!
This product was provided at a discounted price in exchange for an unbiased review. This review is in compliance with the FTC guidelines.

Thank you for viewing
Sexy pinstripe chemise set
– chemise and panty set review page!