Super sexy, super slimming, and is actually comfortable enough to sleep in: with added bra support!
Another excellent quality product from Dreamgirl. This is an item of theirs that I'm proud to have in my collection, and is quite similar to another chemise they have. This chemise is super flattering and is slimming with the verticle stripes. With the added under-wire in the bra region, this chemise adds quite a bit of support to the bust. If you're looking for a comfortable chemise, with support in the bust, and something you can actually sleep in, then this is the perfect item for you!
Published:
Pros:
Excellent quality, slimming pattern effect, super comfortable, added support with under-wire, sexy.
Cons:
Fits small, lack of packaging.
Use
The Pinstripe Chemise Set, is a 2 piece set by Dreamgirl. This is similar to their other
Pinstripe Chemise and Thong set
, but has the added support of the under-wire in the bra region, and the added pink lace accents, as well as it's panties not a thong. So if you need the added support in the bust area, this is the better of the two chemise sets. This is super sexy, and excellent quality lingerie, but is actually comfortable as well. The chemise is so comfortable, you can actually wear it to sleep in! This little number would be great for special occasions: Valentine's Day, Anniversaries, Birthdays, Wedding gift, or everyday wear.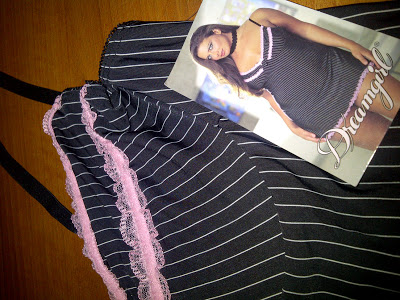 Design / Craftsmanship / Material / Size / Fit
The label on the babydoll says it's made up of 90% polyester, and 10% spandex and is made in China. There are three labels in total: The "Dreamgirl" logo label, the washing instructions and fabric content label, and a small label stating "Made in China". Starting from the top of the chemise, the bust area is black with white verticle pinstripes, and is lined on top with light pink lace ribbon. There is a second pink ribbon about 3" below the other, running parallel to the other. At the top where the pink lace ribbon is sewn, directly in the middle of the breasts is a small pink ribbon. Each bra cup measures 8" in length and 6.5" in height (1X/2X). The bra strap portion is adjustable, so you're able to make it tighter to add a little extra support. In the middle of the bust area between the breasts, there is a small black round button, with a small diamond like jewel in the center.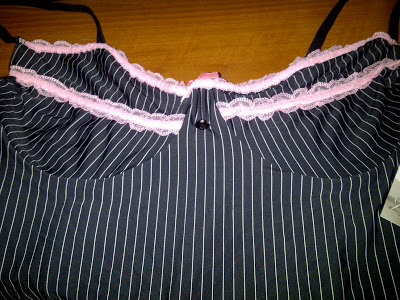 This lingerie doesn't fasten like a bra, you just slip it over your head and shoulders to put it on. The design of the bra portion doesn't adjust at the back like a bra, in fact, there's no adjustment there at all. It's just a long elastic that's sewn around the bottom of the bust, all the way around to the back. It gives a fair amount of support, but isn't adjustable if you want it tighter. It does have an under-wire built into the bra portion, which gives added support.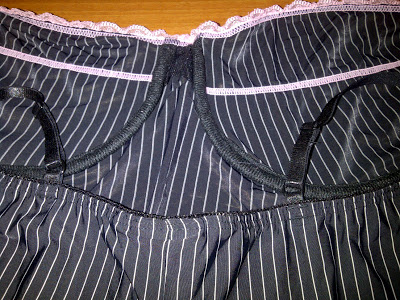 Below the bust is the skirt portion of the chemise. This area is made of a nice slinky fabric, that feels wonderful against your skin. It's the same fabric as the bra portion! It's black in color, solid, and has white pinstripes that run verticle in a slimming pattern. The length of the skirt is 19" in length, which includes the 1/2" pink lace border at the bottom. At the back of the skirt portion of the chemise, there is a slit that runs 13" in length.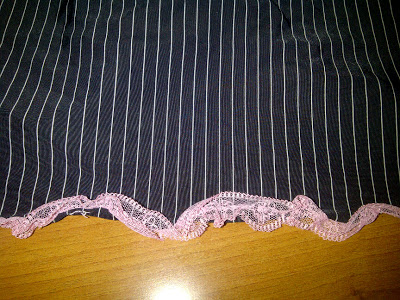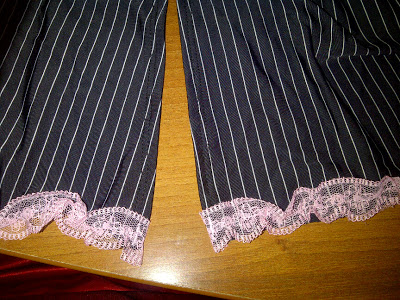 Dreamgirl lists this item: (1X/2X), equaling a size 16 - 18, Bust: D - DD, Bust: 40 - 48, waist: 36 - 40, hips: 42 - 48, thong inseam: 36½, rise: 9 - 9½, and weight: 165 - 225. Dreamgirl fits small, so you will want to get one size bigger then what you normally wear. I normally wear an XL, size 14, and the 1X/2X fit me perfectly. When I say perfectly, it hugs my body and curves just right, and is fitted. I have purchased other items from Dreamgirl, and knew that they always fit a size smaller.
The pantie portion of this piece actually fit perfectly for once. The inseam was perfect, and didn't fit too low on my body. It's soft and silky against the body, and is the same pattern and color as the skirt of the chemise. The same type of elastic borders the whole pantie: the waist, as well as each leg. The panties have one tag that you may want to remove prior to wearing, as I personally find it annoying. The tag states the same information as the tag on the chemise, the washing instructions and the fabric material breakdown. On the bum portion of the panties, there are three pink lace ribbon that run horizontal, and are parallel to each other. Each lace ribbon is about 1" apart from each other.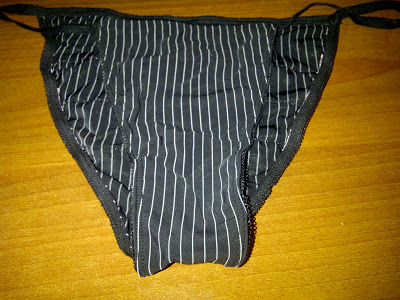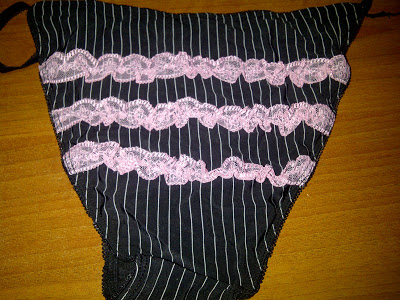 Experience
Care and Maintenance
This item you will want to wash by hand in cool water, and use a detergent that is mild. I personally like to use zero for my lingerie. You will want to hang this item to dry. Since this item is delicate in nature, you will not want to toss this in the washer or dryer. Even though there are products out there that you can put this in and wash in the washer, I wouldn't recommend it, as the chemise could shrink.
Packaging
Everything came wrapped in bright pink tissue paper, but no plastic wrap. On the label it had the washing instructions stating to hand wash the item. The washing instructions are little pictures, one is a washing machine with an "X" through it. When it comes to packaging, I would have liked it in plastic, and then the tissue paper. There was a cardboard tag with a photo of a model wearing the lingerie, that was pinned to the outfit. The packaging isn't very professional, unless it came in a clothing gift wrapped box already.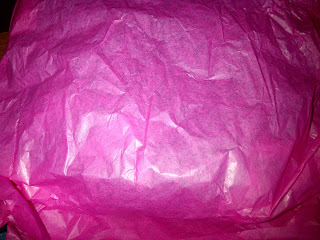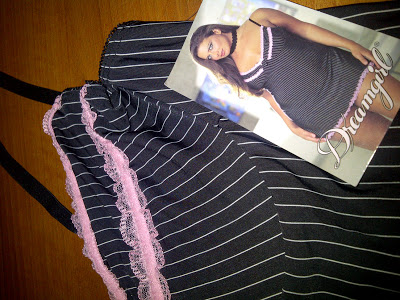 Overall, I'm in love with my new chemise. I'm a plus size women, and I was glad to see that Dreamgirl actually offered bigger sizes. This feels wonderful against my skin, and is comfortable enough to actually wear to bed. This isn't just a piece of lingerie that you would model for your partner, this is something that you can actually sleep in.
I would recommend this item to anyone who is interested in getting it. It's slimming, and comfy, and so pretty. Make sure to read the size chart for your proper size, as Dreamgirl fits small. Get the next size up from what you would normally wear. I normally wear an XL= 14, and their 1X/2X was the perfect fit.
Follow-up commentary
13 days after original review
This is still one of my favorite items to wear to bed. I like the added support of the under-wire, so this is a great item for those big bigger breasts. The verticle pinstripes create a thinning effect, and looks great even if you're a plus size.
This product was provided at a discounted price in exchange for an unbiased review. This review is in compliance with the FTC guidelines.

Thank you for viewing
Sexy pinstripe chemise set
– chemise and panty set review page!