Feel Like a Starlet (L)
This is a well made corset. There are no issues with boning on this piece. The breast area will give you shaping but not much support. You can wear a bra for extra support if needed. The velvet and sparkly stars on the front and the double laced ribbons down the back give this a lot of style and interest. It is comfortable to wear inside or out. This looks great with the panty and gloves noted in my review. Or you can wear it out on the town with pants or a skirt. I give this an A+.
Published:
Pros:
Can be worn outside the house and in the bedroom
Well made
Padded Hanger
Cons:
Garters and Straps have plastic pieces
Panties sold separately
Limited breast support
This has been on the wish list for quite some time. It was often out of stock when it was at the top of the list. I have so much black lingerie, I debated a bit too long the first time I saw it and when I made up my mind it was gone. The stars aligned and EF brought it back in stock so I jumped on it.
Packaging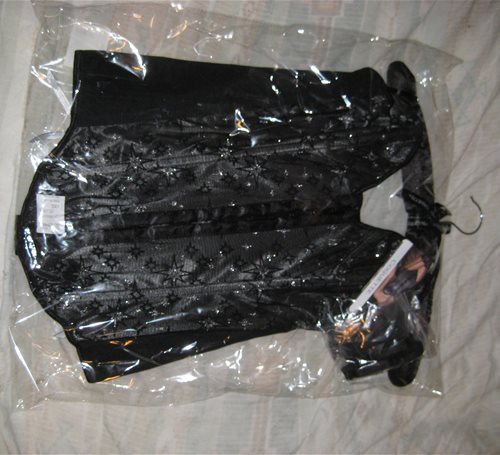 It arrived in the classic plastic bag with Coquette on it. One major plus was it arrived on a black padded hanger. Coquette used to send them with all of their corsets, but they have stopped doing that with the latest spring/summer line. Padded hangers always add that bit of luxury to an item. The padded hanger is especially nice if you are giving this as a gift. Somehow, it just makes it seem like you paid way more than you did.
Design
Let's start in the front. The front has a plunging neckline. The top and bottom have black satin trim around the edges. There is a hook and eye closure down the front with 16 closures. There is a 1.5" ribbon sewn on the inside of the eye closure side that acts as a modesty panel. Along ach side of the closure has black satin trim, giving it a nice finished look. On either side of the center is a stretchy silver gray material with a black mesh overlay. The mesh has sparkly silver and velvety black stars. I am not quite sure how these are applied but they do not appear they would wear off or come off easily.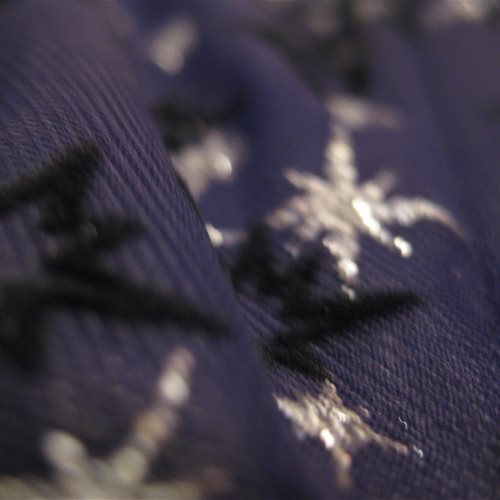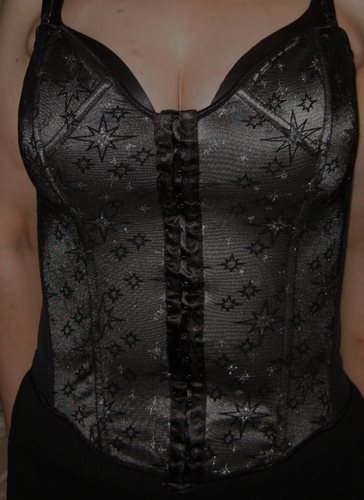 There are two vertical boning pieces on each side plus one 4" piece of boning on a diagonal which serves to give definition and a shaping to the breast area. There is no underwire or other support under your breasts.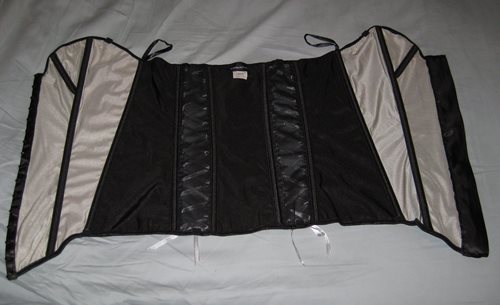 Now let us talk about the back. I have many corsets but this has one of the most interesting and beautiful backs out there. The sides and center of the back are a stretchy black material with a black mesh overlay. Down each side of the back are criss-crossed silver satin lace which can be adjusted to give a bit of cinching. Under the lace is the black mesh material. There is no backing, making it see through. This is the only portion of the corset that is see through. On each side of the ribbon is vertical boning. The bottom of the back is straight horizontally while the front is rounded and longer in the center.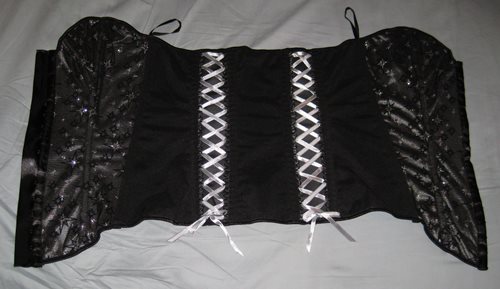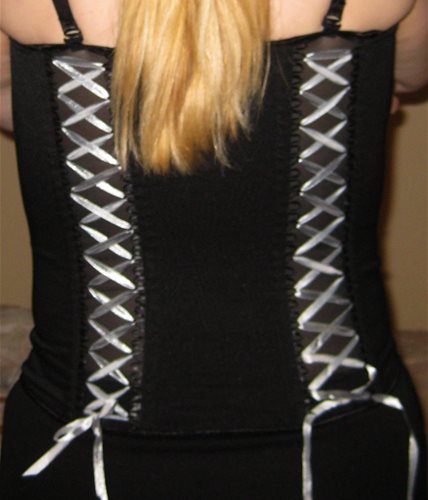 The straps are your traditional 1/2 in lingerie straps. The 4 garters are also 1/2 in across but are made of a thicker elastic and have a light checker board design which is black on black. You cannot tell unless you look very closely. The hooks and adjusters are made of plastic.
Material and Care
This is 80% Nylon and 20% Spandex exclusive of trim. As with all Nylon, you will want to keep it away from anything warm because it has a tendency to melt when exposed to high heat (actual temperature not how hot this gets you or your partner). The washing recommendations are to hand wash only and hang dry. I have found that the easiest way to clean my corsets is to wash out the tub, then fill the tub with cool water. Add a small bit of delicate soap. Put the corset in and move it back and forth. Then drain, refill with cold water and move back and forth. I then hang it to dry on a plastic hanger from the shower head.
Sizing
Size L
Coquette Sizing
Cup - C
Bust - 38-40"
Waist - 30-32"
Hip - 40-42"
My Sizes
Cup - 34D
Bust - 39"
Waist - 29.5"
Hips 38"
Actual Sizes for the Corset
Bust - stretches from 32-39"
Waist - stretches from 28-32"
Hips - stretches from 31-38.5"
Removable Straps adjust from 8.5-16"
Removable Garters adjust from 6-9"
Experience
This is shaping without being constricting. I found it very comfortable to wear. The plastic boning pieces were well finished and did not appear to show any signs of poke through. I know the recent line has had some boning issues. Since this is from the last season, it appears to have dodged that bullet.
My sweetie was in a bad mood following some dealings with someone who did not have good customer service skills. When I got home, I put this on to do the review. This was a definite mood changer. Because it fits snugly, you can keep it on for all the action. Throw on
Black Crotchless Panty
and you will not have to take a thing off to "get it on". I must say doing the research for a review can be so much fun.
This looks especially good with
Satin Silver Gloves
. I have both the panty and gloves. I recommend both of them highly. My reviews of them should be posted soon.
The color on the model and in photos looks much more silver than it appears in real life. I think it is the flash that highlights the silver material underneath. The only part that is see through is the mesh under the silver ribbon. You can definitely wear this out on the town. It may be too low cut for some. I found that I prefer to wear a bra underneath for extra support unless I am just staying home.
I am happy to report that the hook and eye closures are relatively easy to hook and they stay hooked while on you. Surprisingly, I had trouble with them staying hooked when no one was in it. I think it must be that you need a bit of tension on them to keep them from unhooking.
The corset has some support but not a lot. The boning in the breast area is more for shaping than support. I would say the large could work from a large B to a DD cup quite well.
The corset is longer in the front and that will cover any lower tummy pooch you have.
One slight downside was that the ribbon used for a privacy panel is not well finished off on the bottom and sticks out below the bottom of the corset. This is nothing that a few quick stitches will not cure and I would not let this stop you from buying. It may be that I just got one that quality control missed.
This product was provided at a discounted price in exchange for an unbiased review. This review is in compliance with the FTC guidelines.

Thank you for viewing
Starburst
– corset review page!