Grape Crush
I thought it might be love with this bustier, but it turned out to only be a crush. It looks great, but can be a total pain to put on and just didn't work well with my body.
Published:
Pros:
Great colors, nice quality, gives you nice shape.
Cons:
Complicated to put on and adjust, not great for large breasts.
I love that Coquette's new items for fall 2011 include a lot of purple, I was starting to get tired of everything being red, black or pink!
The bustier is made of 100%
acetate
(a synthetic material), exclusive of the trim. It's a very thick, rather stiff fabric that reminds me a lot of what traditional wedding dresses or bridesmaid dresses are made of. There's no stretch to the material at all and it's neither shiny nor matte, more of a satiny finish. The bustier is a lovely dark grape purple color accented with black lace on the bust and along the center. The flattering V-shape on the stomach draws eyes down the center of your body, almost like an arrow pointing down. There are 8 pieces of flexible plastic boning sewn in to help define your shape. The purple fabric feels soft and smooth, definitely a nice quality fabric. The interior of the bustier is black and feels almost like denim. Removable, adjustable bra straps (black) are also included.
One of the main questions I had about this bustier when looking at the photos was if there was a hidden zipper or other closure. Most of Coquette's lace-up pieces have some other way of getting in and out so that you don't have to do up the laces every time. There is a hook and eye closure (like what a bra closes with, but with more hooks and eyes!) hidden in the back to one side of the laces, disguised as another piece of boning. This SEEMS like a great idea until you try to put this thing on, at which point you will immediately realize that the designer was on a lot of crack. With most corsets or bustiers, I turn them sideways to do up the hooks and then spin them around, but since this is fairly tight on me and has NO stretch, that was impossible. I can do up this kind of closure fairly well if it is in the center of the back, but the off-center placement made it almost impossible! There was some major contortion going on to get all 14 hooked up!
This arrives with the laces tied in the center of the back. The ribbon that you lace it up with is thick and woven, kind of like a compact version of a shoelace. The easiest way to put it on is to totally loosen the laces (or at least loosen them a bit of this is a roomier fit on you), do up the hooks and then adjust the laces. It is designed for you to tighten from the top down to the center, from the bottom up to the center, and then tie the center strings together. I know that sentence didn't make much sense, but trying to actually DO it is even more confusing. I kept getting the laces all tangled and still wasn't really satisfied with the fit even after about 20 minutes of messing with it. This would probably be easier if you had someone to help you, but alas, I had given my personal dressing assistant the day off.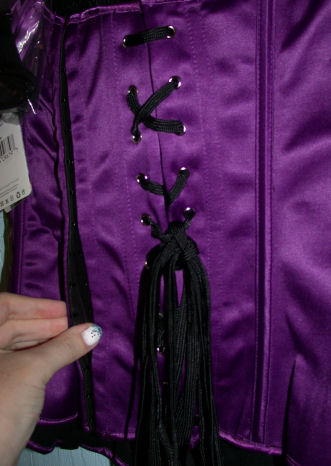 Laces plus the location of the secret hooks.
The bust area is not padded but lined in a softer fabric, and has built-in underwires. The cups measure 6" deep from the center top down to the underwire, definitely not full-coverage but more of a demi-cup.
The care tag sewn into the back of the bustier suggests hand washing and hanging up to dry. Although you can get away with tossing some hand wash items into the laundry in a lingerie bag, I wouldn't try that with this, I don't think it would end well.
All you get here is the bustier- the pictured gloves, panties and thigh highs are not included. There are removable, adjustable garters, though, which make pairing this with your favorite stockings easy. I found it interesting that instead of the same plain black garters that have come with all of my other Coquette bustiers, these were adorned with little purple ribbons to match. Nice touch!
This bustier comes in three sizes- small, medium and large. I got the large, which should fit sizes 12-14, C cup, 38-40" bust, 30-32" waist, 40-42" hips according to Coquette's size chart. I'm 5'11, 150-155 lbs, size 11/12, 36/38 D, 33" waist, 39" hips, so although I'm pretty close to the measurements, I was a little worried about the bust fitting since it is only intended for a C. Thanks to the lace-up back, my extra inch of waist isn't as big of a deal. This ended up fitting me fairly well except, of course, in the bust. It smooshed my boobs almost totally flat, while somehow not really supporting them at the same time. Sadness!
Experience
I have a bit of a crush on this bustier, but it just isn't true love. I also own the fairly similar
Fully Boned Lace & Satin Corset
which I think is a much better buy, due to the hooks being in the front (and thus way easier to do up!) and the fact that it supports my bust MUCH better despite the lack of built-in bra cups.
The back of the corset measures 12" from top to bottom where the laces are, and the front measures 15" from the center of the bust down. The laces being all one piece makes it impossible for me to lay it out flat to measure, but my best attempt at measuring around the waist area comes up at 26", which means if you have a 30" waist, you're going to have a 4" gap in the back where the laces are.
One tip- if you plan to use the removable bra straps, hook them on BEFORE putting this on. Trying to hook them into the back loop once you're already wearing the bustier is not an easy feat!
When looking at the photos in the product info, I couldn't tell if the black lace at the bottom was just the model's panties or a lace trim at the bottom of the bustier, but I can now report back that the lace is in fact the panties, there's no trim at the bottom of this.
And now the handy photo portion of the review: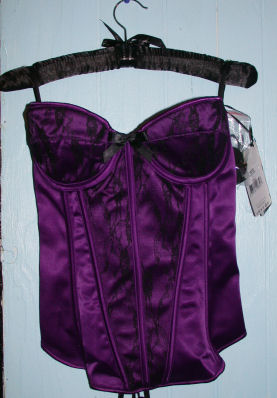 Fresh out of the box! (Note- this doesn't come packaged in any way, just wrapped in EF's pink tissue paper. The hanger is not included, it came with a different Coquette item.)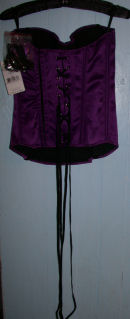 A pic of how much extra ribbon there is for lacing.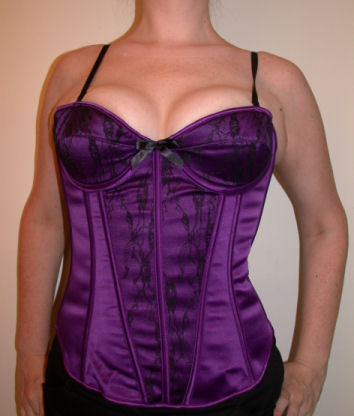 Strangely, I think it looks better in this pic than in person.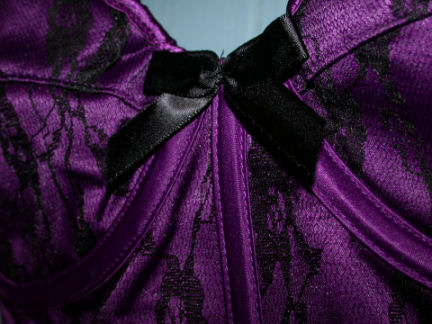 Close-up of the lace on the bust.
Overall, I am giving this 4 stars. If I were judging by how it looks alone, it would be 5, but the difficulty of putting it on (and getting it off) was really annoying, and although the odd bust fit was mostly because of my body proportion (I'm about 90% boobs), the odd fit there really took away from it for me. If this was available in XL, I'd probably trade it in because a better fit in the bust might really turn around my opinion for the better.
This content is the opinion of the submitting contributor and is not endorsed by EdenFantasys.com

Thank you for viewing
Floral bustier
review page!