More of a Beginner's Corset, Less of a Bustier
While I am on the fence with whether or not I love this bustier, I still think it is a quality item. The material is soft and smooth while being firm and sturdy at the same time. The boning and fit, along with the whole production of trying to put this on, makes me feel this item is better listed as a training/beginner's corset rather than a bustier. If you are looking for this to wear to a party or club, or as part of a costume, this just might be the best, quality option for you.
Published:
Pros:
sturdy, beautiful, adjustable, high quality
Cons:
small, garters aren't long enough, not exactly comfortable to wear
Presentation
This Floral Bustier by Coquette arrives with absolutely nothing. EF throws in some hot pink tissue paper to cover it from the box. Along with the bustier, you get two removable straps, and four garters- neatly packed into little plastic bags. These bags are connected by a tiny black clothespin with a Coquette Tag, with pictures of the model in the bustier.
It's very minimal, and I would have liked at least a hanger to display it on. Considering the price, I paid much less for a Coquette Bra and Panty set and yet that at least came with a lingerie hanger.
Anyway, hanger aside, this presented beautifully and simply to me. The purple color is deep and beautiful, the lace overlay is simple and ornate at the same time.
Materials and Craftsmanship
The corset itself is made out of 100% Acetate (exclusive of trim). ...Say what? I didn't know that this was acetate. But the tag says so, and upon looking it up on EF's materials list... I found that acetate is pretty cool. It's hypoallergenic, apparently.
The material is smooth, soft but firm. It does not have any give to it. It looks almost satin-y, but it definitely does not feel like satin (I hate satin).
It does not sparkle, but it's also not completely matte either.
Other materials include:
Mystery fabric, that is black, and lines the entire interior of the corset, including boning. I suppose this could be acetate as well. Coquette offers no answers (100% acetate is all I get.)
There is a small satin bow on the front of the bustier (easy to remove with a stitch-ripper if you have one). It has 8 strips of plastic boning (and underwire) as well, but you shouldn't feel that bare against your skin ever. There is a lace overlay along the front of the bustier.
The removable straps seem to be made of elastic/spandex and definitely stretch, with plastic adjusters. They are classic bra-style straps.
The removable garters are made of a thicker, sturdier elastic/spandex that have much less give to them than the straps. The garter part seems to be soft plastic, with a metal snap. It has a small purple ribbon to "hide" the garter attachments.
The hooks-and-eyes on the bustier are also made of thin metal.
As far as composition, my bustier seems to be pretty flawless. There are no loose ends, frays, or snags along the lace.
Design
I added this section in addition to my normal headings because.. well... It needs to be here. This bustier is designed pretty stupidly. It borders on dangerous, as my boyfriend pointed out. The hooks-and-eyes, which are there to ideally help you put this on easily, are placed in an awkward area. Just off center of your back.
I can't get into this by myself at
all
. I struggled for twenty minutes before I gave up, pouting, declaring that I couldn't do it and I needed help and that I was afraid this bustier wouldn't even fit me. (It does fit; it's just so awful when you keep loosening laces and contorting your shoulders to unsuccessfully snap tiny hooks and eyes together that are finicky in themselves.)
My boyfriend did me up in the bustier, but refused to help me out of it. He said it was a safety test, and if I couldn't at least get out of it by myself then I probably shouldn't be wearing it. It was a pain in the ass, but I did get out of it after a few minutes of cursing.
Also, design-wise, I felt this was more of a beginner's corset. It's very firm, stiff, and not flexible. The inside is lined with black fabric, so it isn't just a flimsy garment. While the plastic boning only accentuated and lined my already-hourglass figure, it probably wouldn't have held up to any severe silhouette training. My boyfriend offered to have my lie on the bed face down, so he could put his knee on my back to try to tighten this garment more. I decided to pass on this, just because I'm getting over a cold and my breathing isn't the strongest at the moment. It took a few inches off my bust, but from a mashing effect. It also took two inches off my hips, but that resulted in a bit of a muffin-top look.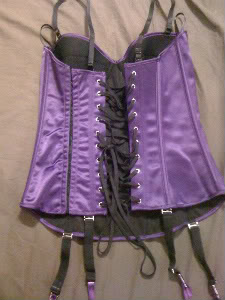 Experience
Care and Maintenance
Coquette says hand wash this warm, hang to dry.
EF says that the material most likely requires dry cleaning. I'd feel safer dry cleaning this, or spot cleaning it as needed.
I definitely advise against throwing this into the washer or dryer.
Sizing and Fit
EF says the Large will fit someone sizes 12-14, Cup size C, Bust 38-40", Waist 30-32", Hips 40-42".
As for me, I am a full C, roomy D. My bust measures 38", my band (underneath bust) measures 33.5". My waist measures 30", my hips 40".
By this, I am at the small end of the projected size.
I felt like I was on the large side for this corset, though.
If you have breasts any fuller than a C cup, expect spillage over the top of the cups of this corset.
This corset is supposed to be completely adjustable, with thick laces to loosen and tighten at your desire.
However, you have to be comfortable with having a potentially larger gap along the back. For me, I think I had about 4" of a gap along the back. And I felt pretty damn snug in this bustier.
I have found the straps to be comfortable, and definitely long enough, but because they are so stretchy and flexible, I wouldn't rely on them much for hoisting anything up or securing anything in larger-breasted women.
The cups, at their longest, measure 5".
From center of the bust, to the center of the bottom of the bustier measures about 16". It was actually pretty sufficient length for my torso.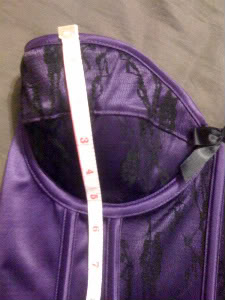 On another note, I found the garters to be essentially useless. They are 6" adjusted to their longest. 6" below the
top
of my hips? No thigh highs will reach this high up for me.

And my last warning, while trying to take pictures of myself in the bustier, my boyfriend got this picture from his taller POV angle. As you can see, the attached straps are not very discreet and can clearly be seen from anyone taller than myself.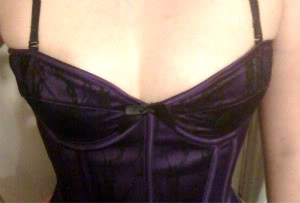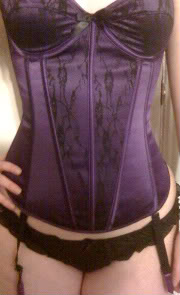 Demonstrating how the garters here end at my crotch. What thigh highs will withstand that?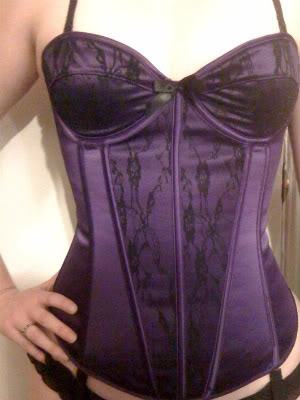 Final product.
Overall, I'm torn on this product. It's very stiff, form-fitting, and beautiful. I might end up wearing it out on the town with a black bra underneath to hide spillage. It's not terribly comfortable, though, since I can barely sit without straight posture.
I feel like anyone larger than I am will find this a difficult fit. I feel that people who are much shorter, with similar measurements (and bigger curves), might not find this comfortable at all.
I would recommend this for people interested in corsets, though, and silhouette training. It might be a nice introduction (for as little as I know). You might also look into this if you have a fancy party or show to go to and you really want to wow everyone.
As for lingerie, this is a bit too stiff and complicated for me. I mean, it takes a while to put on and then I end up feeling rather.. bound and stiff.
I'm still torn on how I feel about the Floral Bustier, obviously.
Follow-up commentary
3 months after original review
This corset is beautiful and pretty well made. If it weren't so hard to get into, I'd probably wear it ten times more. It's slimming and I like the way the fabric looks and feels.
I would definitely suggest this to anyone looking for a nice beginner's corset.
This product was provided at a discounted price in exchange for an unbiased review. This review is in compliance with the FTC guidelines.

Thank you for viewing
Floral bustier
review page!