Great Costume Piece
The Red Lace Petticoat is a lovely additional item I got from EdenFantasys. It was a steal for just $11.99. While it is not perfect in every way, it is a great bargain for the price. It is a very sexy lace. The bright red is eye catching. There are multiple sizes and color options. The only issue is it's a little itchy. None-the-less I use this for costumes and dressing up!
Published:
Pros:
Two colors available
Inexpensive
Cute
Double layered.
Cons:
Itchy
The Lace Petticoat is a fun item I picked up from EdenFantasys and I am glad that I did. Overall it is a winner, especially for the inexpensive price! The price is similar to that of which you would find at a costume store, so I am happy!
Packaging:
Basic with the Coquette tag!
The Red Lace Petticoat by Coquette came in a nice sealed plastic bag with a hanger. Inside the Petticoat had a Coquette tag on it which detailed the item, had photo images of a model showing the item in different ways and basic information.
I currently am storing this Petticoat with my Holiday outfits. I love dressing up for Christmas, and this goes super well with some of the red and white Christmas-themed items I have. I just have it folded up with the rest of my clothes, but if you cared more about this piece, you could hang it on a hanger too.
Made in China
Contents included: Petticoat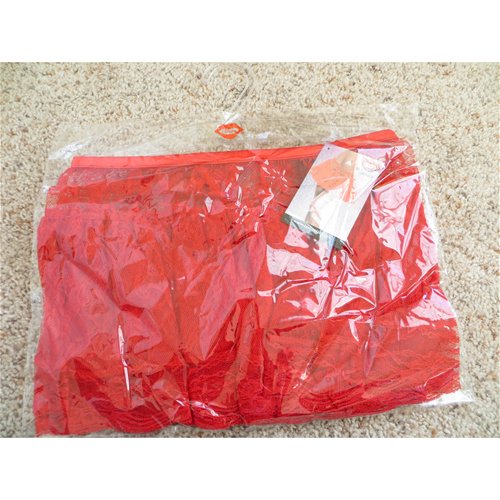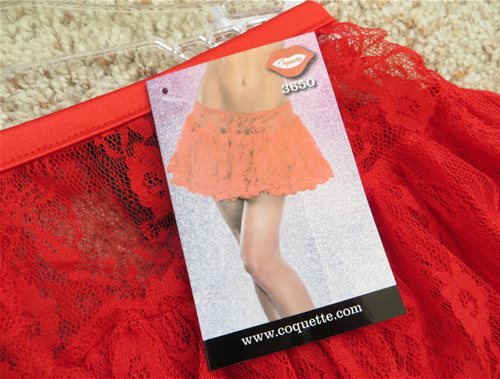 Care/ Maintenance:
Take your time, carefully!
The care instructions for this item: Hand wash in cold water and hang to dry.
I have yet to wash this Petticoat since this item has not gotten dirty. I don't see a use in washing until items need to be washed, or if they smell weird out of the packaging. This was neither. I have worn it above other clothing and do not see a need to wash it just yet. When I do wash it, I plan on following the hand washing instructions carefully due to the delicate nature of the Petticoat.
Size:
OS or XL
This adorable Petticoat is available in two size ranges. OS – One size fits most and XL.
I ordered the OS
The OS is recommended from Coquette to fit sizes 4-14 (Quite the range).
I am typically a size small-medium. I wear size 4-6 in dresses and jeans, so the OS was my size range, I just hoped it wouldn't be too big since the size range was rather large. The rest of my measurements can be found on my
profile page.
Measurements I took:
Laying flat across top waist band - 28 inches (snapped on small setting)
Laying flat across top waist band - 32 inches (snapped on large setting)
Laying flat across top waist band – 40 (stretched out)
Top to bottom length of skirt – 12 inches
Top panel length – 6 inches
I feel like this size was a good fit and can accommodate a range of sizes.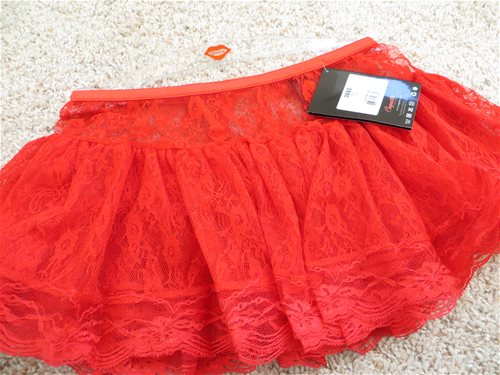 Design/Shape:
Frilly, Girly
This item comes in the colors: red, black and white.
I purchased the red.
The red is a pretty and flashy red. It looks a bit orangey in my pictures, but it is a little deeper red than that. I would say it is on the orange side rather than the deep maroon side though. It is like a Christmas red.
The lace accents are what make this Petticoat beautiful. There are layers of lace on top of each other, giving it body and fullness. The bottom hem has small layers while the top has long layers. The lace is a flowery design, both small and large textures.
The back of the skirt has a snap closure that is adjustable and underneath is a small peephole. It is a cute addition to this Petticoat, and adds a little fun in the back.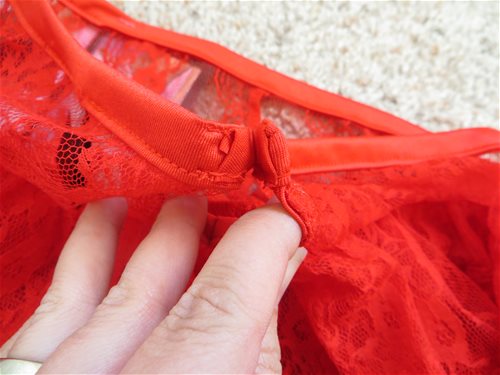 Material/Texture:
Ouch and Itch
The material on the EF product website is 100% polyester
The material on the item tag is 100% nylon
I am not sure which is right, but probably whichever is the itchier of the two fabrics! I will say the Petticoat is not the most soft piece of undergarment I own. It is itchy on my legs and on my fingers. It is scratchy and rough meshy lace. I am hopeful that over time though the fabric will soften up and become less bothersome. After reading (Lori & Hubby's) review on this, she said she washed it a few times and the fabric is much more soft now. So I better get to washing this!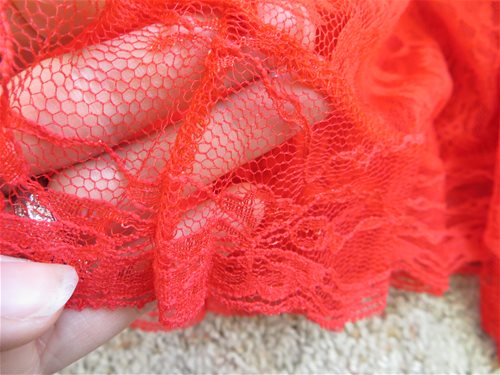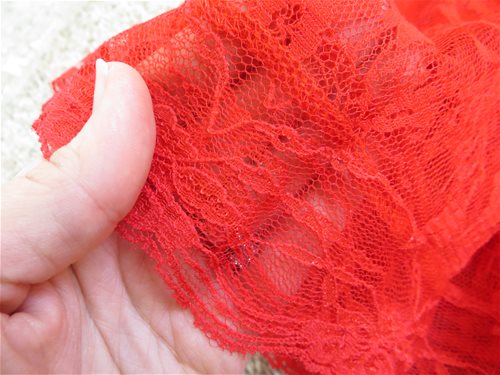 Experience
Personal Experience :
A simple must have
This is a great piece to have! I love it for all of my play costumes and Christmas lingerie! It is a cute piece and I like the way it looks on. My favorite way to wear it is with no panty, just my Christmas bra – which is a sequin red with white frills. I love that I look like a present for my hubby to unwrap. Of course this only works around the holidays, so during the rest of the year I like to have it in my costume bin and I get creative with it!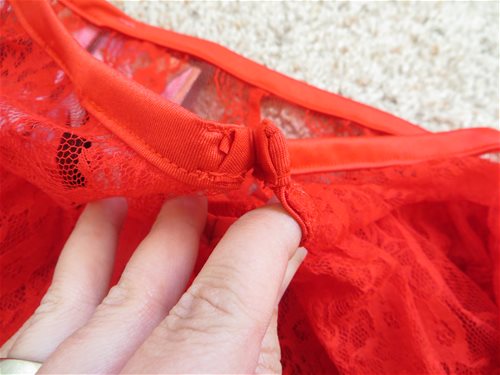 This content is the opinion of the submitting contributor and is not endorsed by EdenFantasys.com

Thank you for viewing
Red lace petticoat
review page!