Have A Heart & Forgive Its Flaws
Coquette is by far my favorite lingerie company here at Eden; I would only trust them with an item like the Heart Print Chemise. I hesitated to get this for a long time due to its questionable material, lack of support, and unusually wide neckline. However, in spite of my reservations, yet another Coquette piece has won me over. If you can get past a few kinks in this chemise's construction, these hearts may just find a way into yours.
Published:
Pros:
Adorable pattern, comfortable Lycra, multi-purpose, adjustable ties, easy to care for
Cons:
Lack of bust support, wide neckline, itchy lace, one size will not fit most, back ties fit oddly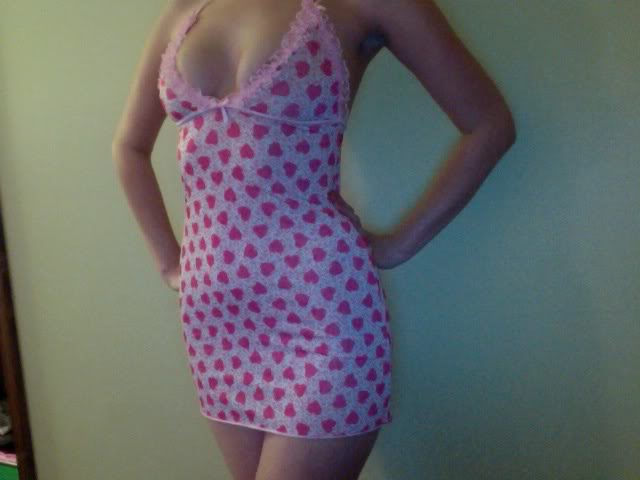 I have long admired the Heart Print Chemise from Coquette. It has been around the cyber shelves of Eden for a long time, and I've put it on my wishlist and taken it back off numerous times during its duration here. At last, I took a leap of faith and did a buy-out. At under $20, it wouldn't be a huge loss if I hated it, right? In fact, I like this chemise a lot more than I ever thought I would. It's not for everyone - and it's not even for every day use for myself. However, it really is adorable if it works for your body.
This chemise is made from 100% Lycra, with some lace trim around the bust (which may also be Lycra). The bust is supported by a tie-closure halter top and a tie-closure keyhole back. The one thing that I simultaneously love and hate about Coquette is that they have strong motifs that they carry through their lines. I appreciate that they have a cohesive aesthetic, but often disagree with the flourishes that they favor. I'm happy to announce that this chemise does not have what some have called the
Coquette Bow of Doom
. However, it does have the keyhole back they are so fond of; it is problematic for this piece in ways that I will address later in my review.
Happily, the Heart Print Chemise features its namesake heart print, which saves this baby for me. Granted, it most likely either instantly make you go "Awww!" or "Ewww!" I think this pink heart stuff is a divisive kind of issue. If you don't like sweet, head the other way. This little number is the Pixie Stix of lingerie.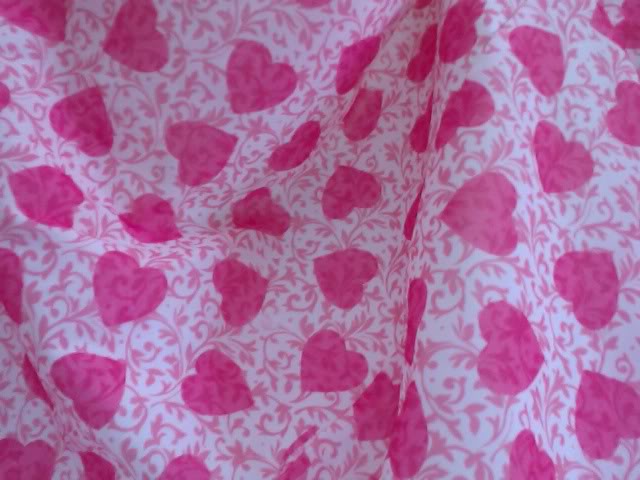 (Are you dizzy with cuteness? Or squee-ing with delight?)
The fit of this little dress is entirely hit or miss, depending strongly on your body type. This is not a one size fits most piece in the truest sense of the word; it will really only fit some. The wide and plunging neckline is one of the most challenging things about this dress. In my initial photo, I'm standing at a quarter turn for a very good reason. A straight forward shot of this dress on me is a bit underwhelming. I do not naturally have great cleavage, and not only does this dress lack underwire, but it lacks truly supportive straps. To get any kind of lift for even my small breasts, I had to tie the halter quite tightly. After that, as far as cleavage goes, this dress lends nothing to the cause. The cups cover the far sides of my breasts well, but leave my chest for the most part swimming in open, unsupported space.
If you have large breasts, you may find yourself spilling and slipping out of the bust easily. If you have small breasts, you may find the top is either baggy on you, or simply doesn't give them any extra oomph. My breasts more or less sit in their natural place in the Heart Print Chemise. With the assistance of the tightly tied halter, perhaps they sit an inch or two higher. But, as far as cleavage goes, I really don't have any. Now, if you have naturally firm breasts or implants with great cleavage? You will look like a vision in this. Squishy breasts, big or small, may not get the right support. The best lingerie is the lingerie that feels like it's fighting the good fight with you: the fight to make you feel as good about your body as possible. Some lingerie feels like it's conspiring to make you feel awful. I didn't quite feel like that with this chemise, but I could easily see other feeling defeated by its non-supportive design.
Unfortunately, the back of the dress also presents a challenge, though for me it was a smaller one. If you have a look
here
, you'll notice one of Coquette's favored models showing us a backside view of the chemise alongside a front view. You'll notice she hits the ever difficult straight-on shot with a lot of poise: leaning into that right hip, hands at her waist, chin down and eyes boring tunnels into the camera. It's a great shot, and she's hiding very little. The shot to its right conceals more, and it's telling when you consider what's hidden. The model's left arm conceals the side of the keyhole, and if you look to her right side you can see why. There is a lot of slack at the right side of the keyhole. My photo doesn't hide that; I give a similar angle to the model so you can see the bunching and bagging that occurs at the side of the keyhole.
This mannequin shot
also highlights it.
Experience
One of things that many of us like about our female forms is that our waists are smaller than our bust and hips - the "hour glass" effect. Instead of celebrating and accentuating that, this dress works against it. The keyhole is nicely filled out by the back, but if your waist narrows significantly, the keyhole will be left sagging in this area. It's not a huge deal on me, but you can definitely see some weird puckering and bunching. This may be worse on you if you have a smaller frame or more narrow hips - my hips are 28" at last measurement. I can't say with certainty, but I suspect that even women with a larger build will still have this issue. You'll still have the top and bottom of the keyhole stretched more than the sides at the waist.

Though these two problems (along with the itchy lace of the bust) were discouraging for me, I do still love this dress. It's just too adorable not to love. I wouldn't sleep in it simply because the lace irritates the hell out of my skin if it rubs against it too much. However, it's otherwise extremely comfortable and some may find it just fine for sleeping in. I do enjoy wearing it in the bedroom, but I am more self aware of how I'm holding my body when I wear this. Some lingerie works so well that we feel confident in any position. With this chemise, I know some angles and positions will be less flattering than others. All the same, I like to think I work this out and make it look pretty good with a little cautious positioning. Unfortunately, it is not designed to fit most bodies; its cut is a bit counter-intuitive for most. If you like the look of this chemise, I do recommend ordering it. However, don't hit "add to cart" before carefully considering whether or not it would flatter your body.

Care for the Heart Print Chemise is quite simple, and it's holding up very well so far. Coquette recommends hand washing, but I wash this in cold water on the delicates cycle and so far so good. NEVER dry Lycra in a drier! After washing, hang this on a clothes line or over the side of your bath or shower stall. After a good wringing, it takes virtually no time at all to dry.
This product was provided at a discounted price in exchange for an unbiased review. This review is in compliance with the FTC guidelines.

Thank you for viewing
Heart print chemise
review page!