Heart-Shaped Nips
I love burlesque and all things related to it, so of course I wanted to get these pasties to add to my collection. Having already gotten one pair of Coquette pasties before, I figured I knew what to expect from these; thankfully, they delivered just what I wanted!
Published:
Pros:
Sexy, fun, comfortable, not irritating to sensitive skin.
Cons:
May be too big or too small for some, or not the right shape to cover their entire nipple
I decided to get these because I recently got Coquette's heart-shaped
Sequin Pasties with tassels
and I like them a lot. These looked to be about the same, minus the tassels and sequins. I liked that these don't have tassels on them, so they are a little bit less flashy and have less of a showgirl look. While tassels are fun, I like the...subtly, of these.
These came in a package exactly like my other set of pasties from Coquette. Plastic box, not discreet at all, totally transparent. In fact, this box even has the same nipple tassel warning on it, even though this pair does not have tassels on it.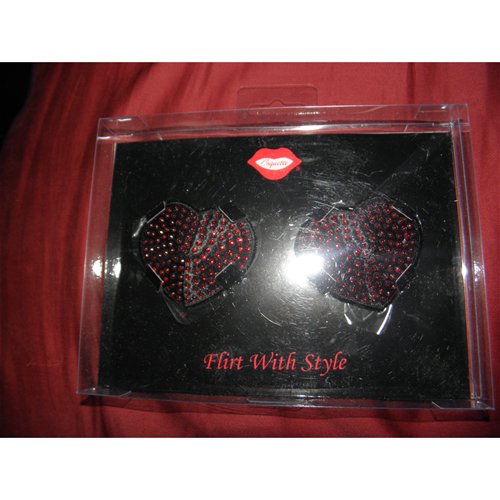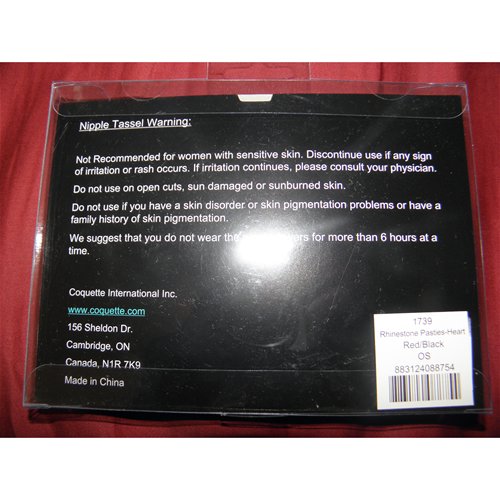 Like the other Coquette pasties I own, these are comfortable to wear; even given the sentence on the box that advises against wearing these for 6+ hours. Though, I have not worn these for even an hour straight, so I can't say I've tried to wear them that long and suffered any kind of consequence. I still have to wonder why they put that warning on the pasties and what is in the adhesive... Oh, and like the other pasties, as this is the same packaging entirely, there is no info on the adhesive. However, I am happy to say that even with my sensitive skin, I have not had a problem with wearing Coquette pasties. This is nice, because having sensitive skin it can be difficult getting product that go on your skin, then worrying about a reaction. With these, I have not had a reaction.
The adhesive on these is the same as my others, the same almost jelly-like consistency. It doesn't feel too sticky, and it does not hurt at all to remove them. I have had my other pasties for a while, and the adhesive on them is just as it was the day I got them. That gel stuff on the back of these seems to hold up really well. However, you do need to keep track of the layer of plastic film that covers the adhesive backs of the pasties. If you lose them, the pasties won't hold up as long. Keeping tabs on these two small, thin, clear layers of plastic can be difficult, if you take them off and put them down somewhere. If you lose them, you could probably use a small square of plastic wrap just as well.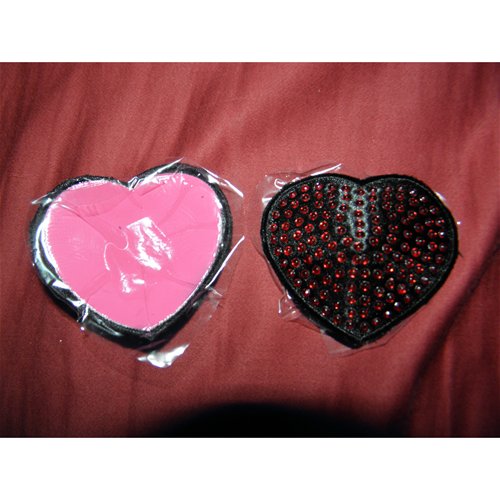 These pasties are the same size as my tassel pasties, about 2.5" wide and 2" long. The thing is that they only come in one size. Given these measurements, they may or may not cover your nipple completely. Mine actually show around the bottom a bit, and I don't consider myself as having big nipples. I would say that you may want to measure your nipples beforehand to figure out if these would cover you well, if that is something you are worried about or would be bothered by. Personally, I think they still look great; the overall look of them kind of draws attention away from the one or two centimeters of nipple that peak out around them, so it doesn't bother me.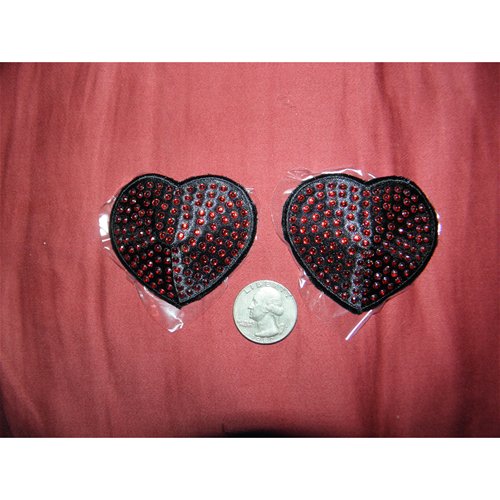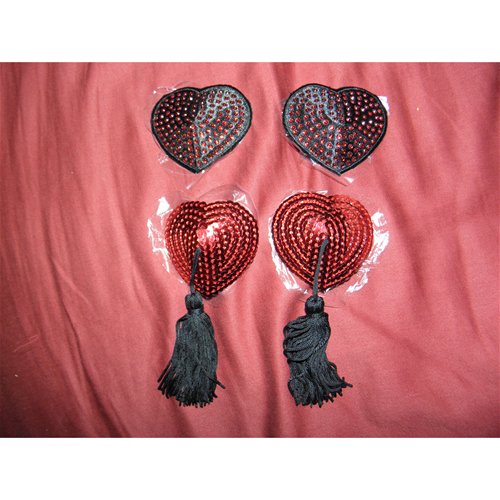 Also, these, like my others, are sort of a peak shape. They are not flat, as that would flatten your nipple, possibly stick up, and could get uncomfortable. They have a space on the inside so that your nipple will fit comfortably into them.
Experience
I really like these, and I might even like them more than the tassel pasties. I only say this because these are less flashy - they don't have all the sequins and tassels on them. They are more understated, even though the rhinestones give them a bit of glitz. Also, these could be worn under something more easily, like a padded bra, corset, or maybe a shirt if you wanted to. With my other pasties, the tassels would bunch up underneath clothing and potentially be noticeable, since the tassels on those are not removable. These are lots of fun, and I'd love to order more Coquette pasties. I have my eye on a few of them, and I'm hoping to get them all. I've had no problems with them.

If you want to give your partner a striptease and practice a burlesque routine for them, these would be a lot of fun to add!
Follow-up commentary
2 months after original review
I still think pasties are a fun way to spice things up, and a nice addition to a lingerie or costume collection. Coquette makes decent pasties, and I'd like to get some of the others that they make. I have these, and the hearts with tassels. I think the stars are cute too. If you are looking for some durable pasties that can be worn many times, these are a decent purchase.
This content is the opinion of the submitting contributor and is not endorsed by EdenFantasys.com

Thank you for viewing
Heart shaped rhinestone pasties
review page!