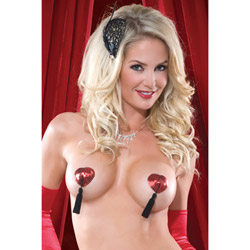 Sequin pasties with tassels
Pasties
by Coquette
Tassles on my ta-tas!
It would be nice if this came with info about the adhesive, and more than one size would be nice, but overall these are fantastic! I thought they were cute, but I didn't think they would look as fun and sexy as they actually do when I wear them! I have the red, next I'm getting the black. They're great!
Published:
Pros
Comfortable, sparkly, reusable, comes in other colors, fun, adhesive stays surprisingly sticky
Cons
Sensitive skin warning, no information about the adhesive & its ingredients, one size
These pasties come in a less-than-discreet clear plastic box.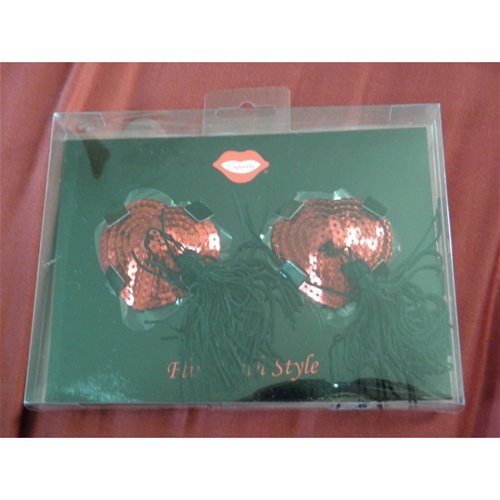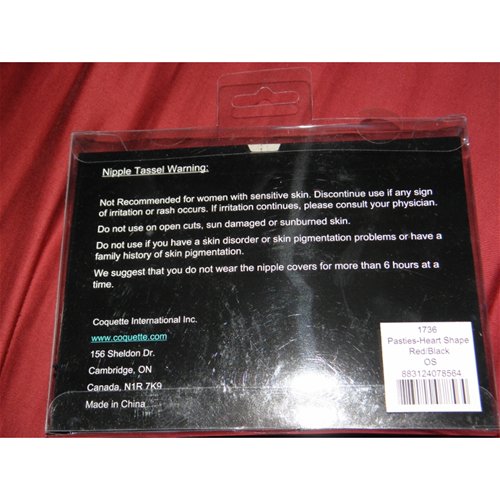 The warning that they come with was somewhat unsettling at first, and it makes me wonder why they advise against wearing these for 6+ hours. There is no information regarding the adhesive that is on the pasties, but that certainly makes me wonder about it. The adhesive is already applied to the back of them, it does not come with any sort of extra adhesive...and I'm not sure what I would use as adhesive for pasties, if it wears off of the back of these. Still, these are very sturdy and able to be reused without them falling apart at all. They come with a plastic film covering on the back so that the adhesive can remain intact and ready for use.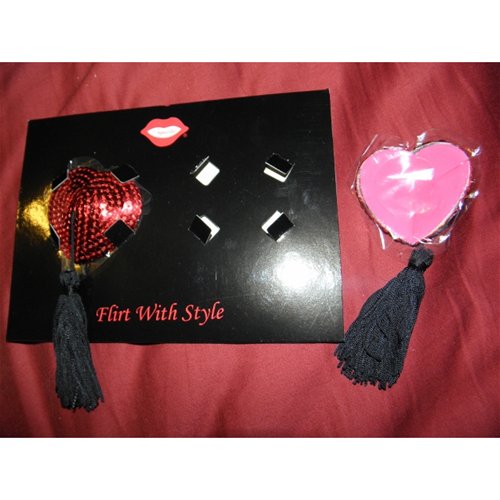 The adhesive isn't goopy or weird, it's almost like a thin layer of tacky gel on the back of them. Also, they aren't painful when to remove when you decide to take them off. It's more gentle than removing a bandage. Removal is painful and easy. I have pretty sensitive skin, but I didn't notice any reaction to the adhesive on these pasties, thankfully. Still, if you think you may react, be careful as it does come with that warning. One thing I was worried about was how sticky they would be once I wore them and took them off...but they were just as sticky when I took them off! I was pleasantly surprised, and just put the plastic covers back over the adhesive, and put them away. They are easy to store, you don't really need to keep the plastic box they come in as that just takes up so much more space than necessary.
They only come in one size, heart-shaped, and they are about 2.5" wide and 2" long. This is good information to know, so you can factor your nipple size/shape in for a fit that makes you comfortable.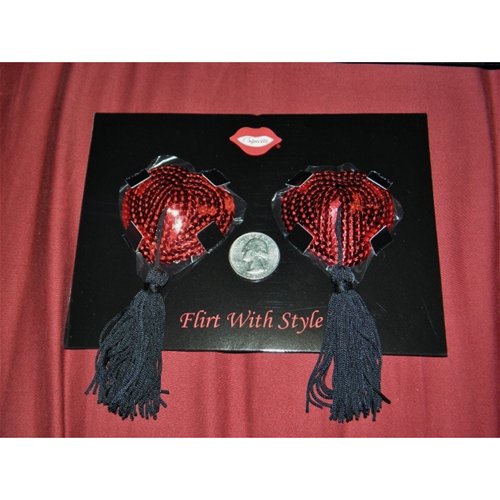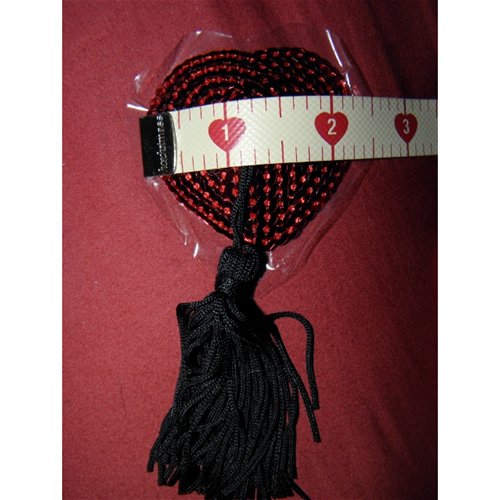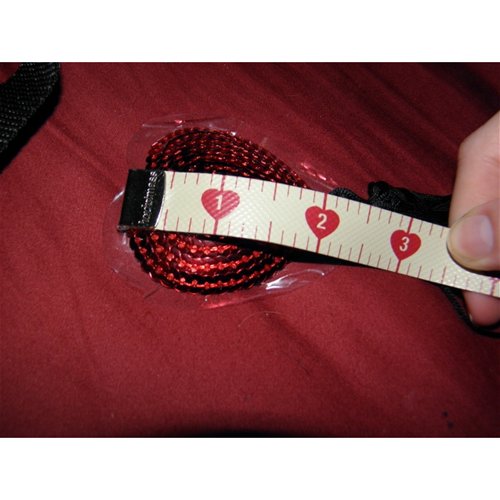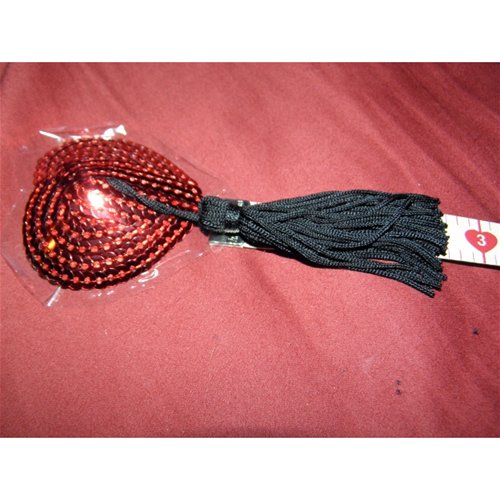 It would be nice if these came in more than one size. When I wear them, my nipple sticks out just at the top and bottom about a centimeter. It would be nice if they were fully covered, but it's almost not even noticeable.
They are slightly raised up in the center, they are pointy but not in an unflattering way. It makes it so they are not totally flat and squishing your nipples down.
These are great for teasing- they are classic burlesque! They would probably look awkward and lumpy under any bra, unless the bra is really padded. These would look cute with a shelf bra, cups wouldn't even be a factor and you could show off your pasties! In fact, I kind of want to get a nice shelf bra to wear with these now. Amazingly enough, I don't own one, but now this is tempting me to get one very soon!
These are very comfortable to wear. In fact, I am wearing them as I type this review, and I forgot I even had them on. They aren't heavy or painful or awkward to wear at all, which is fabulous. If you jiggle around a lot in them (and who isn't going to jiggle when they have tassles on their ta-tas), the tassles can get caught on the sequins. It isn't damaging to the pasties or the tassles at all, and it is very easy to undo.
Experience
I was torn between getting these in red or black. I ended up getting the red, but I think I will get the black as well sometime soon. I thought they were cute when I first saw them and had always wanted a real pair of pasties, but these are even better looking than I thought they would be! They are fun to wear and play with
Follow-up commentary
3 months after original review
I still think these are very cute, and I'd like to get them in black as well. My significant other has commented on the once or twice, he thinks they are an interesting item to spice things and add a bit of flash and fun. I have no complaints about these pasties, the adhesive has not bothered my sensitive skin, and they have remained just as sticky as the first day I got them!
This product was provided at a discounted price in exchange for an unbiased review. This review is in compliance with the FTC guidelines.
Thank you for viewing
Sequin pasties with tassels
review page!