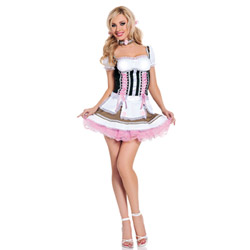 Heidi Ho
Costume
by Seven 'til Midnight
Heidi Ho!
This was my first costume from this company. I have tried their lingerie in the past and expected this to be small, but it runs smaller than I had expected. The construction isn't what I'd like to see from a Halloween costume that is going to get abused on my night out and it's too short, so I opted for something else.
Published:
Pros
More than just 3 sizes, somewhat stretchy, comes with accessories
Cons
Cheap construction/materials, SHORT!, runs small, bust area
As you know, I love Halloween. It's a big to-do for me. This year was especially important because my two ex-roomies were coming down for a reunion and we were hanging out with some extra special people. I decided to try to get a few different costumes since I didn't know how many different parties I'd go to with Halloween being lamely in the middle of the week this year. This costume seemed cute, but my friends and I decided that it looked cheaper than the others and it in certain parts is also constructed cheaply too. The biggest problem is perhaps the fact that it runs pretty small and fits a little oddly.
*Contents/overview:
Three pieces
This costume is from Seven Til' Midnight. It's my first experience with costumes from this company, although I do have a few lingerie pieces. It's a three piece set, the dress, choker, and hair pieces. You'd need stockings and heels if desired. It comes in only this color combination and is available in sizes S, M, L, 1X/2X, and 3X/4X. NOTE: The pink petticoat is NOT included!
*Material:
Cheap looking, wrinkles easily
This costume is made of 97.8% Cotton and 2.2% Spandex.
The material isn't very soft and feels sort of like a table cloth. You can imagine how easily that wrinkles, I'm sure. The little bit of spandex is nice, but if this doesn't fit you or you aren't the correct shape, it will pull and not hide those facts. There are other pieces of trim that are nicer materials like satin and a soft mesh. The zipper is metal not plastic. The colors are really nice put together, but it has a bit of a cutesy feel that my guy friends said they didn't like much.
*Design/craftsmanship:
Cheaply made
The costume is a mini dress, and I mean MINI. If I measure from the top of the chest to the bottom hem it is only 25" long. I have some tunic tees that long! The skirt portion of the costume also flares so this can make it look and feel even shorter. There is quite a draft!
The dress looks like it has many pieces, but in actuality it is all one piece. Not even the apron can be removed. The top even looks like a shirt with a jumper like dress over it, but it's sewn straight into the "straps" of the jumper portion. The sleeves have a pretty flower trim down the strap that goes under the breast portion. It's bunched at the top and is far too small for my chest and the sizing chart. It isn't tall enough or wide enough to hold a good sized chest. It's also very thin and not supportive, so going without a bra is likely out of the question. From the top of the "straps" are two pink ribbons, one on each side. This beautifully ties behind the back across the shoulder blades. I do like this touch and it helps the cap type sleeves from slipping down.
The center torso of the dress has four rows of grommets where a pink piece of ribbon is laced through like a corset. This area is functional and can be used to tighten the dress and minimally loosen it. Around the hips is a apron portion, that as mentioned before cannot be removed, but it can be tied tighter to make it smaller. The apron has three loose pieces. The bottom of the skirt has a ruffled edge. The back dips down to about right below the bottom of the shoulder blades so it is partially open. Some bras might be seen if they are not positioned low enough.
Also included in the costume kit is choker made of fabric. It closes with Velcro and has a flower on the front. Two very long strips of pink ribbon are supposed to be for tying the hair.
The measurements are for the size large:
-From top to bottom is 25" (from the top of chest line)
-From the side to side at the very bottom it is 30" (largest part of the flared skirt)
-The waist is 14 1/2"
-Arm pit to arm pit 17"
The back has a zipper that goes down almost the entire length of the dress. It's very cheap and started to pull where it is sewn into the dress after only the first trying on.
Care/Maintenance/Presentation:
There is no tag that I could find, but the front of the package says to hand wash by itself and not to bleach. Obviously, this means lay to dry, but I think it might be fine in a dryer if it's a short cool cycle. It comes in a nice reusable plastic bag that has snaps for storage.
Experience
*Sizing/fit:
Runs small
For Halloween costumes, it's usually a good idea to go bigger than smaller. You can always pin and alter etc. For this I ordered the large knowing that STM ran small in other items and I was also 15 pounds heavier when I ordered it. By the time I got around to trying it on, I was much fitter and had lost 2 dress sizes and a pant size. If I hadn't this would not have fit. It's clearly small for a large. This doesn't feel tight at all, but the fabric pulls and doesn't lay down right in the back making me think it's poorly constructed and runs small.
According to their sizing chart, the L should fit a size 10-14 dress, C-D chest, 36-38" band, 28-32" waist, 38-40" hip. I weigh ~138 pounds (size between 6 and 8 jeans); curvy but fit, with size 34 DD breasts (got remeasured at VS). My waist is about 29", under bust 33.5", and hips 37.5". (NOTE! My measurements have changed!). So being that 90% of my clothes are too big now, I would expect this to fit differently. I'd expect it to be big... and it's totally not. I could wear it, I don't feel like it is tight in terms of squeezing into it or anything, but it clearly is not matching the chart. The dress sizes are the most off. I'd say that it doesn't fit a D chest, but a C might work. The band needs to be notched down on the chart and so does the waist. The hips portion is fine, however.
My Re-done chart/BEST fit:
For large
Dress: 8-10
Cup: B-C
Band: 34-36" (underneath your breasts)
Waist: 27-31"
Hips: 38-40"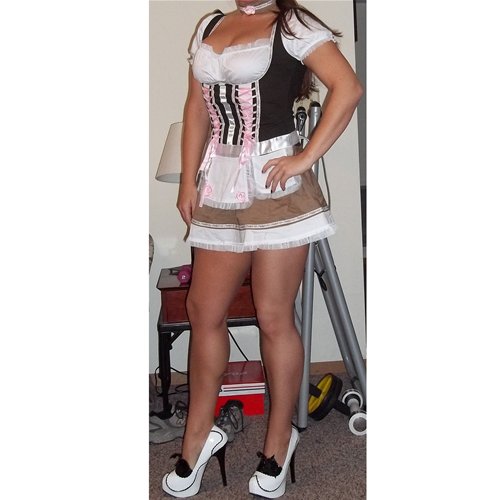 The front of this also doesn't lie flat even though I'm flat under there I swear!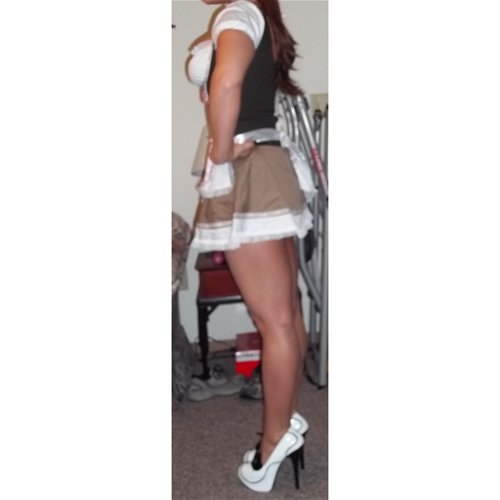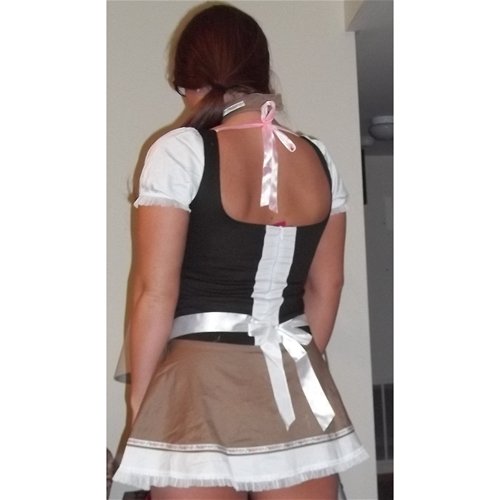 *Possible accessories:
You may want white stockings or knee highs. I would go with solid ones if you choose to wear any.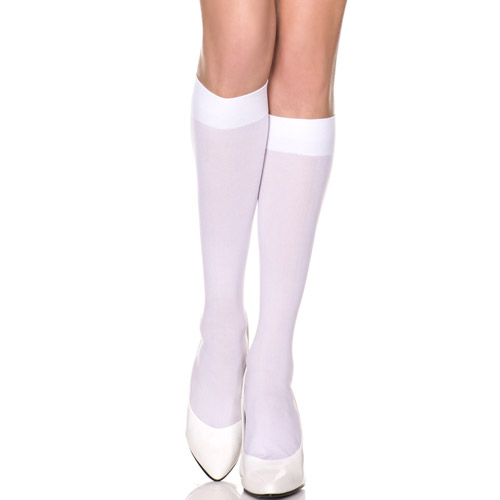 Knee-highs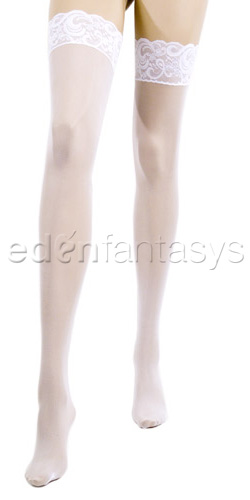 Thigh-highs
The shoes I am wearing are Bordello brand.
*Conclusion:
★★★
The quality is poor on this costume and that's why I decided against wearing it. It fits poorly in the bust and is too short. It runs small and the zipper is bound to rip out with very little use. I just don't find it that sexy either. I might try another costume from this brand, but it'll have to be REALLY cute.
Follow-up commentary
4 months after original review
I sold this as soon as I had gotten the chance. It was totally unwearable and my partner didn't like it for the bedroom. Neither did I.
This product was provided free of charge to the reviewer. This review is in compliance with the FTC guidelines.
Thank you for viewing
Heidi Ho
– costume review page!